Title: Sworn to Silence
Author: Linda Casitllo
Genre: Suspense
Length: 11 hrs, 43 min
Publisher: Macmillan Audio
Narrator: Kathleen McInerney




COMMENT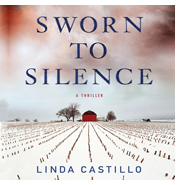 A young, raped and blind-folded woman hangs upside-down with ankles chained to a ceiling beam, blood gushing from her slashed throat like some slaughtered animal. If this kind of graphic opening scene is a bit much for you, please don't let that stop you from going on. The killing, and subsequent eviscerations and exsanguinations, are in vivid contrast to the pastoral setting of a small Amish town in Ohio in Linda Castillo's riveting, suspense thriller, Sworn to Silence. What makes this tale so engrossing is the friction between old-world Amish simplicity and modern mayhem and being an outsider among your own people.
The main outsider here is a former Amish, now police chief of the Mayberry-like town, who's dealing with a series of brutally tortured and raped women. The lady's got three problems: she's hiding a 16 year old job-ending secret that may be revealed and connected to the current murders; she's emotionally shunned by her former Amish family and brethren; she's viewed with hostility by town leaders because of her relative inexperienced in the top cop job.
As if that weren't enough, higher-up law enforcement officials assign a emotionally shaky, rogue detective to aid the inexperienced chief, assuming he'll fail so they can fire him for cause. So, to be clear, we're not talking Batman and Robin save the world here, more like two emotionally damaged, smart, likable and dedicated cops doing their jobs - both outsiders in an insider world against considerable forces.
The chief and the rogue detective develop their own sub-plot, not surprising given Castillo's background. She's a former romance writer for Silhouette, Berkley and Harlequin series. Like several before her - Janet Evanovich, Tami Hoag, Tess Gerritsen and J.D. Robb (Nora Roberts) - she makes a nifty transition from romance to the male dominated mystery-suspense genre as she deftly peels away layers of secrets and surpirises in this absorbing tale. Aside from the who-and-why-dunit part, it's the intelligent, determined, and vulnerable chief and her flawed detective that's the sell here.
Narrator, Kathleen McInerney, perfectly modulates among all the various male and female characters' menace, strengths and flaws.
For listeners attentive to gender issues, some might wish that next time out, the lady chief is allowed to save herself, rather than the strong manly-protector swooping in to rescue the damsel in danger -- perhaps a leftover from Castillo's romance writing days. Also leftover, Castillo's prose can get a little over-ripe with lines like "...the gnawing compulsion of his dark hunger." But don't let the blood-letting and occasionally over-seasoned words deter you from this first-string summer entertainment.
BOTTOM LINE
Intense suspense, appealing leads, a nasty villain, this is a battery-burner.