Just when you think you've had enough of the well plowed crime fighting genre, something comes along to invigorate the arena and remind you why cops-and-robbers have enduring longevity. One such example comes from Andrew Gross, a former co-author to a brand-name writer, the other is a mutt.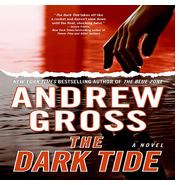 The Dark Tide
by Andrew Gross
Genre: Domestic Thriller
Length: 11 hrs, 48 mins - Unabridged
Narrator: Melissa Leo, (voice for Tami Hoag, James Patterson, Barbara Delinski audiobooks)
Publisher: Harper Audio


ANDREW GROSS used to be a franchise writer, one of those unknown names that appear in teeny, tiny letters, well below the super-star names of Robert Ludlum, Clive Cussler or, in Gross' case, James Patterson. Publishers are reluctant to put details to how these franchise collaborations work - who actually writes what. The deals are often brokered by literary agents who package their brand-name writer with an un-known who's also in their stable. What can be said is, franchise novels are rarely as good as the original - example: Patterson's Women's Murder Club series. What can also be said is that none of these franchise writers has ever broken out of anonymity into their own brand-name level - until now. Andrew Gross' last two domestic crime books make him a player worth reading or listening to, especially The Dark Tide, 11 1/2 unabridged hours of exhilarating domestic thrillery. It's a brisk story told by a baffled wife trying to unravel murder and mayhem while protecting herself from lethal danger courtesy of her dead husband's international financial conspiracy. The wife is well aided by a resourceful Greenwich, Conn., detective whose contributions to crime solving include supportive romantic involvement.
Gross' considerable strengths are his unexpected plot turns. The premise of a wife being pulled into her dead husband's secrets is not new but Gross keeps the listener off-balance as the lady and the cop careen from clue to clue, abetted by folks who are not always what they seem. Narrator, Melissa Leo, does a masterful job of defining the determined and vulnerable wife along while successfully inhabiting a wide range of male voices.
The Dark Tide is followed by another domestic crime thriller, Don't Think Twice, featuring the same Greenwich detective, Ty Hauck. The producers switched to a male narrator this time, Christian Hoff, making it a potential series while mysteriously changing the detective's name from H-o-w-k to sound like 'hawk,' perhaps thinking it sounded tougher. It doesn't. The formula is the same as Dark Tide - good guy detective and woman-in-jeopardy face people who say things like, "You don't know what, or who you're dealing with. You'll be sucked up like a cat in a cyclone."
BOTTOM LINE: The Dark Tide on audio is a battery burner - downright clever, highly engrossing.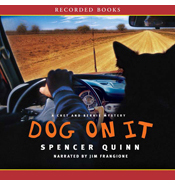 Dog on It, a Chet and Bernie Mystery
By Spencer Quinn
Genre: Private Eye Mystery - Doggy Edition
Length: 9 hrs, 40 mins - Unabridged
Narrator: Jim Frangione
Publisher: Recorded Books



While this crime-solving duo is fronted by overweight, schlumpy, ex-detective, now private investigator, Bernie Little, it's his faithful ex-K-9 partner and mutt called Chet that's the real sell with this audiobook. Don't think Turner and Hooch because the dog, here, tells the story. It's the pooch's first person, low level point-of-view, voiced with just the right tone of wonderment and innocence by Jim Frangione that makes Chet an awfully appealing crime curbing canine.
No Bruce Willis-type with irreverent wise-cracks, or an all-knowing Lassie, Chet is essentially an empathetic naïf with a relatively limited understanding of the world. Sure, he's loaded with acute animal instincts that help Bernie track down a missing teenager from some real bad guys, but Quinn never lets us forget that Chet is a dog with all his appeal and foibles. He flunked out of K9 school because of a cat distraction during his final qualifying test. And while he understands most things people say, he doesn't quite get intent which makes him vulnerable to danger - the kind that almost finishes him off in this story. Colloquial expressions like 'wild goose chase,' or 'crazy like a fox,' are taken literally and don't make much sense to Chet.
It's the chemistry between this duo that's the listener's treat here. A lot of movie references are used such as comparing someone with flair to Mandy Patinkin in The Princess Bride and, yes, they watch TV together. Chet particularly likes The Discovery Channel.
BOTTOM LINE: Chet, Bernie and narrator Frangione make delightful summertime listening - assuming you have a fondness for dogs.