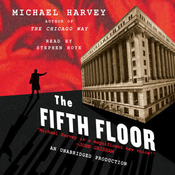 TITLE
The Fifth Floor
AUTHOR
Michael Harvey, The Chicago Way,
GENRE
Private Eye Mystery
LENGTH
7 Hrs, 57 min - Unabridged - 7 CDs or Download
PUBLISHER
Random House Audio
NARRATOR: Stephen Hoye, narrator for William Bernhardt, Ursula K. Le Guin, Ben Bova, Orson Scott Card and 90-plus other audiobooks
COMMENT
Power is the propellant in this classic private eye, a who-did-what story with a distinctly Chicago overlay. The Fifth Floor here is City Hall, Office of the Mayor, where all power resides from a benevolent dictator who keeps the streets clean, encourages business and whose family-mayor-roots go back to the Chicago fire and Mrs. O'Leary's cow, which is one of the starting points in this engaging labyrinth of a story.
This is the second book from Michael Harvey starring private investigator, Michael Kelly, a former Chicago detective with a seen-it-all attitude, who reads Cicero and Sophocles, and is just the wise-ass guy to find out who's behind the tangled web of duplicity and murder that always seems to lead back to City Hall.
What makes Fifth Floor stand out in the PI genre is its Chicago, pragmatic perspective where crime and punishment are just rough guidelines. In other towns, a guy shoots another guy, its murder. In Kelly's Chicago, it's not so clear, it's situational, and there are always mitigating factors.
One negative aspect about this audiobook is the narration. Kelly, and all the characters, tend towards snappy, blunt dialogue that often crackles with attitude. Narrator Stephen Hoye is a word-stretcher, a dramatic Floyd, the barber, who drags his syllables out so 'yes' comes out 'yeeeeeees.' The florid reading works against the material. How much more engaging it could have been with Chicago voices like Jim Belushi or Ed O'Neill. Too bad Joe Mantgegna is tied up doing Robert Parker's Spencer series.

BOTTOM LINE
Boston does have Spencer, New York has Myron Bolivar, L.A. has Elvis Cole - add Chicago's Michael Kelly to your list of appealing PIs with character.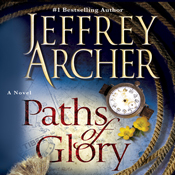 TITLE
Paths of Glory

AUTHOR
Jeffery Archer, Prisoner of Birth, First Among Equals, Kane & Abel, A Matter of Honor, etc.
GENRE
Biographical novel
LENGTH
11 hrs - Unabridged - CDs or Download
PUBLISHER
Macmillan Audio
NARRATOR
Roger Allam, Prisoner of Birth

COMMENT
If you're a mountain climber, this biographical novelization of the man who wanted to conquer Mt. Everest, because "it is there," might satisfy - all others could take a hike. All of his climbs, including an ascent on the Eiffel Tower and two Everest attempts are endlessly detailed here. Even Roger Allam, who does such an outstanding job narrating Archer's previous terrific thriller, Prisoner of Birth, cannot save this slow motion trek.
BOTTOM LINE
Paths of boredom.