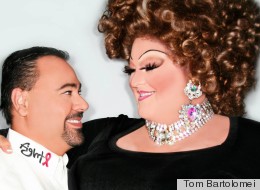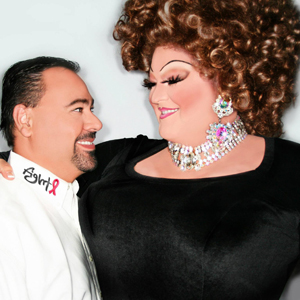 Being married to a drag queen is difficult. Well, being married to Vivian is difficult, at least. I'm not sure if other drag husbands feel that way about their drag-queen wives. Some of those feelings may be due to the fact that Vivian is truly a partnership between me and my husband Jeff. She is a combination of both of our ideas and creativity. Sometimes I think it's that partnership that makes being married to her so difficult.
For me, one of the most difficult things about drag is the expense. If I had known this three years ago, I think I would have run for the hills. It costs a small fortunate for a drag queen to look fabulous. I won't provide an exact dollar amount, but I will say that with what we spent in 2012 alone, we could have probably purchased a compact car. And it's not just the costumes. There's the jewelry, the wigs, the makeup, the undergarments, the shoes, the props and, in our case, the monthly rent for a studio to house Vivian and her trappings. Yes, Vivian has so much drag that she needs her own space for it.
Before renting the studio, Vivian was slowly overtaking the entire house. She had costumes in one closet, fabric and wigs all over the house and sewing machines on the dinning-room table for over a year. It was an extremely interesting way to live, to say the least. Finally I had had enough and announced that Vivian was moving out. Luckily we found the studio space; if we hadn't, her drag would still be everywhere.
Another thing that is difficult is the time commitment. I need to be at every single show that Vivian is in. Yes, I go to support her, but I have to help her carry in all her costumes and wigs, and trust me, there is a lot. Plus, I'm the only one who can tie Vivian's corset the way it needs to be done. So a two-hour show becomes a five-hour commitment. In addition to the time for the shows, there is the time spent shopping for fabric, choosing and mixing the correct music and bouncing ideas for costumes back and forth, and then there is the almost monthly seven-hour roundtrips to pick up her costumes. So Vivian probably takes up 20 percent of my time, at a minimum.
As difficult as the expense and the time commitments are, I think that the hardest thing for me is the frustration of being a drag husband. Now, I'm not talking about frustration with Vivian but frustration with how difficult it has been for Vivian to really break into drag. Vivian does not have a drag mother or a drag family, so we do this all on our own. We are learning as we go, and yes, we've made mistakes, and we've learned from them, but sometimes those mistakes have the ability to hurt Vivian's progress. This frustrates me, because when I look at Vivian, I see so much potential. I want everyone else to see that potential when they look at her too. I can't count how many times I want to contact others in the community and say, "Are you crazy? Can't you see how amazing Vivian is? Why aren't you booking her more?" I can't do that, though, because that would hurt Vivian more than it would help her. So I just have to bite my tongue and let her career progress naturally.
Even though it's difficult, I can honestly say that I would not trade it for anything. Being married to Vivian has more positives than negatives, and sometimes it's easy to lose track of that; plus, complaining about the negative is easier. However, if I just sit back and think of life before Vivian, I can honestly say that it was boring and not as much fun.
Vivian allows me a venue to be creative, which I did not have before. I love helping her choose music for a show theme and then come up with the perfect custom for the song and theme. Vivian has also helped Jeff become comfortable with being an out and proud gay man. Before Vivian, Jeff was a newly divorced father of three, and very closeted. Once Vivian started to perform, it allowed Jeff to fully accept being gay, and that was an amazing process to not only watch but be a part of.
Being married to a drag queen can be very rewarding as well. In the just the three short years that we have been involved in the drag community, we have partaken in numerous fundraisers for various charities and organizations and have helped raise thousands of dollars. Those charities and organizations have included ARC Ohio, Project Zero Ohio, Camp Sunrise, the Gay Softball World Series, the Columbus Lesbian & Gay Softball Association, the Columbus Gay Men's Chorus and many more. Being part of those events is extremely rewarding.
The most important thing being married to Vivian has shown me is just how much I love my husband. Before Jeff I never understood what it meant to truly love someone and be in a relationship that is a true partnership. Jeff changed that for me, and once Vivian came into our lives, I realized just how much he had done so. Vivian brings Jeff so much joy and happiness, and knowing that makes me happy. I never knew that feeling before, and it's the best feeling in the world. When things for Vivian get difficult, we always overcome it together, and the thing that allows us to do that is our love for one another. There is nothing that life can throw at us that we can't overcome together.
I love Vivian, and I love being her drag husband.
Follow Tom Bartolomei on Twitter: www.twitter.com/vonbrokenhymen