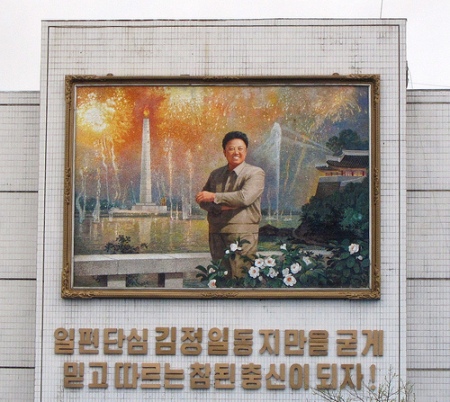 If you thought circulation dives and ad revenue anguish were problems across the print media industry, you clearly haven't looked at the entire market. Print is alive and well in North Korea ... according to North Korea, at least.
While the likes of Rupert Murdoch are trying to figure out how to recreate a paper-based business on the iPad, the General Association of Koreans in China boldly moved forward with its November issue of Paektu-Halla magazine. The "news" was reported by the Korea Central News Agency, North Korea's official news agency mouthpiece.
Of course, the KCNA reports, the "magazine carried a photo of General Secretary Kim Jong Il." How could it not, right?
The KCNA continues that Paektu-Halla "edited news" that the Dear Leader:
...received a high-ranking military delegation of the People's Republic of China headed by Guo Boxiong, he attended the mass meeting marking the 60th anniversary of the entry of the Chinese People's Volunteers into the Korean front and he laid wreaths before the grave of Mao Anying and the cemetery of fallen fighters of the CPV in Hoechang County together with secretaries of the Central Committee of the Workers' Party of Korea and members of the Party Central Military Commission.
Continuing with its description of the table of contents, the KCNA says that the magazine "conveys accounts round-table talks, art performances and receptions held by officials of the association and Koreans living in Shenyang City together with former fighters of the CPV on the occasion of the 60th anniversary of the CPV's entry into the Korean front."
But, let's not get mired in the details, here; that isn't what matters. Rather, we're seeing print thrive in a market that's made for it. I can almost imagine the Dear Leader himself saying of the rest of the world... Let them read Kindles!
[photo by John Pavelka via Flickr]
SUBSCRIBE TO & FOLLOW WORLD POST