A quiet rainy night in Berkley proved to be an unsuspected surprise.
I went to an Indian restaurant called Mazza Indian Cuisine to meet its owner and find out more about his style of Indian cuisine. This was to be a new adventure of enlightenment.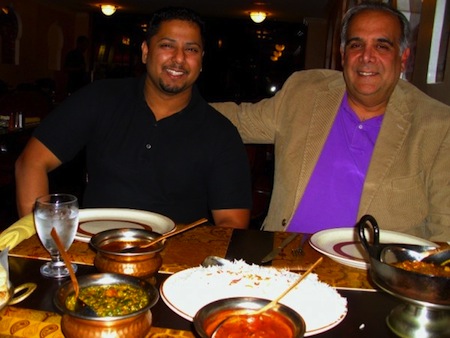 I met Razur Rahman, who at first glance next door seemed like any other regular guy who loves Monday Night Football and is the cool neighbor next door. But that is where it stopped. He is also a new dad, holds a master's degree, and is a pharmacist.
Razur took over his father's restaurant after his passing. His father, Tunur Rahman, and his uncle, Chef Saiful Kahn, opened the original Mazza back in 1986. He closed the restaurant for about eight months and restructured everything from interior design to the kitchen while still running his pharmacy.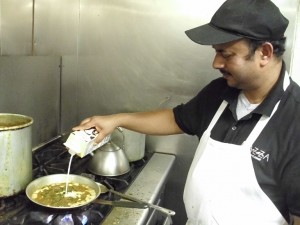 "It is all about honor and the memory of my father," says Razur, who added his father came to the United States in 1968 and first settled in Hamtramck. His dad and his partners were instrumental in bringing Indian cuisine to Royal Oak, Berkley, and Ann Arbor in the early days.
Now let's talk Indian food. Well, at Mazza it is actually Bangladeshi cuisine. Bangladesh was the eastern part of Bengali before the partition of India. This cuisine carries many Persian and Arabic overtones. A prime example is their use of beef.
Why talk about Bangladeshi or Pakistani influences in Indian cuisine? Well, in the middle of the last century around 1960 there was a large influx of curry shops opening up in England by primarily Bangladeshi chefs. These chefs were instrumental in the creation of non-traditional, or rather, "inauthentic Indian" foods such as the famous Chicken Tikka Masala. With the immigration of people from the Indian subcontinent to the U.S., the food developed by British Bangladeshi chefs took hold. Anglo-Indian cuisine as we know it had arrived.
What we are used to eating here in Michigan is a fine line between east and south: Bangladeshi/Pakistani and southern regional styles of cooking, such as the Portuguese-influenced Goan. Both are called Indian and are similar but are not the same. Taste differences of same-named dishes are due to different schools of seasoning. Today we have more southern Indian restaurants than Bangladeshi.
Now let's talk Mazza Indian Cuisine. The dining room is tastefully decorated with fine reproductions of Mogul (think Genghis Kahn) paintings that depict stories and the history of the two great princes of India and Persia. Check them out; they are very interesting. This restaurant is tasteful, not tacky. The staff is polite and has a real sense of pride, from Razur Rahman to Chef Saiful who helped open Massa in its early days and is back to keep the tradition rolling. He had some great restaurant gigs including the Russian Tea Room to Indian fine dining in New York.
As I mentioned earlier, the food is very similar but different in its use of spices. It varies in style from very sweet and mild to "Are you sure you want to try that!?" wickedly spicy. It's like Northeast and Southeast Indian more so than the counterparts across the subcontinent. Overall, important flavors are ginger, garlic and lime.
So, I have given you the back story, now for the food. Chef Saiful started off with the signature dish, Chicken Mazza Masala, a tender pulled chicken dish simmered in a creamy mellow yogurt sauce made with tomatoes and green peppers.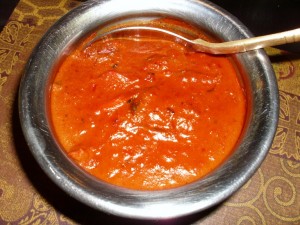 Next the Lamb Saag -- think tender mild cubes of lamb simmered in a creamy spinach sauce with, I would say, mild Indian spices and a hint of lemon juice to give it some depth. Back that dish up with Lamb Karai seasoned medium hot and served with tomatoes and onions on a sizzling skillet.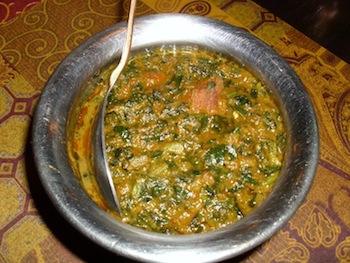 Razur asked me, "Do you like hot?" What was I to say? I had burned through the first three entrees without water or breaking a sweat.
Chef Khan returned with Chicken Pall, sometimes spelled Phall. Nice tender pieces of chicken, tomato and onion with a hint of ginger in a thick smokin' hot tomato curry. This bad-ass curry makes the Goan Vindaloo taste as mild as Jell-O and attacks like a poltergeist. Needless to say, Razur and I knocked it out with gusto knowing there was a soothing mango lassi appearing from the kitchen to quiet the dragon.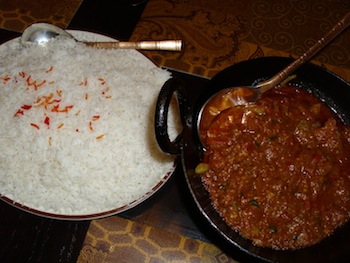 Mazza Indian Cuisine with its Mogul-inspired menu rules Berkley like Genghis Khan. It's definitely worth the journey.
FOLLOW HUFFPOST