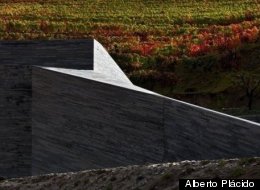 Wine is associated with gastronomy, history, local identity and spirituality. With its rich past of sensory delight dating back thousands of years, wine has long since established itself as a lasting cultural symbol of a healthy and harmonious lifestyle. Throughout history, the role of wine has seen various phases, changing from an important source of nutrition, through to religious paraphernalia, to a cultural compliment to food and festivity. Viticulture, or winemaking is a commercial production act whose status borders on art and magic.
Taking this rich history into account, the architecture of wine is faced with a much greater challenge than meeting the very specific technical requirements of winemaking, it has to celebrate the process. Nowadays, wineries like religious buildings, are the must-visit destinations for tourists, where people go in droves on alcoholic pilgrimages. In recent times, wine tourism has boomed: tours of wineries and package holidays centered around a wine tastings have become big business. This popularity has given rise to some unique new architecture, with every winery fighting to have the competitive edge and that extra element to draw the attention of tourists.
Story continues after the break.
<
Építész Stúdió: Füleky Winery. See more HERE. The basic concept underlying the building's design was to build a new winery by making use of all valuable elements of the greatly remodeled, original stone building. Image: Gyula Erhardt

Popov Bass Architects: Miranda Winery. See more HERE. To create a landmark destination for tourists and gourmands to the region's growing viticultural industry the project is sited to maximise its exposure from the passing traffic on the adjacent road. Image: Kraig Carlstrom

Bearth & Deplazes with Gramazio & Kohler: Vineyard Estate Gatenbein. See more HERE. The wine estate follows the terroir principle stating that the local colour – soil, microclimate, local traditions and the winegrower's trademark – is directly reflected by the wine. Similarly, the architects employ high end modern building technology to create a unique identity for the new building. Image: Ralph Feiner

BWM Architekten & Partner: Genussregal Exhibition. See more HERE. Das GENUSSREGAL (the shelf of pleasure) - a corporate master plan, that is both architecture (landmark, exhibition hall, shop and logistics warehouse) and creates a new identity for the company. Image: BWM Architekten & Partner

Architects Collective: Erich Sattler Winery. See more HERE. This estate winery is interestingly located in between the residential buildings in a typical village of the Burgenland region in Austria. Image: Architects Collective

Guedes + DeCampos: Quinta Do Vallado Winery. See more HERE. Quinta Do Vallado Winery merges into the land thus declaring its artificial nature. The interior opens in a series of spaces intended to seduce the visitor, either through a continuously introduced sense of direction, through graphic composition, or through juxtaposition of contrasting natural materials. Image: Alberto Plácido

Castanheira & Bastai: Casa da Torre Winery. See more HERE. The addition to the winery of Casa da Torre builds up on the excellent exisiting siting and orientation but re-thinks spacial organization in and around the building. Image: FG + SG

Archos: Collemassari Winery. See more HERE. The design of the Collemassari Winery was guided by a desire to design spaces rather than a building - hence the abstract dematerialized wooden box. Image: Paolo Da Re

PLANT – Atelier Peter Kis: Laposa Winery. See more HERE. Taking into consideration the scale of local built environment and by analogy with basalt bands that have erupted to the surface of the hilly area, only a quarter of the total area of the winery is left above ground, the rest is contained in the belly of the hill. Image: PLANT

Weinstein Vaadia Architects: Galil Mountain Winery. See more HERE. The building functions as both a factory for the production of wine and a visitor center that explains the process of wine production and was designed to be a marketing tool for a new brand of wine. Image: Amit Geron
>
While there is no romance for the general wine buying public in picking a bottle of wine from the supermarket shelves, there would also be very little enchantment in wine tourism if the modern buildings were also purely functional. Contemporary architecture of wineries are challenged with achieving bold novelty and respectful traditionalism at one time.
Looking through dozens and dozens more of recent winery buildings, the novelty about them seems to rarely spring up from an architect's whim and much more often from the necessity to adjust adequately to the specific conditions of context, society and market. The resulting variety of eclectic blends -- of untraditional form and traditional function, of untraditional geometry and traditional materials -- appears pleasingly effective both in terms of meeting the requirements of the present and preserving tradition.
Portuguese architect Carlos Castanheira of Castanheira & Bastai Arquitectos reflects on the current status of wineries:
A winery is no longer what it used to be. I once knew wineries where cobwebs and dust were the sign of time passing and of the times. Time was also, almost always, the sign of quality, as the wine that got preserved over time, at the time, was good wine, which got even better after being left there for a few years. Wineries are changing and they no longer have room for dust nor for cobwebs. Now they are true laboratories, ruled by strict laws of employment and hygiene. They are obeying a finely tuned science of dosage, temperature control, accelerated or slowed down with more or less chemistry. In some cases, a winery is a place of real alchemy.
Technology or not, in caves or in buildings -- nowadays it is up to architects, more than ever, to preserve and display the magic of viticulture and bring it closer to people through inventive architecture.
Follow Tom Mallory on Twitter: www.twitter.com/clippings_com