8 Cheap Hotels In Paris With Great Locations (PHOTOS)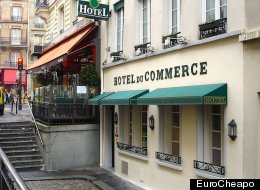 Budget travelers heading to Paris this summer don't need to sacrifice location when searching for an affordable bed for the night. The French capital offers plenty of cheap sleeps right in the center of the action, often steps from some of the city's most famous sights.
Here's a roundup of our favorite well-placed hotels in Paris, most with rates under $100 (about €79). For more hotel recommendations, check out EuroCheapo's guide to Paris.
8 cheap hotels in Paris with great locations
Located in a 17th-century building on the Place Dauphine at the tip of the Ile de la Cité, the historic Hotel Henri IV offers clean, bare-bones rooms. Our favorites look out to the square. You'll be minutes by foot to the Louvre, Notre Dame and the Latin Quarter. Doubles: $73-104

The two-star Hotel Cluny Sorbonne offers cheap rooms, some with dreamy rooftop views, across a small street from the University of Paris / Sorbonne in the Latin Quarter. Rooms are pretty simple, but all have TV, free Wi-Fi and private bathrooms. Romantics take note: The poet Rimbaud stayed here in 1872! Doubles $88-123

Sitting pretty on the left bank of the Seine in the Latin Quarter, the Hotel Esmeralda is a creaky, funky, dollhouse of a hotel, offering 16 imaginatively decorated rooms, many with direct views across the river of Notre Dame. Rooms have been recently renovated and gently modernized, but, thankfully, haven't become any less eclectic. Doubles: $119-138

A hotel-hostel hybrid, the one-star Hotel du Commerce puts you in the Latin Quarter of schools and students, not of sandwich joints and trinket shops. Rooms are simple and most share either a toilet or shower with another room. Downstairs, a communal kitchen and dining table comes in handy, given the morning market held at the nearby Place Maubert three days a week. Doubles: $68-93

Occupying three floors of an apartment building directly across the street from the Luxembourg Gardens, the Résidence du Palais offers cheery rooms with showers and shared toilets. You'll also be well positioned to hit up the cafés and brasseries of the nearby Boulevard Montparnasse. Doubles: $82-100

We have a Cheapo crush on the Hotel des Boulevards, located just south of Metro Bonne Nouvelle, near the clubs, bars and restaurants of the 9th arrondissement and nearby rue Montorgueil. Room décor may be dated and furnishings few, but rooms are clean and most are equipped with a private bath. Doubles: $69-88

Situated one block from the Hotel de Ville in the Marais, the Grand Hotel du Loiret offers attractive, renovated rooms with free Wi-Fi, TV and private or shared bathrooms. The hotel is perfectly positioned for those on a budget looking to hit up the Marais' bars, restaurants and shops. Doubles $100-126

Tucked behind Place de la République on a seemingly hidden street, the ivy-covered Hotel du Nord is an enchanting little find, offering well-equipped rooms with private baths and a heavy dose of style. (Free bikes are provided to guests, as well!) Its location, one minute from the République Metro hub, makes a convenient home base, and it's a quick walk to the trendy Marais, Bastille and Oberkampf neighborhoods. Doubles $89-106
Follow EuroCheapo on Twitter: www.twitter.com/eurocheapo