"Live as if you'll die tomorrow -- James Dean
Everyone's jealous of my job. My work uniform, if I feel like dressing up, is flip flops and a smile. On causal Fridays, just the smile. OK, I do get dressed at 4 p.m. every day for our informal afternoon snack hour: I don my black bow tie as I walk naked into our pool serving the guests fresh strawberries.
Yes, life is good for me. My lovely wife and I own a very popular nude sunbathing resort in sunny Palm Springs, California called The Terra Cotta Inn, http://sunnyfun.com Repeat guests tell us they keep coming back because it's like staying with family, sort of like a naked version of the TV show Cheers "where everybody knows your name." People love the friendliness and camaraderie of our guests. Our resort dog, Jude is always up for a game of fetch or a belly rub. Her wag always brings out smiles. You just can't get these types of warm fuzzies staying at some big anonymous hotel. You're not treated like just another head in a bed here.
We've helped celebrate honeymoons, anniversaries, birthdays and other special occasions including nude weddings. Of course lots of people come here just to relax on their vacation and get away from stresses, strains and the daily grind of working.
July 9 to 15 was the 37th anniversary of Nude Recreation Week. Over the weekend there was a fun, very successful nude body painting event held at nudist and clothing optional resorts all across America. Our guests had a blast. Artists created living canvases. One of our local TV stations was here capturing this function.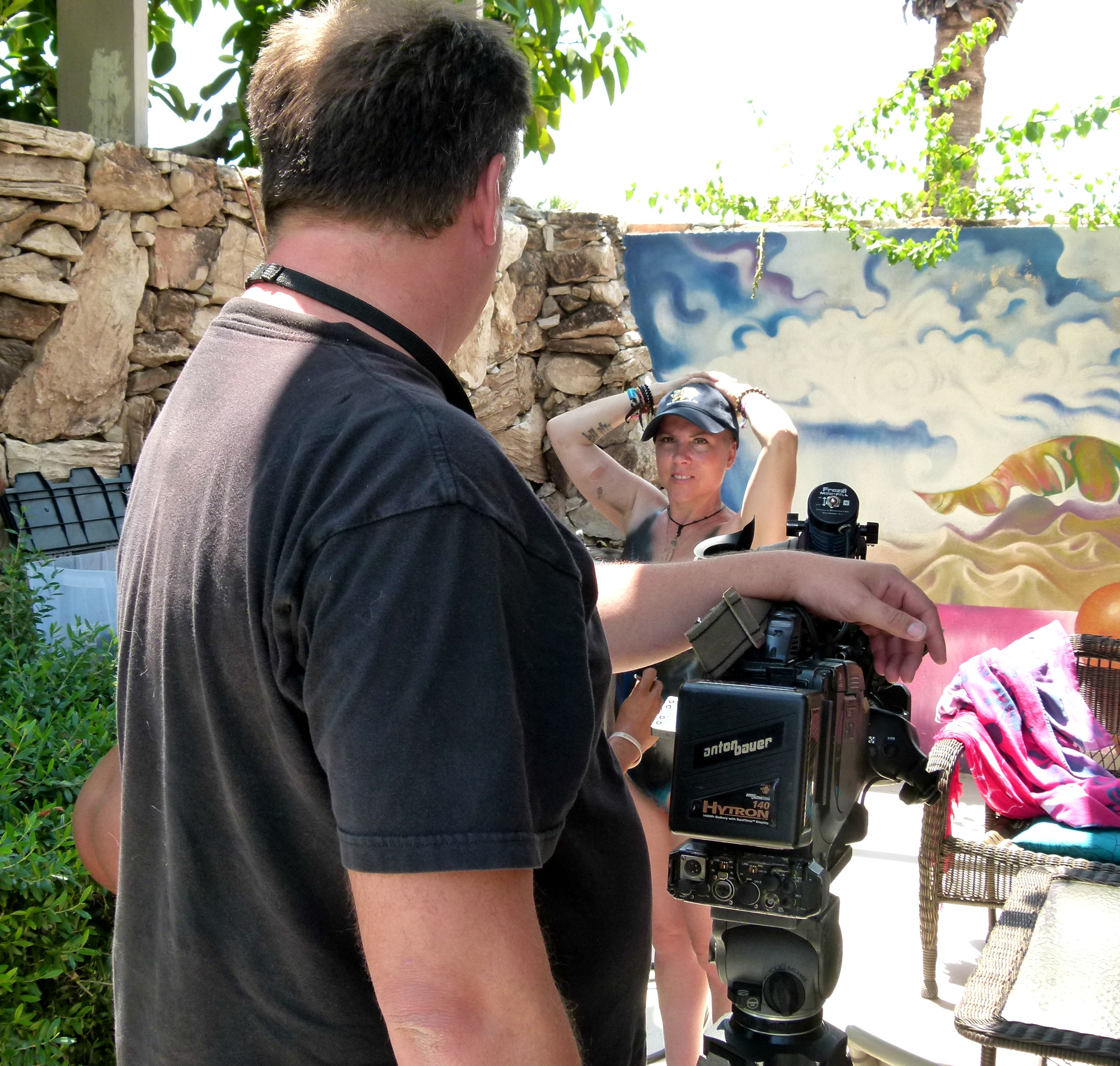 Last summer, I met a young woman named Laura and her boyfriend who was one of the artists this weekend. She's a yoga instructor. She's full of energy and has a zest for enjoying life. She's a fashionista just like me: She wears just sandals and her smile.
Only this year, things are a little different. Her smile is just as big as ever, and her eyes are still beautiful and full of enthusiasm. What's different is her hair. Or should I say complete lack thereof. Laura's head is naked just like the rest of her body. A few guests complimented her sexy punk hairstyle. Baldness really does become her. But the real reason her head's smooth is because of chemo treatments for AML, acute myeloid leukemia.
Laura was diagnosed in February. She went through the usual shock and disbelief. Here she was a healthy young women in the prime of her life. She teaches yoga, eats right, works out, etc. Probably her biggest vice is splurging on frozen yogurt. She did all the right things, yet the big C still found a way to worm its way into her.
It took her about a month to accept the fact that she was in for a major battle. Wishing doesn't make it go away. Houdini's no longer around to make it disappear. Laura says, "I want a happy ending." So shes literally fighting to exist.
Laura says you get a different outlook on life when you battle cancer. You learn you don't sweat the small stuff. Things that you thought that you needed to be happy or successful are nothing more than excess baggage.
Happy memories that you can create and share with the people you love, now that's what really matters. You're not promised a tomorrow, so you have to fully enjoy everyday on earth. Laura said, "I can't afford to let life to pass me by or slip through my fingers into nothingness like grains of salt as I struggle to get my health back."
And being happy and in high spirits is what keeps Laura battling back. She was the first to volunteer to be painted. And when she learned we were going to have a TV crew, she was jumping up and down like a little school girl saying "pick me, pick me!" The reporter was blown away by her story as he filmed her.
Being naked on TV was both a physical and mental coming out process and party for her. Laura bared her body and soul proudly proclaiming she was not going to let cancer get her down. Plus, she got to tell the TV audience, it's fun being naked. If I can vacation here, so can you. "People take everything for granted. Well it all can change with a simple phone call from your doctor. Don't wait to travel. Experience new adventures. Get naked and make friends. Do it now."
Laura has great support from family and friends. You need allies; it's so important for healing and winning. Yet, it saddens her when she sees some cancer patients getting treatments with no one there to mentally back them up. She wants people to know, you're not alone. There are so many support groups online. Laura says you can even message her on Facebook at http://www.facebook.com/laura.l.schneider.37 if you need help.
Mark Twain wrote, "Travel is fatal to prejudice, bigotry and narrow-mindedness, and many of our people need it sorely on these accounts. Broad, wholesome, charitable views of men and things cannot be acquired by vegetating in one little corner of the earth all one's lifetime." His words were true in the 1800s and they're still true today.
And vacationing at nudist resorts is the ultimate in travel and opening your mind and horizons. You meet awesome people like Laura.
Laura says, "The people you meet at nudist resorts are wonderful. They're great people. More open, accepting, caring and fun. Less judgmental. The kind of people I want as life long friends. My illness is what it is. I've accepted it and now I'm really enjoying life. As my boyfriend's mother teases, 'Heavens, are you off to another nudie place again?'"
She continues, "My advice, get naked and start living like there is no tomorrow. Open your eyes, heart and mind through travel and staying at nudist resorts. Change your way of thinking and thinking about others. Create fond memories with the ones you love."
Laura pasted this on her Facebook page when she left: "Perfect weekend. Wish I didn't have to go home. Good memories for when I go back for more poisoning tomorrow!"
Good memories, that's what really matters, and travel gives you those. And staying at nudist resorts give you great memories.
Go to The American Association for Nude Recreation, http://AANR.com, to learn about the location of nude sunbathing resorts throughout North America. Take Laura's advice and enjoy life before it's too late.
SUBSCRIBE TO & FOLLOW LIFESTYLE
HuffPost Lifestyle is a daily newsletter that will make you happier and healthier — one email at a time. Learn more