I'm reporting live from Tampa, Florida.
We've all heard the story of the Emperor's new clothes. What about a President wearing no clothes? There's one fun organization that barely gives invisible clothing a second thought, and the President proudly wears a birthday suit. It's called, The American Association for Nude Recreation, http://aanr.com, and they're having their 81st National Nudist Convention this month in a suburb of Tampa, Florida, August 6-13. The convention is being held at Lake Como Cooperative Nudist Resort located in nudist friendly Pasco county, http://lakecomonaturally.com
Where the Republican National Convention being held in Tampa, Florida at the end of August is overshadowing AANR's national convention, nudists will be exposing their members to a a much more fun and interesting new level of naked politics.
Republicans in their power suits will be dressing to impress in Tampa, whereas the fashion statement of the day for AANR's delegates will be to undress to impress. Flip flops and visors are de riguer instead of Jimmy Choo's and silk ties.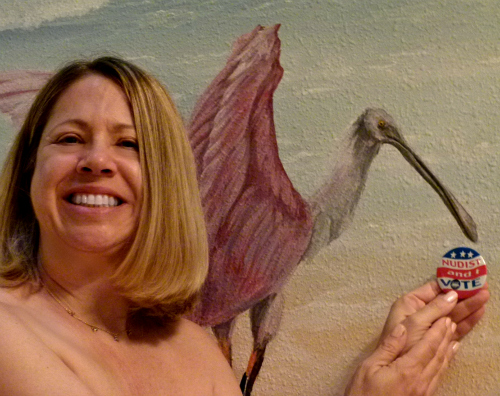 Lake Como General Manager Van Bradley and all the resort members are welcoming skinny dippers from all over the US and Canada. Attendance is expected to be well over 1,000 people. If you have always wanted to experience all the fun, relaxation and entertainment that goes with nude recreation, this is the perfect event for first time skinny dippers.
Besides the obligatory nude sunbathing and swimming, there are fun sports such as tennis, pickle ball, water and sand volleyball. Lake Como is also a National Wildlife Federation Certified Wildlife Habitat. 111 of their 200 acres are forest or wetlands. There are approximately five miles of trails to explore.
While Republicans mull over their keynote speaker, nudists settled on Dr. Stan McGahey who is Associate Professor and Director of International Hospitality and Tourism Management program at St. Leo University. There are many interesting workshops and forums for experienced nudists and first timers to attend.
By Saturday, all the naked politicking and voting will be over. Saturday night was party time at the fun inaugural dance. Although none of the "ball gowns" will be immortalized and displayed at the Smithsonian, attendees of this dance got to see a wide variety of creative nudist t-shirts, beach wraps and towels.
At Lake Como, we found out how much fun natural, naked politics really can be.
FOLLOW HUFFPOST