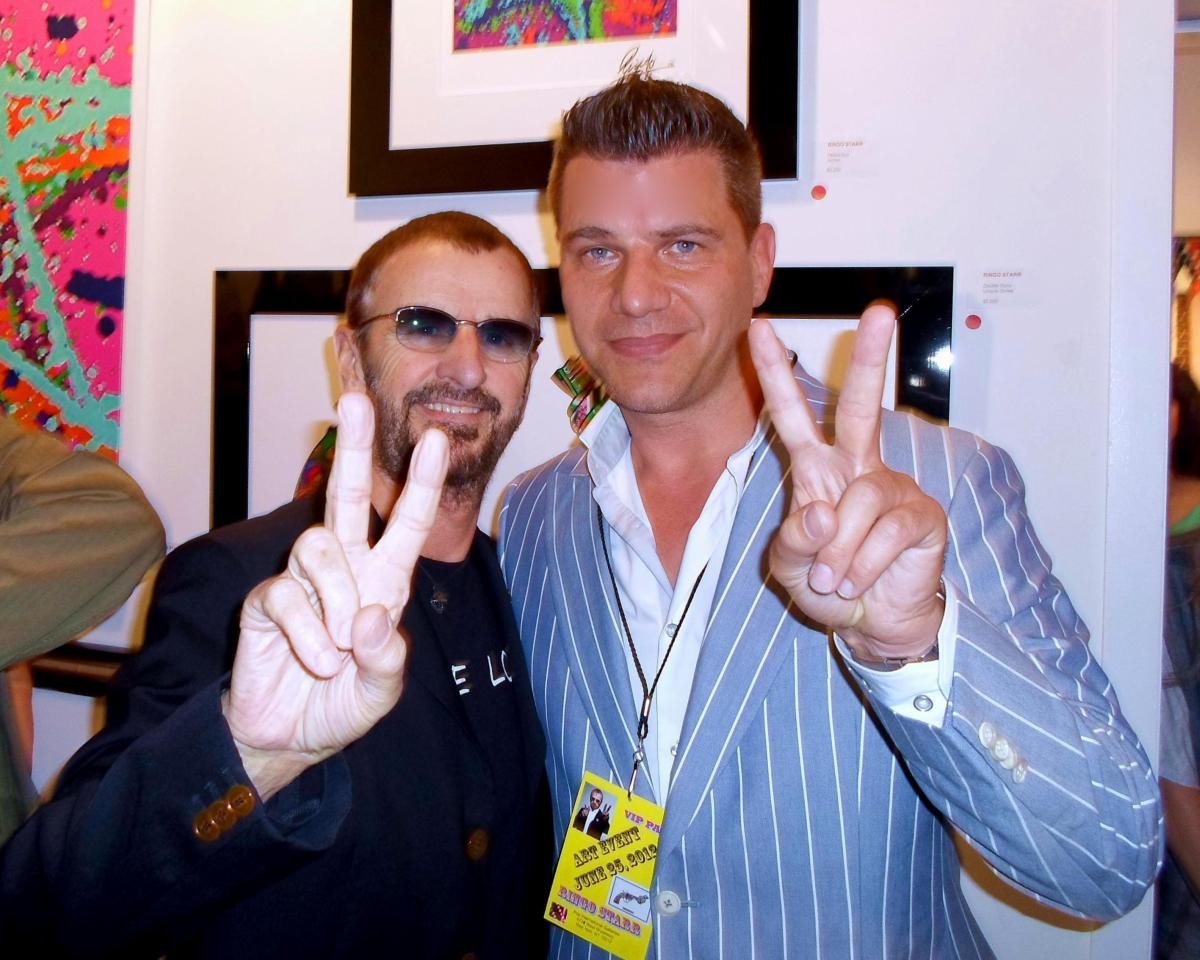 Party Hopping on Monday June 25, with former Real Housewives Of N.J. cast-mate Kim G. was a laugh and a scream a minute. It's always a peak experience when Kim is around, especially during Gay Pride Week in NYC.

From the Broadway Sings for Pride event featuring Chaz Bono, to the Trevor Live Gala at Pier 60, then on to the grand finale, Ringo Starr's pop art showcase at the Pop International Galleries to benefit his Lotus foundation. All three events benefiting very worthwhile organizations. It was thrills and chills and loop-the-loops at each new venue. Here are some of the highlights, and lowlights from our yellow submarine (cab) ride through the streets of Manhattan.

Highlights
Missing Chaz Bono at the Broadway Sings event.
Seeing Deborah Messing reunite with Eric McCormack at the Trevor Live Gala, and in vintage Grace Adler style, admired my brand new camera and asked if she could have it. She was serious.
Passed hors d'oeuvre and the open bar with Summer Martinis at the Trevor Gala.
Meeting the iconic Ringo Starr in the same room as Billy Squire, who is, in my estimation, the only remaining Beatle. Why? Mainly because he gave 100 percent of the money raised that night to his Lotus charity, that, and the fact he's married a Bond girl. Ringo, you are a class act, and so is the Lotus Foundation.
Getting to tell the rock idol of my youth, Billy Squier that I used to roller skate to The Stroke, yes with four wheels. I think I even called him dude. Hey, It was a moment dudes. Seriously.
Kim G appeared unmoved by the fact we were breathing the same air in a VIP room with Ringo Starr, as she was feverishly texting in the corner, probably to her son to see how many miles he'd put on her Ferrari this month.
A V-beaut'e 'It Kit' in one of my gift bags. Which Included some eye cream and evidence eraser in a tube, just what every celebrity needs after a night on the town.
Low Lights
Not talking to Todd Rundgren at the Ringo event because I thought he was just some creepy guy with a blonde skunk on his head. Note to self: When you're at a rock and roll party, always get your picture taken with the freakiest looking dude in the room, because he's probably really famous.
The Ringo event VIP room was boozeless. Next year it's BYOB.
Learning that wild child Billy Squier, who was there with his wife Nicole, now enjoys gardening and mentoring young children. Nothing against gardening, mentoring, or Billy, it just wasn't what I imagined one of my teenage rock idols would be doing in his down time. But I can adjust, I've matured, not really.
Somehow going from Ringo to gay bingo (in the wrong place) looking for the Broadway Sings after party downtown at the Stonewall (no offense to the rather large drag-queen named Ken calling the numbers). Bonus highlight -- Chaz Bono wasn't there either.
From Ringo Starr to gay bingo at a bar