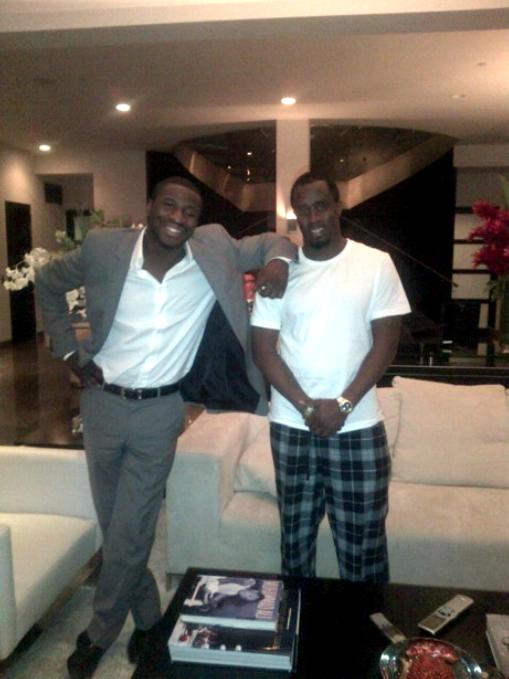 On Thursday, June 7, entertainment mogul Sean 'Diddy' Combs reached out to multi-champion boxer from Brooklyn, Eric Kelly. Diddy invited him over to his Hollywood Hills home to talk shop, after enjoying Eric's much talked about viral video.
Seems like Diddy wants in on the action, as word on the street is that Eric has been fielding some pretty big show and endorsement offers on the heels of this hilarious reel promoting the Church Street Gym, where he verbally TKO's Wall Street nerds. Why is Eric important? Well, he was once four-time national champ, ranked fourth in the entire world, and even made it to the Olympics, that is, until he took a pool cue to the eye in a street fight,which unfortunately cut his career short. Now Kelly now works as a senior trainer at the Church Street Boxing Gym located in lower Manhattan.
Eric said, ''I arrived in my suit and sat on a white ostrich leather couch waiting for Diddy, then he walked out in his pajamas and we watched a Celtics/Heat game together" -- more specifically game 6 in the playoffs. The two men who had never met before, chatted in front of the TV for hrs, munched on chips with guacamole, and despite having a custom stocked bar and a bartender on staff, they decided to wash it down with Diet Coke (what, no Ciroc?).
Diddy rooted for the Heat, as he felt the Heat vs. Thunder final would be much more entertaining. Eric went on to say, ''Diddy was cool, calm, very knowledgeable and has great vision.'' Eric also said that during the game, Diddy had a brief run in with a bird-sized mosquito, nearly knocking over a lamp (probably not from IKEA). In the end, the mosquito won the battle and eventually made its way outside. Am I the only one who noticed the strategically placed Mohammad Ali hardcover on the coffee table?
Apparently Eric didn't get the dress code memo on his invite, but he is obviously making friends in high places. Before Eric headed out, Diddy offered him some great advice: ''Don't just be a reality character, take your time and build a career."

The Heat won 98 to 79.
FOLLOW HUFFPOST