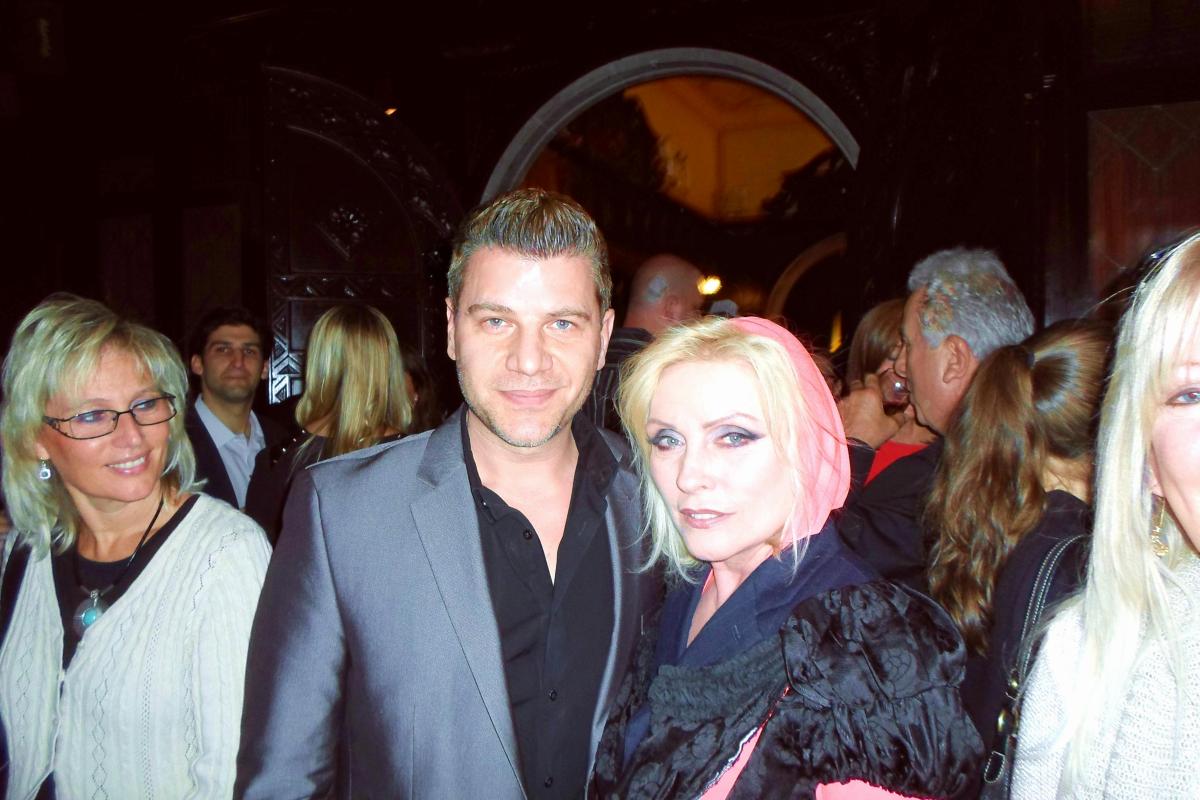 On April 5, the Hilton in NYC hosted the Friars Club for the roast of Jack Black, which also seemed to double as the Friars Club ear and nose hair convention.
For the event, I was the guest of Olympic Skater Sasha Cohen. I quickly learned I was seated at the Plus 1 table, as I chatted with Joane Osborne's boyfriend and compared pics of my children with Nancy Mack. For those who don't know, Nancy is the wife of Chad Smith-- The drummer and coolest band member in the Red Hot Chili Peppers (and Will Ferrell's doppelganger).
Everyone's favorite TV dad Bob Saget was the perfect event host. Up on the dais, Insults were fast and furious, and while most of them were funny, there were a few topics that got played out faster than Lindsay Lohan's career. I was told by a member that a Friars dais is a long table taking up lots of real estate and is usually filled with important and funny people, still not sure what Padma Lakshmi was doing up there.
Right from the start, Saget had jabs hitting him harder than Chris Brown's fist after a Grammy party. And yes, we get it, Jerry Lewis is older than well, Jerry Lewis, Artie Lang is just a bit out of shape and Al Roker may have at one time crapped in his pants.
Once everyone rode the stationary bike past the age and weight topics, the show ran smoothly and was also filled with a few funny video messages from Shirley Maclane, Seth Rogen, Matthew McConaughey, and Will Ferrell (as Ron Burgundy).
Some of the best zingers of the afternoon:
"[Jack] prefers to be left alone, which is why he made Nacho Libre."; "Anyone who's seen Bob's stand-up knows it's nothing like Full House. He played a sweet dad for Full House; he plays a terrible comedian for a half-full house." ''Jack is so fat, his last movie was shot by Google Earth. He went on Jenny Craig, she suffocated to death. John Mayer wrote one of his most famous songs about Jack Black: "Your Body Needs a Wonderbra." Unlike most comedians, Jack is not starved for attention -- just onion rings." --Sarah Silverman
"Bob is currently on a stand-up tour of colleges, and it's just nice to see someone not killing at a school these days."; "What a turnout: Dee Snider, Debbie Harry and Joan Osborne. Last time I saw these three musicians together was in a one dollar CD bin." --Jeff Ross
"Al Roker is here. Jack Black is actually more black than Al Roker. Truth is, Al is not really black, but his underpants are. Because I heard on the news that he one time shit his pants, and I'm sure no one else is going to mention that tonight." --Bob Saget
"I loved you in Slumdog Millionaire." -Amy Schumer to Padma Lakshmi
At one point, Richard Marx (king of sappy songs and the feathered mullet) got up on stage to perform a Tenacious D song in the middle of the roast. Not sure why it worked, but it did (maybe because it's hard to ruin something that's already awful (sort of like Jocelyn Wildenstein's face).
Then Jack Black took the stage and gave a little back to his entertainment colleagues.
"I'm nervous because this is not really what I do. I'm not a mean guy by nature," he told the crowd. "But f*** it, here it goes.
"Jerry Lewis. You know what else is popular in France, Jerry? I don't know. Probably shoveling poop in your mouth, you big fat bear turd. You swollen pair of monkey balls. Roasted!
''I'm going to say 'roasted' at the end of all my bits. It's going to be my personal spin on it." "Oh Bob Saget. You played such a pussy fart on the boob tube for like a thousand years. You got your butt rammed with ABC cash for far too long, my friend, and no amount of dirty jokes can erase that. Roasted!"
"Jeffrey Katzenberg, one of the coolest dudes in showbiz, and that's all I'm going to say about my sweet bro J. Katz. Gotta keep him buttered up so he'll keep dumping Kung Fu Panda cash on my mansion lawn. Jeffrey, you are a very handsome and virile man, and the gatekeeper of my great-grandchildren's college educations. Semi-roast!"
"Shirley MacLaine is like a grandmother to me. She reminds me of my own grandmother, constantly calling me a fat while I change her diaper. Old roast!"
Right after the roast, hundreds of guests headed to the after-party held at the Friars Club. There we bumped into Deborah Harry (Blondie) who someone remarked looked more like her first name should be Harry. Partygoers enjoyed a live jam by The Spin Doctors, along with the top-shelf open bar, a badass guitar cake by Palermos Bakery (giving the Cakeboss a run for his $) and delicious cupcakes from Baked by Melissa.
Nicest guy of the day: The very tan, Emmy Award-winning journalist Bill Boggs.
Check out more photos from the event here.
Friars Club Roasts Jack Black In NYC