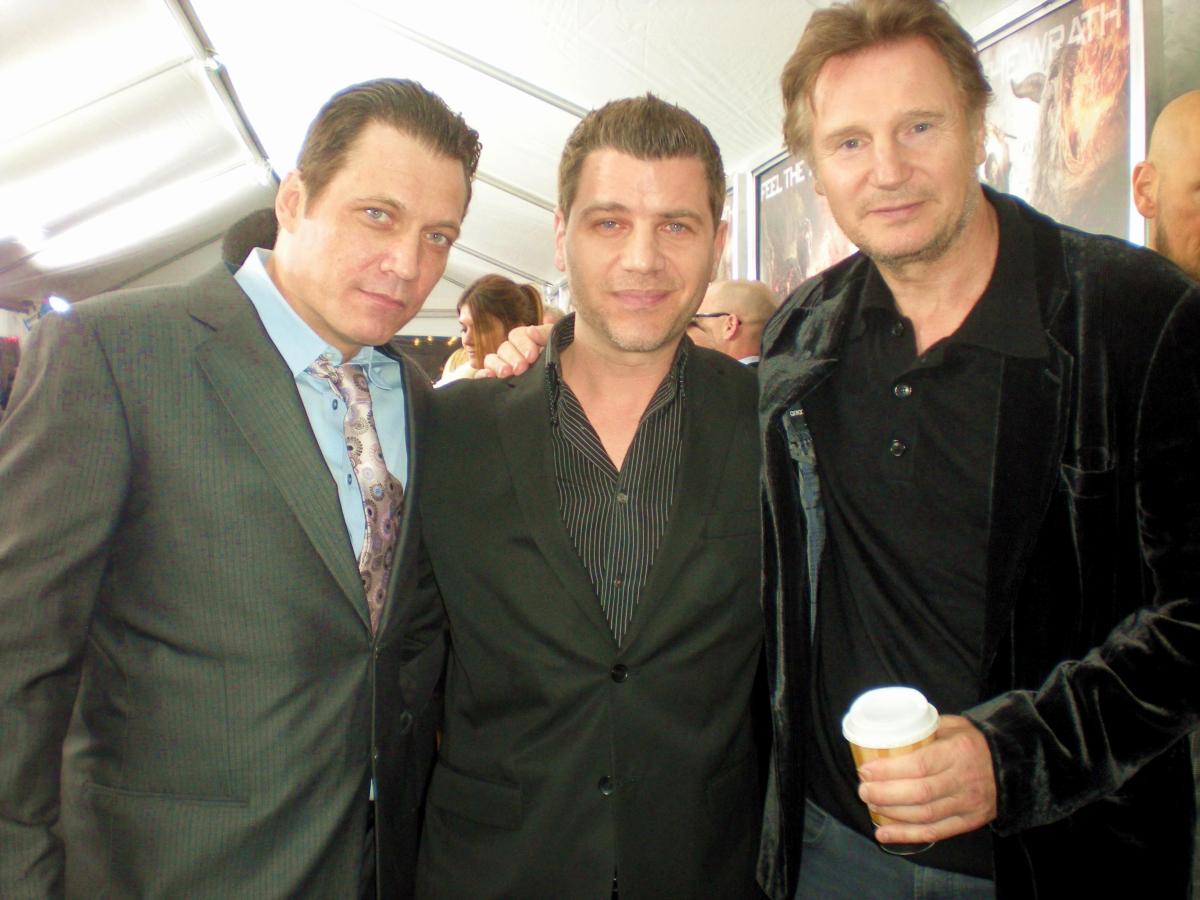 March 26: It was a numbing and blustery night, chilled to the bone as I shivered into a tent where a red carpet, cameras and heat greeted me -- what a nice treat. I finally arrived at the AMC Lincoln Square Theater on Broadway in New York City to catch the U.S. 3D premiere of Wrath of the Titans.

Away from cold weather and reality, I instantly spotted Russell Simmons, AKA Uncle Rush. A simple wave sufficed -- Rush and I go way back with enough photos to fill our own star-studded scrapbook. I was obviously "feeling the wrath" from the overflowing titan atmosphere as I struck my best fight poses with Lights Out actor and old friend, Holt McCallany, who just happened to be standing next to me on the way in. Last time I saw Holt, he was getting his ass handed to him on a silver platter by Eric Kelly at the Church St. Gym in NYC. Now I can't be too hard on my man Holt considering Eric is a multi-championship boxer.

Then there was Sam Worthington there with his blonde bombshell girlfriend. He plays Perseus, the half man/half god who battles a slew of oddly scaled monsters in the film. For such an impressive role, Sam admitted that he didn't work out for the film; well maybe a little Australian fitness routine involving lifting beer to his mouth -- it must be nice.

Zeus was the finale on the carpet with a coffee cup in hand -- oh, and by Zeus I mean Liam Neeson. Liam was acting very Zeus-ly with justification as to why Wrath of the Titans is 10 times better then Clash. I congratulated him with "Hey congrats on the film, man," and he curtly retorted with "It is what it is." This man may be an actors actor, and he may have a very particular set of skills, but small talk is definitely not one of them.

I did however enjoy speaking with the producer of the film, Polly Johnsen, there with husband Rob. The couple was unable to make it to the prior premiere in Mexico, so they were ecstatic to attend this as their first. Mr. Johnsen shared that he is working on a book to be titled The Producer's Husband, which would explain the lifestyle of a man whose wife spends two years giving life to a movie about wrath and other sundry things while raising their daughter Marlo. Polly briefly went from producer to photographer as she snapped a great picture of me, Liam and Holt.

Now, I have to give credit to the Warner Bros and AMC for making the movie going experience very VIP. Not only with the buttery popcorn, but also large boxes of candy, fruit snacks and Twizzlers. On the movie theater financial scale, I think I ate nearly $200 worth of goodies..

When the screening ended everyone made their way to Gotham Hall in NYC to get the after party started! While making my way, I swung by The Times Center for a quick hello to NYC Mayor, Michael Bloomberg. He was accepting his Shorty Award for "Foursquare Mayor of the Year." For those of you unaware of the Shorty Awards, think The Oscars of social media. The mayor and I got a quick photo and conversation in, I informed him that he was my notable at this party, and his response was, "It must be a slow night." A few glasses of wine and awards later, I hightailed it over to Gotham Hall.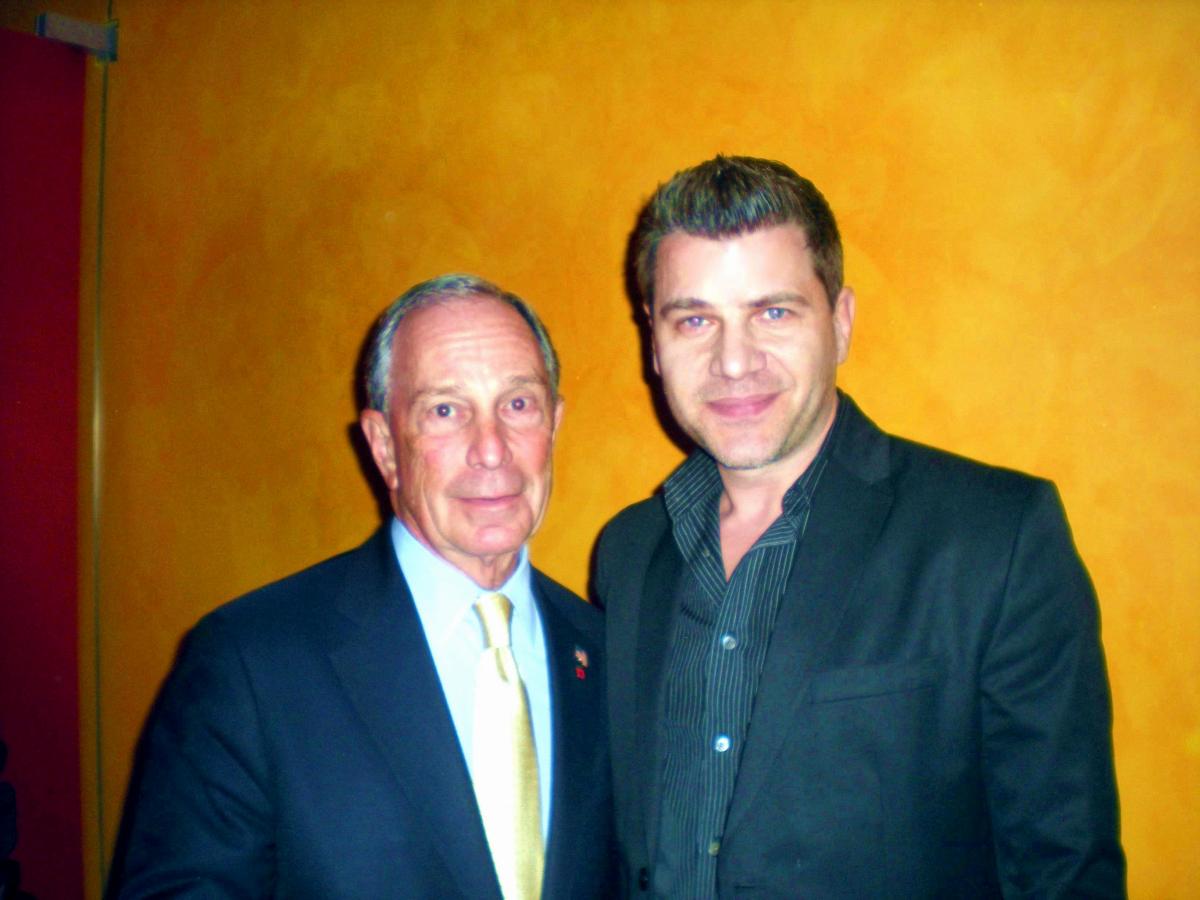 Gotham Hall never seems to disappoint. The Wrath after party was streaming with top-shelf booze and food. Step aside merely satisfying sliders and libations, I'll take more salmon and hummus please!

Throughout the night, I noticed that Liam remained in a designated spot, posing and still holding that coffee cup (okay jokes over, what's actually in it?). Zeus chilled with the guests right to the end of the party, a scarcity found in stars of his caliber.

Standing opposite the probable double-skim venti latte loiterer was Tony Danza, he was clearly the life of the party. Danza reminisced about his past role as Max in the Broadway musical The Producers. You would think he was auditioning for another Broadway play, singing and dancing around in a fabulous mood. When I spoke to him, he admitted his secret to remaining in great shape at the age of 60 -- boxing and tap-dancing, although he failed to include his social-butterflying routine.

Overall, the evening was a success. I was full of free movie theater candy, 3D memories, quality grub and a new knowledge of social media.

#StarRambling -- Sam Worthington admitted that his hair remained perfect throughout the entire movie. He failed to elaborate for me, but for what I saw in the film, I can only hope the person assigned to these titan-isque locks was featured in the credits.
Wrath Of The Titans NYC Premiere