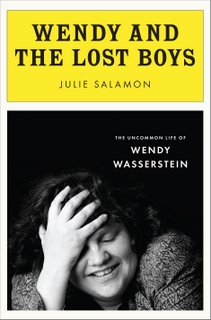 When the Pulitzer and Tony Award-winning playwright Wendy Wasserstein -- beloved for her plays "The Heidi Chronicles," "The Sisters Rosensweig" and "Isn't it Romantic?" -- died in 2006 at age 55, Broadway dimmed its lights in her honor. Five years later, Julie Salamon's page-turning biography Wendy and the Lost Boys (The Penguin Press: $29.95) sheds light on the public and private selves of this author, whose own family dramas were no less gripping than those she wrote for the stage.
The title's reference to "Peter Pan" is apt on many levels -- Wasserstein was named for J.M. Barrie's lost boys' surrogate mother; she also became the chronicler for a generation that didn't want to grow up; and, throughout her life, she surrounded herself with unattainable men, companions whom she could not commit to or who, being gay, were romantically out of reach. When she was 48, Wasserstein chose to become a single mother, and the identity of the father of her child, whose premature birth she chronicled in The New Yorker, remains a secret.
Wasserstein's life illustrates the post-immigrant Jewish experience. Her parents' origins were like folklore from a distant past, and their drive to make it in America was manifest in their move up from Brooklyn to Manhattan. For Wasserstein and her peers, assimilation was neither a goal nor a fear -- it had already been accomplished. Even though she started her schooling at the Yeshiva of Flatbush, she soon moved to Manhattan's private Calhoun School, then on to Mount Holyoke College in Massachusetts, and, later, City University of New York for graduate work, where she was taught and mentored by Joseph Heller, and finally, to Yale School of Drama, where she earned her M.F.A. degree
For Wasserstein, who came of age in the "me decade" 1970s, the issue was identity, not religion. No doors were closed because she was Jewish; on the contrary, Wasserstein and her characters suffer from too many options -- wondering whether the things they so wished for (careers) were what they really wanted after all (instead of family). The constant refrain in her work is: What was the cost of the trade-offs?
Salamon, who will speak at the Skirball on Sept. 22, was given access to Wasserstein's papers and conducted more than 300 interviews with the playwright's friends, family and theater associates. She has done a masterful job of reporting and weaving a narrative portrait of a woman to whom her audience felt such a personal connection that they regularly stopped her on the street to engage her in conversation.
Wasserstein's story is also that of a tight circle of playwrights, directors, producers and actors that included Christopher Durang, Terrence McNally, Andre Bishop, Daniel Sullivan, Meryl Streep and Swoosie Kurtz, and was largely played out at Playwrights Horizon and the Vivian Beaumont Theatre at Lincoln Center.
But there is also her relationship with her notable siblings: Sandra, one of the highest-ranking Fortune 500 executives, for whom there was no glass ceiling; Bruce, the much written-about takeover specialist and billionaire investment banker; and Georgette, who ran an inn in Vermont. All of which was previously known.
However, Salamon reveals what Wasserstein wouldn't: that her two older siblings had a different father, George Wasserstein, who died of an infection following a ruptured appendix. Wasserstein's mother, Lola, then married George's younger brother, Morris, a fact not mentioned to Wasserstein until she was much older. Further, Wasserstein had an older brother, Abner, who had mental deficits and was put in a group home and rarely acknowledged, much less visited, by the family. Lola was the force of nature that Wendy had to deal with, and who provided anecdotal material for friends and in her writing -- but it was Lola's secrets that Wasserstein kept off-limits.
I met Wasserstein on a few occasions. She wrote the words for a comic strip that ran in New York Woman when my wife was that magazine's publisher, and so we found ourselves at several of the magazine's events. In my memory, she is a bit like Hagrid in "Harry Potter," a lovable giant with a wild, thick mane of hair -- that is, if Hagrid had appeared at black-tie champagne events. When you talked to Wasserstein, you felt like there was extra oxygen in the air -- smiling was inevitable.
After her death, New York Times theater critic and columnist Frank Rich wrote: "How could the most public artist in New York keep so much locked up?"
As Salamon makes clear, Wasserstein's friends were her life, and their relationships often turned up transmuted in her work, causing friendships with Wasserstein to run hot and cold. Perhaps Wasserstein compartmentalized her friends and kept her secrets as a means of maintaining a fiction -- that they lived in a Neverland of her own invention.
Peter Pan's Wendy refuses the boy's entreaties to stay young, instead maturing until, one day, her own daughter is visited by Peter. In "Wendy and the Lost Boys," Salamon details the human cost of a life that will live on, on stage, but was cut far too short in real life.
Julie Salamon will discuss Wendy Wasserstein at the Skirball Cultural Center on Sept. 22 at 8 p.m. Tickets are free, but advance reservations are recommended and are available online at skirball.org.
SUBSCRIBE TO & FOLLOW CULTURE SHIFT
Level up. Read THIS and be the most interesting person at your dinner party. Learn more