THE BLOG
Don't Trust the Infrastructure Trust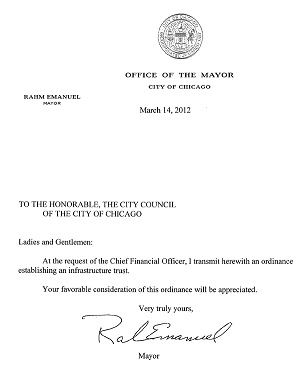 Mayor Emanuel wants us to trust him with the future of all of Chicago's public assets.
In announcing his plans for an infrastructure trust we were told:
The infrastructure trust is simply a financing tool. They won't have any control over city assets. They won't be able to lease or sell... They're only there to put together financing for projects we and the City Council decide to do.
In the March 1, 2012 press release announcing the plan, the mayor is quoted as saying:
Nothing is more crucial to our long-term competitiveness and job creation than infrastructure. The Chicago Infrastructure Trust will bring additional resources to stimulate public and private investment in our infrastructure, create thousands of jobs for Chicagoans, and ensure that our residents have a world-class quality of life.
Free money. Great projects. Thousands of jobs. Public-private partnerships. World-class city. Where have we heard that before? How about in the run-up to and the massive push behind Chicago's bid for the 2016 Olympics?
So how is this new privatization scheme going to work? You can download the proposed ordinance here.
The mayor calls the shots. As always. He appoints the five voting board members of the trust as well as its chairman. The city (that's you and me) pony up $2,700,000 to get the project off the ground.
Perhaps most worrisome is Section 8, that says "To the extent that any ordinance, resolution or order of the city is in conflict with the provisions of this ordinance, the provisions of this ordinance shall be controlling." What, exactly, does this ordinance nullify or taken precedence over?
And what is the why behind all this? It's right there in the WHEREAS section:
WHEREAS, a range of private investors and organizations, including without limitation foundations, labor unions, public sector and private sector pension funds, private equity funds, mutual funds and sovereign wealth funds have demonstrated a growing interest in low-risk, long-term infrastructure investments and it is in the best interest of the city to work collaboratively with such investors and organizations in a transparent and strategic manner to arrange required financing for a range of transformative infrastructure projects.
I would also like access to long-term, low or no risk investments. This is the key to the whole scheme. We are going to buy some expensive debt. We are all going to the payday loan store for a crippling loan that we will pay for over the next several decades.
Remember the parking meter scam. We got a little over $1 billion for the 75-year lease of our meters and Morgan Stanley will extract $11 billion over the life of the deal. That's a no risk profit of $10 billion -- a ten-to-one return. No risk -- unless we acquire Jetson-like hover cars that do not need to park on the ground.
Professor Julie Roin, of the University of Chicago Law School, ripped into the meter deal in an article for The Minnesota Law Review entitled "Privatization and the Sale of Tax Revenues." She says
The underlying issue stems from the temporal mismatch between the costs and benefits of the contractual arrangement. In sale-leaseback agreements, advance sales of tax revenues, and variations of these two arrangements, such as the Chicago parking contract, the distinguishing feature is the large upfront payment the selling government receives upon entry into the contract -- the upfront payment that future taxpayers must re-pay in the form of reduced future revenues without any offset in the form of valuable government services. The amount of this obscured debt can be substantial.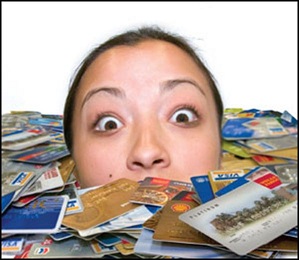 Think of it this way: we want to buy some stuff for our city -- say, a new elevated line. We can self-fund this project by saving up and paying cash. Or we can use our own credit card by going to the municipal bond market and borrowing the money, and then pay off that loan through taxes and fees. We could start a public bank and lend the money to ourselves. This would result in a fairly low (and predictable) interest rate. Here, the cost of debt is low. Or, we could use the corporate credit card and pay higher interest rates -- higher because the financiers all need to extract profits. Just think of the millionaire managers of Morgan Stanley the next time you have to park in Chicago.
Canada has been doing these privatization deals for years. The P3 (Public-Private-Partnership) movement is coming south in a big way. But Dr. Marvin Shaffer, an economist based in British Columbia, did a study of these deals back in 2009. In an article for the Canadian Centre for Policy Alternatives entitled "Flawed Analysis Props up in BC Public Private Partnerships," he writes:
However, the major and most obvious failing of Partnerships BC's methodology is that it only focuses on the benefits of P3s and completely ignores the cost side of the equation. When private companies finance public projects, they pay higher interest rates on what they borrow and require a high rate of return on what they invest. The higher costs of private financing for P3s are built into the lease rates that taxpayers ultimately pay, and are much higher than the debt service costs that government would pay if it financed the projects itself. For large, expensive public infrastructure, that can add hundreds of millions of dollars to the total expenditures government incurs over the life of the project.

For inexplicable and certainly unjustifiable reasons, Partnerships BC completely ignores the higher financing costs of P3s in its assessment methodology. It pretends the financing costs are the same. In other words, its methodology looks at the potential benefits of P3s without considering the costs. And it compounds that problem by giving very little weight in its analysis to the future tax burdens the P3s impose.

No wonder all of Partnerships BC's so-called 'Value for Money' assessments find that P3s are preferred to the more traditionally procured, publicly financed approach. Its methodology, which provides estimates of benefits, and which assumes incorrectly there are no costs, guarantees the result.
The mayor isn't trying to foist this kind of scam on us, is he?
Well, it doesn't look good for the taxpayers of Chicago. At a very ironically named conference on March 14, 2012 entitled "Beyond Parking Meters: The Future of Public-Private Partnerships in Illinois," produced by The Federal Reserve Bank of Chicago and the Civic Federation, all the cards were laid on the table. This conference was apparently the local version of another ironically named conference that I attended in June of 2011, "It's Not Privatization - Implementing Public-Private Partnerships in Illinois." At that event the entire framing of the push to privatize and strip-mine the public sector for private profit was revealed.
The to-do at the Chicago Fed was the local version of this gathering. Big capital was there. Big law. Big consulting. I could just imagine them all salivating at the prospect of getting some of that ten-for-one (or even five-for-one action) that Morgan Stanley is enjoying.
Here are two slides from Nathan Flynn's presentation called "Asset Valuation Done Right." If you can explain these slides please comment below or email me at tom@tresser.com.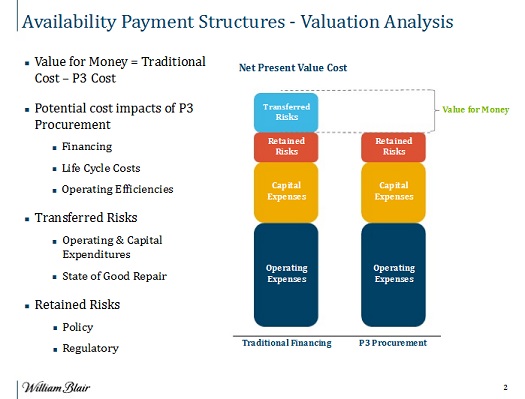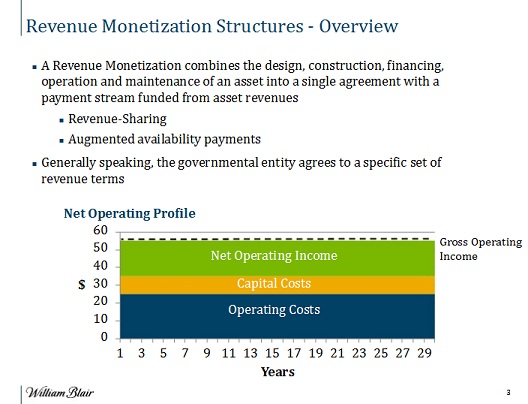 So who wants in? According to an article in The Bond Buyer, "Chicago has nonbinding agreements from Citibank NA, Citi Infrastructure Investors, Macquarie Infrastructure and Real Assets Inc., JPMorgan Asset Management Infrastructure Group and Ullico to consider investing in projects."
Wait a minute. Aren't some of those entities the same ones the taxpayers bailed out a while ago? Aren't they sitting on billions of dollars in cash and choking small businesses and not helping home owners stay in their homes? Macquarie is the firm that has our Skyway Bridge and will extract billions in profits from it.
Haven't we been fleeced enough?
Chicago -- call your Alderman before it's too late and tell them that you don't trust the Trust and neither should they.