On October 15th, 1983, I went to the Hartford Civic Center to see the Grateful Dead for the first time. People were friendly, funny, silly, self-deprecating and loving. Life felt exciting. There was possibility and openness. The music was so different than anything on the radio. I danced with strangers as a sixteen year old boy that night in a way I had never before. To dance with others spontaneously, ritualistically was thrilling. We danced in sync with one another and it deeply moved me. Though I did not know it at the time, I had been searching for this my whole life to that point.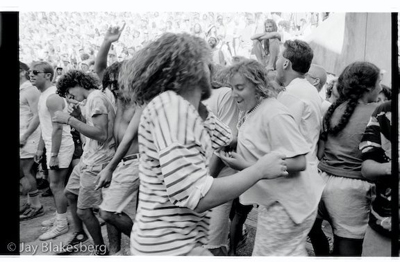 Twelve years and a few hundred "Dead Shows" later, Jerry Garcia died and left behind a considerable amount of sadness and confusion, which would provoke change and self-reflection among my Deadhead friends. Some of them like me had continued to show up till the bitter end, and it was bitter. The scene had gotten out of control. There was actually violence at shows (that's weird and unusual) and the very worst kind of drugs behind it all. It was not what it once had been and most of us knew it. What was once a pretty positive situation had become truly warped. Those of us who were still there held on for our own reasons. Those who had drifted away from shows and out of touch with us, were just gone. I had lost touch with so many of them from my early days in the mid '80s. Now that there was no more Grateful Dead, most of us would lose touch with each other at least to some extent if not completely.
Now, say what you will about the Dead scene, but one thing it provided without question was the certainty that you could always remain in touch with your friends and the Grateful Deadhead community. Everyone could count on seeing everyone else on a regular basis. You might not even have known these people outside of Dead Shows, but at Dead shows, they were your best friends, your lovers, your family. Sometimes you did develop relationships with people outside of the scene, but for the most part, the scene was what there was and we were in it with those few thousand other folks who showed up no matter what.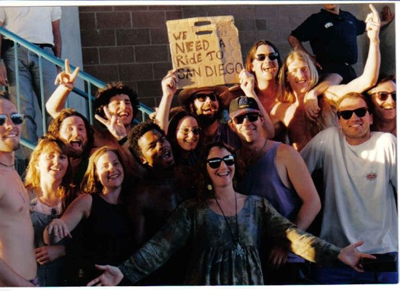 Where had they all gone to? Most of them were such amazing characters as Deadheads that it was hard to imagine them as anything else. Did they have families? Jobs? Were they Alive? Sober? Still partying? It was pretty certain that we would never know...but then...there was Facebook!
In December 2008, and I imagine this happens for every group of people at some point if they are regularly on Facebook, a tipping point was reached within my group of friends from the Grateful Dead touring days back in the 1980s. Fueled on by outstanding photos provided by dozens of deadheads and, in particular, Jay Blakesberg, one by one all the "freaks" as I lovingly call them started finding each other once again. People who were lost to us forever, all of a sudden, are there right in front of our faces with wives and husbands and children and jobs. Admittedly, there several conversations with people who reached out to me who I could not recognize from their Facebook photo. I'd say something like, I know we hung out and spent many a magical night together, but could you help me a little bit here? Then they would send me an old photo and I'd immediately recognize the dude. "Oh my God. Dude! That's you?"
By God, most of us were still alive and seemingly doing pretty well. The average person cannot imagine how shocking that statement is. It's an absolute miracle. We had all been through the ringer together. Very high highs and very low lows. Many of us were now sober, but that is no shock at all given the unsustainable way we had conducted our lives in those days. We started to exchange stories. We remembered some of our friends who had passed on. We cried and laughed till we cried some more. Now, we are in regular contact. We know where to find each other again. And here is the kicker, the remaining members of the Dead announced their current tour a few months ago just as we were all reconnecting. We did what we always do. We bought tickets, We got flights, cars, hotel rooms. We made plans. Oh yes, we made plans to be together once more. So, for any of you who are in New York City and have the good fortune of having a ticket to see The Dead at Madison Square Garden this Saturday Night (April 25th), we will see you there. And if you happen to notice some people in their 40s who are dancing like Banshees with laughter and tears in their eyes, who seem as if they have known each other forever, and who seem to be in sync, you can smile for knowing that they are living a dream they dreamed collectively one afternoon long, long ago.

FOLLOW HUFFPOST