I went to J&M Café and Cardroom on First Ave. to watch the speech, where Peter Cowman of MoveRed.org (a G.O.P. youth organization based in King County hosted a watch party. There were about 32 people there, generally very focused on the speech and enthusiastic about it. 


There were roughly 20 men and 12 women, ranging in age from 20s to 50s, all white, mostly conservative Republicans and an independent. Steve Beren was there, candidate for Congress, 7th District.
The crowd reacted most strongly to references to Sarah Palin's nomination, to change, to veto threats, to the Iraq surge, to property rights, to jobs, to oil drilling -- all these topics spurred loud applause and cheers.
Before the speech I asked and found out that the people there admire McCain for his patriotism, his wartime sacrifice and personal qualities, although he was not the first choice of many in the G.O.P. primaries. Many reported feeling better about McCain and the campaign after the speech. Mostly his supporters seem to like McCain's biography and personal qualities. Some wish he was more conservative.



After the speech, those present were impressed by McCain's "genuineness," "sincerity," "patriotism." Several said that they like the fact that his speech struck a "unifying" tone. And everyone agreed that Palin "energized" the G.O.P. and made the race more competitive. But Palin is a polarizing figure in this group: some conservatives felt better about the ticket knowing that Palin was on it; others felt that they didn't know enough about her, that she was too divisive.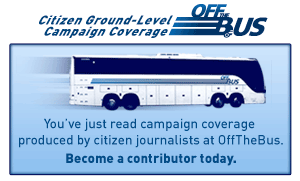 SUBSCRIBE TO & FOLLOW THE MORNING EMAIL
Start your workday the right way with the news that matters most. Learn more