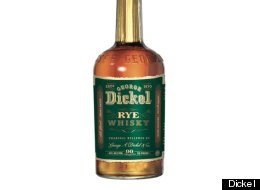 It seems to me like just about everyone could use a drink a little more than usual in recent weeks. Hurricane Sandy, a bruising presidential election, the looming fiscal cliff, Donald Trump calling for revolution, you name it -- it all cries out for a bottle and a glass. Thankfully, spirits producers are happily obliging us, not just with the tried-and-true brands but with a whole bunch of new ideas as well.
This latest crop of rookies is a weird one. You'll find a pair of stellar limited edition bourbons... and a mezcal that's not smoky. A cognac that's not from Cognac and a rum from Thailand. A $300 orange liqueur and a salted caramel whiskey. You get the idea. Not all of these are going to occupy a place of honor in my liquor cabinet. I'm guessing a couple of them won't even be around a few years from now. But I'm glad I got to try them, and I think they're all worth at least a cursory taste. After all, in times like these, the more booze the better.
Bourbons And Cognac And Rums, Oh My!
CAMUS ILE DE RE DOUBLE MATURED COGNAC (40% ABV, age not stated, $70). I've never been a big fan of cognac. To my palate, it's always seemed a little harsh, with too much wood on the tongue and too much burn on the throat. But then I tried Camus' "Ile de Re" line, which is notable for being the only cognac not from the Cognac region of France. Turns out that Ile de Re, which is sort of like the Martha's Vineyard of France, carries the designation of the mainland, which allows it to produce legitimate cognac. And dammit, I love it. The Double Matured is one of three Camus expressions which recently hit the U.S. market; this one is the middle price level. It's first aged in a high-humidity cellar on the island, and then finished in toasted oak barrels. The result is a cognac that's younger, fruitier and much more lively than what you're probably familiar with. It's also quite reminiscent of the ocean -- a little salty, with gorgeous mineral and iodine notes that I've only tasted before in certain Scotch whiskies. The finish is supposedly smoky, but to me it tasted like eating candied orange peel on the beach on a chilly autumnal morning. It's time for me to start rethinking cognac. (Camus' Cliffside Cellar expression is more expensive, but also outstanding.)

CASA SAUZA XA EDICION LIMITADA EXTRA ANEJO TEQUILA (40% ABV, aged more than 3 years, $150). I know that you can't judge a book by looking at the cover, and you sure as hell can't judge booze by looking at the bottle. But I've got to admit the handsome packaging (dig the leather strap over the cap!) got my heart beating just a little quicker. And finding out it's an edition limited to 12,000 bottles worldwide (1,800 in the U.S.) that's priced at a hefty $150... well, it doesn't guarantee the tequila is going to be good. And if you like your tequilas heavy on the agave, you may be disappointed. But for my tastes, this is a real lip-smacker, full of caramel, toffee, chocolate, vanilla, just a wee bit of cinnamon... if it sounds like dessert, well, that's what it tastes like. The time in wood has softened and mellowed the flavors so the sweet notes don't become sickly sweet. The finish is very smooth, with very little alcoholic burn. Limited edition and super-cool packaging aside, the XA is just plain fun to drink.

GEORGE DICKEL RYE WHISKY (45% ABV, aged at least 5 years, $25). In this golden age of uncut and unfiltered whiskeys, Dickel's Tennessee whiskey (it can't technically be called "bourbon" because it's charcoal filtered) has survived and thrived because, well, it tastes good. Dickel's entry into the rye sweepstakes is also filtered, which makes it a smooth, easy drink compared to some of the high-proof unfiltered monsters coming down the pike, if somewhat less thrilling. Its mashbill is 95% rye and 5% malted barley, but I'd have sworn it had some corn in there as well, owing to the slightly sweet, fruity notes when it first meets the tongue. It gradually picks up spice and grainy flavors as it heads gulletward, but it doesn't overwhelm -- this is one of the smoothest ryes I've ever tasted, though with enough flavor to hold up well in a cocktail. At $25 for a 750 ml bottle, the price is right, too.

JACOB'S GHOST WHITE WHISKEY (40% ABV, aged 1 year, $22). Unlike most white whiskeys (also known as moonshine or white dog), which are unaged, this one has actually been aged in oak for at least a year, before having most (but not all) of the color filtered out. There are plenty of white rums aged in this fashion, but as far as I know, not a whole lot of whiskies. Since I'm not a fan of unaged whiskeys in general, I took this to be a good thing. And indeed, while it's a little sweet for my tastes, the corn and vanilla flavors so predominant in white dogs are more muted and less overwhelming here. You can definitely taste the wood as well, even if I wish it were a little woodier. Jacob's Ghost (named after Jacob Beam, Jim Beam's first distiller) is most interesting when replacing white spirits like rum or blanco tequila in cocktails -- it changes the flavor profile of a margarita or daiquiri without throwing the whole balance off. It's not an essential addition to a home bar, but if you enjoy messing around with mixed drinks it's fun, and inexpensive to boot.

OLD FORESTER BIRTHDAY BOURBON (48.5% ABV, aged 12 years, $50). Can you name the only bourbon to have been produced by its original distiller both before, during and after Prohibition? Neither could I, until a couple of years ago when I found out the answer was the venerable Old Forester. Standard OF is a perfectly drinkable and inexpensive whiskey. But its limited edition Birthday Bourbons, released annually to celebrate the birthday of the founder of Brown-Forman (which distributes Old Forester), are another story. Each Birthday Bourbon comes from a batch laid down on a single day, so you never know what you're going to get from year to year. I tried my first one last year, which was generally regarded to be a clunker. It was so heavily oaked that I felt like I'd licked a tree after drinking it. This year's edition is better. A lot better. The bourbon gods were clearly smiling on this one. The nose reminds me of a caramelized banana in chocolate sauce, and on the palate it doesn't disappoint. It's a beautiful, rich, velvety smooth whiskey, with lots of chocolate/coffee notes, a little caramel and honey, and just the right amount of wood this time around. For a relatively high-proof (97) bourbon, it goes down ridiculously easy without a drop of water.

PHRAYA DEEP MATURED GOLD RUM (40% ABV, aged 7-12 years, $40). This is without a doubt the best rum I've ever tasted from Thailand. Actually, it's the only Thai rum I've ever tried -- I had no idea they made the stuff. The gorgeous gilded bottle is one of the prettiest I've ever seen, from Thailand or anywhere else. As for the contents, I wouldn't say Phraya has it over the best Caribbean rums, but there's no shame in its game, either. The first sip is light, clean and unassuming, belying the years it's been aged in wood. But with each succeeding sip, the layers of flavor -- rich honey, cinnamon and dark chocolate notes -- build up on the tongue, and what seemed a little thin at first becomes thick and velvety. The flavors dissipated a little too much when I added ice or water, but as a sipper it's quite nifty.

PUNZONE ORIGINALE LIQUEUR (17% ABV, age not stated, $35/1 liter bottle). I don't know if I could get less excited about a vodka-based liqueur that's pretty close to a bottled sangria. But the thing is, if you drink it like a sangria, it's quite good -- not too sweet and pretty citrusy, thanks to the blood orange the Punzone folks employ. And while sangria is not the hardest thing in the world to make yourself, there are plenty of times when I'm imbibing solo and I don't want to make a whole batch of it. Pour a glass of Originale, add a slice of orange or maybe a chunk of apple, a little ice, and voila, your work is done. For the lazy and for solo drinkers, highly recommended.

RHUM CLEMENT 6 YEAR OLD (44% ABV, aged at least 6 years, $55). If you're not familiar with rhum agricole, be warned -- this is not the rum you're used to. Rhum agricole is made using sugarcane juice rather than molasses, which is used for distilling standard rum. I've found rhum agricoles in general to be earthier, a little more vegetal, and lighter than most molasses-based rums. Rhum Clement is my favorite rhum agricole, and with this new beauty -- released to celebrate the company's 125th anniversary (though its spirits have only been available Stateside for less than a decade) -- they've really outdone themselves. The rough edges that can characterize many rhums are smoothed out by the 6 years-plus in wood, creating a rich, round, smooth rhum of incredible depth. Lots of chocolate and toffee notes, with a little cinnamon and coffee, plus a fair amount of woodiness that doesn't overpower the other flavors. Every once in a while I try a new spirit and think, damn, the people who made this really know their stuff. This is one of those times. (Also check out the stellar 10 year old, newly released as well and priced at $70.)

WOODFORD RESERVE MASTER'S COLLECTION - FOUR WOOD (47.2% ABV, age not stated, $100). For the last several years, Woodford Reserve Master Distiller Chris Morris and crew have tinkered with WR's traditional whiskey-making process and created limited edition bottlings that are among the best spirits I've ever tasted. I first tried the Four Wood -- which is standard New American oak-aged Woodford finished in maple, sherry AND port casks (making four woods, hence the name) at WhiskyFest, the annual whiskey/whisky lover's Nirvana, in New York. I was already a little tipsy, and my semi-legible tasting notes pretty much say "beautiful" about 27 times. Tasting it in a more sober mood at home, my opinion didn't change, though it was slightly more coherent. The nose is full of chocolate, vanilla, wood and a little fruit. On the palate, the port and sherry casks impart stunning dark fruit notes offset by luscious vanilla and caramel flavors from the oak and maple, with just a hint of sweet nuts. The different woods give this bourbon a lot of different layers of flavor, making it more of a "moving target" for the taste buds. It's a moving target I'll be happy to chase to the bottom of the glass on a regular basis.

XXX SHINE SALTED CARAMEL CORN WHISKEY (40% ABV, unaged, $25). I don't really like flavored whiskeys. It's kind of hard to top a good whiskey in its unadulterated state, isn't it? And I'm not a big fan of unaged whiskey a/k/a white dog a/k/a moonshine. I totally understand that start-up distilleries need to pay the bills while their product ages, but there's a reason that people have aged spirits in wood for all these centuries -- it tastes better. So as you can imagine, I didn't have high hopes for this new flavored whiskey from Philadelphia Distilling. But I was pleasantly surprised. The salted caramel flavor really complements the sweet corn flavors of the whiskey; it reminds me of a really good high-end ice cream. In a cocktail like a Manhattan, it's... well, it's not really a Manhattan, is it. But it's still pretty tasty.

ZIGNUM ANEJO MEZCAL (40% ABV, aged more than 12 months, $50). My love for mezcal has been growing slowly but surely -- its earthy, smoky flavor makes it tequila's badass sibling. And then along comes Zignum with its new añejo mezcal, which is not only aged longer than the other mezcals I've tried, but thanks to the way the agave is cooked, it's not smoky, either. This stuff is like mezcal in a tuxedo instead of a leather jacket. It's quite fruity -- it reminds me of a sherry cask-finished whiskey or even a young cognac on the front of the tongue before the unmistakable agave flavors come through. Zignum uses green agave rather than the blue agave used in tequila, and it's steamed rather than roasted, so while it's not quite like mezcal, it's also not like tequila. A weird one for sure, but very interesting.
Follow Tony Sachs on Twitter: www.twitter.com/RetroManNYC