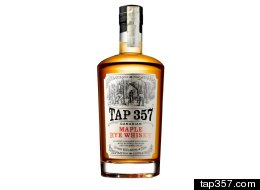 I've never been a big fan of seasonal cocktails. Just because it's post-Memorial Day and pre-Labor Day, you don't have to deal exclusively with three months of mojitos and fruity daiquiris and drinks that taste like alcoholic lemonade. Not that there's anything wrong with that, of course. But an ice-cold daiquiri can taste great in January, and a glass of really good whiskey can be awesome in July.
The ten spirits (or nine and an asterisk, really) reviewed here, all of them released in the last few months, make for a good mix of summertime no-brainers (a glass of chilled Lillet Rosé, for example, almost screams for a hot and sunny late-afternoon), and brands you normally wouldn't think about drinking on 80-degree evenings (snifter of Crown Royal XR, anyone?). But whatever the season, there are some real winners here that'll taste great whatever the weather. Bottoms up!
CAPTAIN MORGAN Black Spiced Rum(47.3% ABV, $20). I've hated Captain Morgan and everything it stands for since I first heard of it back in the late '90s. I've hated their association of rum with pirates, I've hated their ad campaigns ("Comin' Alive When It's After Five" still makes me laugh and cringe at the same time), I hate that it's aimed at the just-legal-enough-to-drink party crowd. When it comes to their rum, I am basically an Old Man Grumpus. But, much as it pains me to say it, I enjoy their new expression, Captain Morgan Black. It's a high-proof spiced blackstrap rum, dark and rich with molasses flavor and redolent of cloves, cinnamon and vanilla. The cloves come through a tad too much when CM Black is drunk neat, but add an ice cube and the flavors become much better balanced. Its pronounced flavors work well in cocktails, too. Guess I've got a little Captain in me, huh...

CROWN ROYAL XR Extra Rare Whisky (LaSalle)(40% ABV, $130). Starting with the end of Prohibition and continuing for decades, when drinkers said "rye" they generally meant blended Canadian whisky, which is also made from rye. But it's softer, milder and, frankly, blander than its big, spicy American cousins. In recent years, as American rye has made a comeback among spirits and cocktail fans, the Canadians have had to up their game. Canadian Club, for instance, now has a line including 100-proof and 30-year-old brands. And Crown Royal has their limited edition XR (Extra Rare) line. This bottling, the second in what's intended to be an ongoing series, includes the final batch of whiskies produced at Montreal's famed LaSalle distillery, which operated from 1924 to 2003. It also happens to be where Crown Royal master distiller Andrew Mackay got his start. The royal blue packaging is gorgeous, and the stuff inside it is fantastic, as good a Canadian whisky as I've ever had. It's bold and complex, with plenty of spice and wood along with dried fruit and honey notes, and a little chocolate on the finish. Whether or not you're a fan of the whiskeys (or whiskies) north of the border, this is a must-drink.

HIGH WEST Campfire Whiskey (46% ABV, age not stated, $60). The folks at High West started thinking outside the box when they opened a distillery next to their saloon in Utah, not exactly a booze-happy state. They went a little further afield when they started blending bourbon and rye for their groundbreaking -- and damned delicious -- Bourye and Son Of Bourye bottlings. And with Campfire, they get waaaayyyy out there. Blending bourbon, aged rye and peated Scotch?! Purists, break out the smelling salts. Because this stuff not only works, it works better than I would have dreamed. One second I'm tasting the smoke and peat of the Scotch when all of a sudden the peppery spice of the rye bursts through, and then they're both tempered by the sweetness of the bourbon. You can taste each component, but they also blend together to make a big -- make that enormous -- bold and powerful whiskey. You've probably never tried anything like Campfire before. But once you do, if you've got an open mind and an adventurous palate you're going to want to try it again and again.

KAPPA Pisco (42.5% ABV, $35). I am no pisco expert, let's just make that clear. Oh, I knew the basics -- it's made from grapes, essentially an unaged brandy, and it comes from Peru. Well, it turns out it doesn't always come from Peru. Kappa, produced by Grand Marnier, hails from Chile, and it's made with Muscat grapes, unusual for a pisco. I tried it side-by-side with a couple of Peruvian brands, and the difference is obvious. Kappa is more pungent, with a vegetal edge and sweet, floral notes that are more like a gin than a grappa, which is also made with Muscat grapes. Of course, I had to try it in a Pisco sour, and here's where it really shines -- the big, funky flavors and sweet underpinnings really matched up well with the lemon juice, simple syrup and bitters that comprise the cocktail. Thanks to Grand Marnier's marketing bucks, you'll probably hear a lot about Kappa. In this case, you can believe the hype.

KNOB CREEK Rye Whiskey (50% ABV, aged up to 9 years, $40). Knob Creek was launched in 1992 as one of the first -- and still one of the best -- "small-batch" bourbons, a term that's now ubiquitous among whiskeys bottled from a limited number of barrels. For 19 years it stood alone, until Knob Creek Single Barrel joined it in 2011. And now, the brand expands again with the introduction of its rye whiskey. I love Knob Creek's bourbons, and the rye does them both justice. It's got the light rye grain flavor and peppery spice that you'd expect, but it's also got a lot of sweet notes -- vanilla, caramel and cinnamon, to name just three. It's somewhat reminiscent of Old Overholt, a classic rye if ever there was one (thank you, David Wondrich, for pointing out the similarity), but I find it's got a little more depth and complexity. Like the small batch bourbon, it's a big 100 proof, but it's smooth and flavorful enough to be drunk neat. It's also a winner in cocktails like Manhattans and Old Fashioneds. Hoo boy, I do like this whiskey.

LILLET Rosé (17% ABV, $20). For too long, I knew Lillet as that stuff you put into a Vesper along with gin and vodka. But it's really quite a lovely aperitif wine, especially when paired with sultry summer weather. This summer, Lillet Blanc and Lillet Rouge are joined by Lillet Rosé, a worthy addition to the fold. Like its brethren, it's made from 85% Bordeaux wine varietals (including Semillon, Sauvignon Blanc and Muscatel) and 15% fruit liqueurs (mainly orange-based liqueurs from Spain and Haiti), along with a touch of Peruvian quinine. The Rosé is light and dry, fruity with just the slightest bitter edge, and it has a nose that's a wee bit reminiscent of Champagne. Lillet Blanc is still my favorite, but the Rosé is quite elegant, and makes for a nifty Vesper variation as well. If you're not in the mood for a cocktail that'll knock you into the middle of next week, try the Rosé on its own, with a couple of ice cubes and a slice of grapefruit for garnish. It's like summer in a glass.

MILAGRO UNICO TEQUILA JOVEN (40% ABV, $300). I'm not sure who decided we needed a new category of tequilas to go along with blanco, reposado and añejo, but here it is. Don Julio called their new clear aged tequila "añejo claro," while Milagro calls their version "Joven," or "young." Which it is, sort of. It's actually blanco, or unaged, tequila blended with the barrel-aged stuff and then filtered to remove the color. Or at least most of it -- it's a very, very pale straw/yellow. Apparently the distillation process is different as well, requiring almost twice as much agave as normal (13 kilos of agave to produce one liter of tequila). And the result is something that really does taste unique, unlike any blanco or añejo I've tried. It's got a huge agave flavor, and the supporting flavors are quite earthy and vegetal. It's got a little citrus on the front end and a little smoke to finish up, which I particularly like. I'm not sure if I'd spend $300 for a bottle (though the bottle is quite attractive), but it's worth blowing the bucks for a taste at your local upscale watering hole.

THE PINK PIGEON Spiced Rum (40% ABV, $25). Made with Mauritian rum, about which I know precious little, along with, to quote from the press release, "hand-picked vanilla from orchids that grow in the rainforest canopy of Madagascar" and other spices, I overcame my resistance to the bottle, which reminds me a little of this No Doubt album cover, and dived right in. I tasted vanilla and... vanilla, and a little more vanilla, and... hey, where's the rum?! The pale straw color of the stuff should give an indication that the rum behind the vanilla is not exactly a big, full-bodied affair. On its own merits, as a kind of vanilla liqueur/rum hybrid, it's not bad -- with a couple of ice cubes or a splash of soda, it's actually quite nice. And as a dessert topping... pour this baby over some cake and you're headed to Tasty City. Sure, it's not to be taken seriously by rum geeks. But if you've got some Gwen Stefani fans over who just want to have a good time and get a little tipsy, I can almost guarantee they'll love it.

RHUM CLEMENT Sirop de Canne ($15). OK, this isn't quite a spirit -- the fact that it doesn't contain alcohol might be the giveaway. But it's made by a distiller, it's designed to go in cocktails, and I love it, so what the heck. Now, it's really easy to make simple syrup -- boil equal parts sugar and water and you're all set. So for a syrup to be worth buying, it's got to be really good. And this is really, really good. Made by the folks who introduced sugarcane-based rhum agricole to the world, the Sirop de Canne uses cane juice blended with cinnamon, cloves and vanilla. The result is a honey-colored syrup that tastes a little like gingerbread, and adds far more depth and complexity than plain ol' sugar or simple syrup to cocktails from the Old Fashioned to the Ti' Punch.

TAP 357 Canadian Maple Rye Whisky (40.5% ABV, aged 3-7 years, $30). Canadian rye is a lighter, more subtle animal than the big, spicy American ryes to begin with, and blending Quebecois Canada 1 Light maple syrup makes it a little tough to call it a whiskey (or a whisky, since that's how the Canadians spell it) at all. But what it lacks in whiskey-ness is made up for in yumminess. It's got a big, full nose, with the sweetness of the maple and the graininess of the rye combining for an earthy, almost vegetal aroma. Neat or on the rocks, it's sweet and luscious, with the whisky cutting through the maple flavor to keep it on the right side of the sweet/sickly-sweet divide. Paired with spicy ginger beer, it makes a very nice summertime drink, and I'm sure that mixologists more sophisticated than I are having a field day with this stuff. It probably tastes pretty good over pancakes, too. I doubt I'd ever choose it over straight whiskey, but I had a lot of fun tasting it.
Follow Tony Sachs on Twitter: www.twitter.com/RetroManNYC