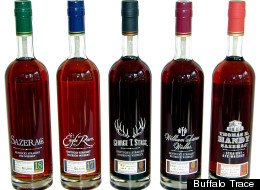 The calendar may read October, but if you love whiskey, it's like Christmas is already here. As the weather gets colder, distilleries unlock their vaults and empty their casks to release special limited edition bottlings aimed at collectors and connoisseurs. Of all the limited editions out there, few have a more rabid fan base, and are received more rapturously, than the Buffalo Trace Antique Collection, from the acclaimed Buffalo Trace distillery in Frankfort, Kentucky. Buffalo Trace in its current incarnation has only been active since the late '90s, though the site has been used as a distillery since the 18th century. But they've been making really fine bourbons and ryes since the get-go. The Antique Collection, a group of five whiskeys of different ages, styles and proofs, is now in its second decade, and every year the hysteria surrounding them builds a little more. Hipster hype fed by the media? Well, yes. Excellent whiskeys? 100% affirmative. So read these reviews and sprint to your local liquor emporium for the ones that tickle your fancy (suggested retail price is $70 per bottle, but they'll be going for a lot more on eBay before too long).
Whiskey: The Buffalo Trace Antique Collection
EAGLE RARE 17 YEAR OLD BOURBON (45% alcohol by volume) Oh man, I could smell this one all day. The nose has a lot of caramel and a lot of leather too, which brings to mind the sumptuous smell of a new wallet. On the tongue, it's got a veneer of sweet nougat that just barely coats the intense wood and tobacco notes, like a coat of paint that doesn't quite obscure the colors underneath. That may not sound wonderful on your wall, but for this bourbon it creates a beautiful balance of sweet and dry, with plenty of spice on the finish as well. A little more aging and the sweetness might disappear behind the woodiness. A little less and it might be too harsh. But this Eagle Rare is just right, Goldilocks-style. And this is why people love Buffalo Trace whiskeys.

THOMAS H. HANDY SAZERAC RYE WHISKEY (aged 5 years, 66.2% ABV) This relatively young whiskey, unfiltered and bottled at cask strength (which means that no water was added after the fact) is damn near 2/3 alcohol. So needless to say, it packs a punch that's not for the faint of heart or the weak of liver. But let it sit in the glass for a few minutes before trying it and you'll get a lot of flavor behind the alcoholic heat, notably cinnamon, dark fruits (especially dried cherry) and just a hint of sweet nuts like cashew. You'd think that a rye this strong needs water to make it palatable, but I found that I actually like it more at its full concentration. I couldn't drink Handy every day, but it makes a great special occasion drink.

SAZERAC RYE 18 YEAR OLD (45% ABV) Hard to believe that when this beauty was laid down in the early 1990s, barely anyone drank rye and there were only a couple of brands nationally available. Thank goodness for foresight! Sazerac 18 has a nose full of caramel & honey, rather, and it hits the tongue with an opening salvo of delicate floral and honey flavors which had me thinking, whoa, what's going on here? But then it morphs quickly into the big, dry and spicy notes which are the hallmarks of a good rye. The finish is long, lingering and lovely -- a gift to your taste buds which keeps on giving.

GEORGE T. STAGG BOURBON (71.4% ABV, aged 16 years). This uncut, unfiltered bourbon has an alcohol content that makes the Handy rye seem almost like child's play. But Stagg has a reputation for being one of the finest bourbons in the world, and in fact legendary spirits critic F. Paul Pacult named last year's bottling the "Number One Spirit In The World." My first sip hit the front of my tongue surprisingly gently, with rich, luscious notes of vanilla, caramel and chocolate. It wasn't until it got to the back of my throat that the heat hit me and caused just a wee puff of smoke to come out of my ears. But really, I'm shocked that such a high-alcohol whiskey could also be so well balanced. A touch of water brings out all the flavors even more -- it reminds me of eating a creme brulee with a little chocolate mousse on the side. Talk about the iron fist in the velvet glove. A beauty, and my favorite of the bunch.

WILLIAM L. WELLER BOURBON (aged 11 years, 61.7% ABV) I loved last year's Weller bottling, and I love this one, too -- it's a big, colossal, enormous, gargantuan wheated bourbon, which is kind of a contradiction considering that using wheat instead of rye in a bourbon's mashbill is supposed to give it a softer edge. Looking (or tasting) past the heat of the alcohol, there are lots of burnt caramel notes, complemented by vanilla, dried fig and a touch of wood. Add a few drops of water and the dried fig flavors evolve into rich, succulent plummy notes. You can take or leave the water (or the ice if that's your thing), but the bourbon itself is a must-have.

COLONEL E.H. TAYLOR WAREHOUSE C TORNADO SURVIVING BOURBON (50% ABV, aged up to 11 years 11 months, $70) This isn't a part of the Antique Collection -- it was released several months ago -- but I just tried it recently, and as part of the Buffalo Trace family I figure it's worth mentioning. The story of how the whiskey got in the bottle threatens to overwhelm the contents themselves. In 2006, a tornado tore the roof off of Warehouse C, where the bourbon was aging. Miraculously, 93 barrels survived, though they were exposed to extreme weather for a couple of months while the warehouse was repaired. As a result, a whole lot of the contents evaporated -- the barrels were barely more than a third full by the time they were deemed ready for bottling. Trying to taste it without visions of funnel clouds swirling through my head was damn near impossible, but judging it as a drinking bourbon and not as a miracle tornado survivor, it's quite good. It's quite sweet and very fruity, with lots of plum, berry and raisin notes -- a little more fruity than I generally prefer, in fact. On the back of the tongue caramel notes show up, along with a lot of wood and a fair amount of spice. It doesn't blow me away (pun intended) like the Antique Collection does, but if you like your bourbon on the sweeter side, you'll go for this. Photo from Pork n Whisk(e)y.
Follow Tony Sachs on Twitter: www.twitter.com/RetroManNYC