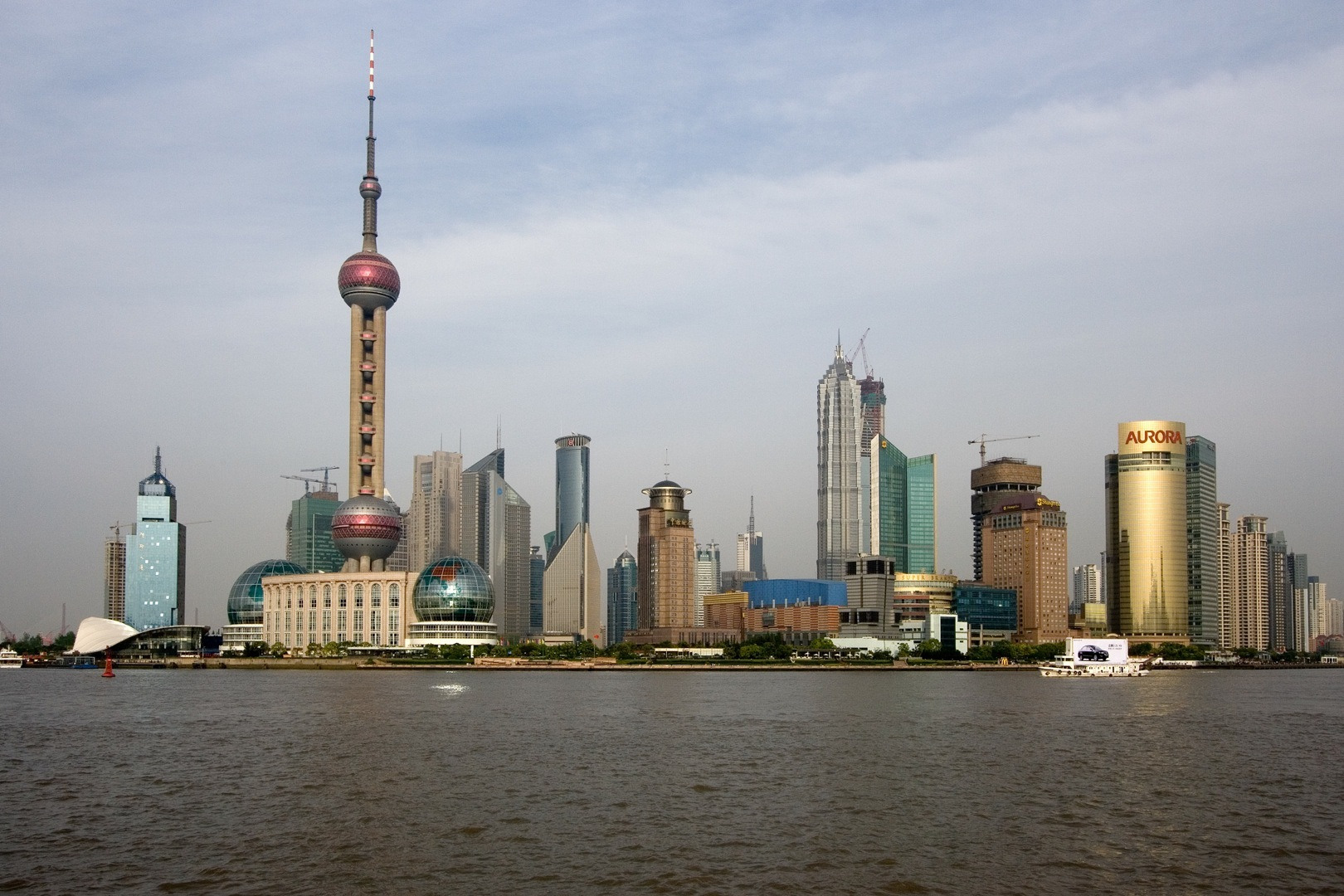 Shanghai
We all hear so much about China -- second largest economy in the world, massive annual growth, building programs on a stupendous scale, burgeoning military might. It is a colossal country that is stretching its influence across the world and is likely to become the premiere global power before very long. A country that is at once admirable and formidable. A place so very distant both geographically and culturally, yet very much in our consciousness.
I am just back from a business trip to China which was devoted to further developing NEC's relations with the country's two most important music schools in Shanghai (the Shanghai Conservatory, with approximately 1,200 students, including a college, middle school and elementary school) and Beijing (Central Conservatory, with slightly fewer than 1,900 students, incorporating a college and middle School).
On this visit, I was once again astounded by the Chinese embrace of Western music. Consider these statistics: Thirty years after the end of the Cultural Revolution when western music was banned, approximately 40 million people are studying piano and 10 million studying violin, and China is home to the world's largest piano builder, Pearl River Piano factory, which produces 290 pianos every day, and the world's largest violin manufacturer, Taixing Fengling Musical Instrument Co., which in 2006, made 300,000 violins, violas, cellos and basses and 400,000 guitars. ChinaDaily.com
There is also a great enthusiasm for listening to music and Chinese audiences have had the opportunity in recent years to hear dozens of the best western orchestras, including the Philadelphia Orchestra, New York Philharmonic, Boston Symphony Orchestra, Chicago Symphony, San Francisco Symphony, Berlin Philharmonic, Czech Philharmonic, Sydney Symphony, and the Canadian National Arts Centre Orchestra. What's more, many college orchestras and youth symphonies have also visited. Indeed, NEC's own high-school aged Youth Philharmonic Orchestra toured in 2007.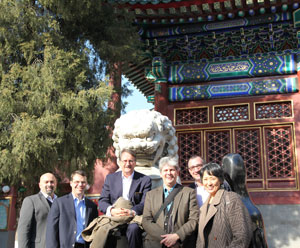 l-r: Antonio Viva, Head of School, Walnut Hill School for the Arts, Bruce Smith, Chief Development Officer, Walnut Hill, Tony Woodcock, Nicholas Kitchen, Borromeo String Quartet
Tom Novak, Dean and Provost, NEC, Yeesun Kim, Borromeo String Quartet
Photo: Don Jones
At the two conservatories we visited we heard many of their fine young players in master classes with the Borromeo String Quartet (NEC's quartet-in-residence) where they performed with enormous commitment, passion and technical assurance. (And just a word about Chinese students at NEC: They are amazing and include some of the best instrumentalists in the school. China represents our fastest growing international cohort. Just a handful of musicians enrolled five years ago and this has exploded to nearly 100 this year).
But perhaps I should set some context for what is happening to classical music in China. Western music has been studied and performed there since the 19th century. Indeed the Shanghai Conservatory website proudly proclaims that it was founded in 1927 as the first music institution of high learning in the country.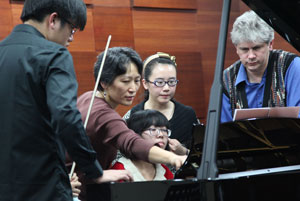 Yeesun Kim and Nicholas Kitchen of the Borromeo String Quartet
Photo: Tony Woodcock
What's more, China took great pride in the students it trained who won prizes in prominent competitions early in the 20th Century. However, during the decade-long Cultural Revolution from 1966-78, western music was suppressed in favor of a few politically correct Chinese models. The misery of this period, as well as the indomitable spirit of some determined musicians, is beautifully documented in the memoirs (The Secret Piano) of pianist Zhu Xiao-Mei, who lived through the Cultural Revolution, then came to NEC to study with Gabriel Chodos where she received her Master's Degree in 1983, and went on to a successful performing and teaching career centered in France.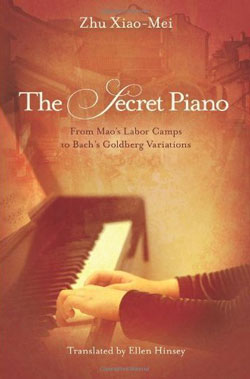 Since the Cultural Revolution, western classical music has flourished in China, driven by numerous factors including its association with modernity, parents' desire for their children to have a competitive edge in the educational sphere, and--most certainly--because of the universal attraction of music's beauty.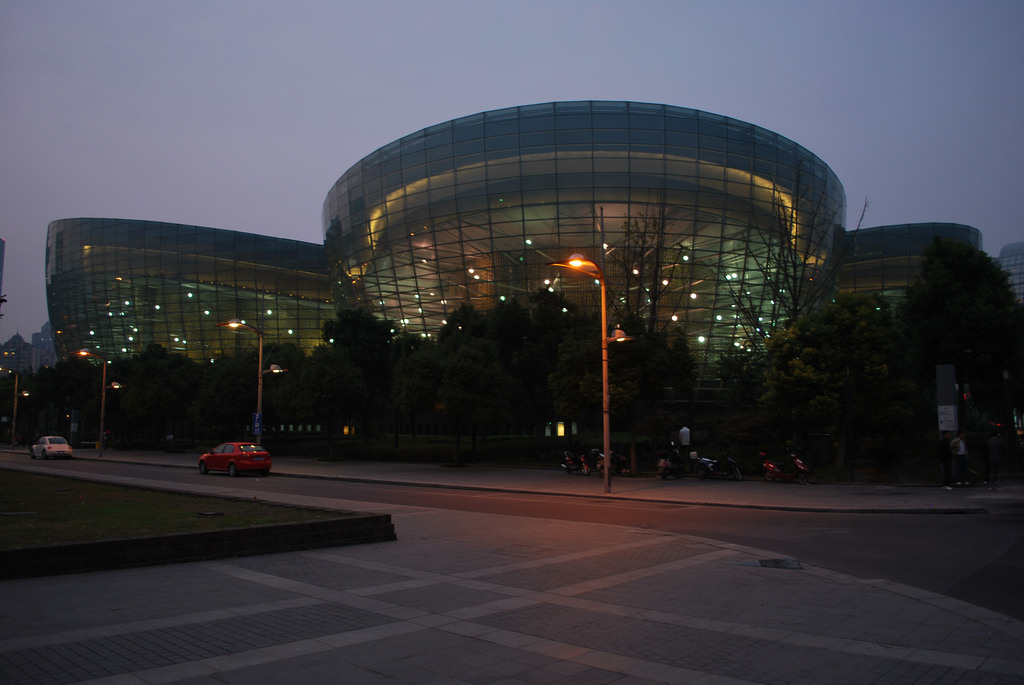 Shanghai Oriental Arts Center
Impressively, Shanghai has built the Shanghai Oriental Art Center, a beautiful new complex housing a recital hall and main auditorium for symphony concerts. Indeed, on the night that the Borromeo Quartet was playing a private performance in the recital hall to celebrate the 130th anniversary of Cabot Corporation, (an event hosted by Cabot CEO and NEC Trustee Patrick Prevost), the San Francisco Symphony and Michael Tilson Thomas were performing Mahler in the main auditorium. (This coincidence continued the next day as we were all on the same flight to Beijing!)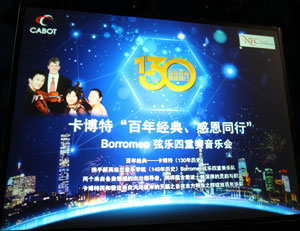 Cabot Corporation Anniversary
Photo courtesy of Patrick Prevost
I couldn't attend the symphony concert because of our own event but I was in the lobby when the audience emerged. They were all Chinese, very young in comparison to audiences in this country, and totally enthralled by the musical experience they had just had.
Beijing has its own spectacular new building, the National Centre for the Performing Arts, which houses an opera house, a theatre, a concert hall and a recital hall, all under one huge oval silver dome that is reflected in a man-made lake.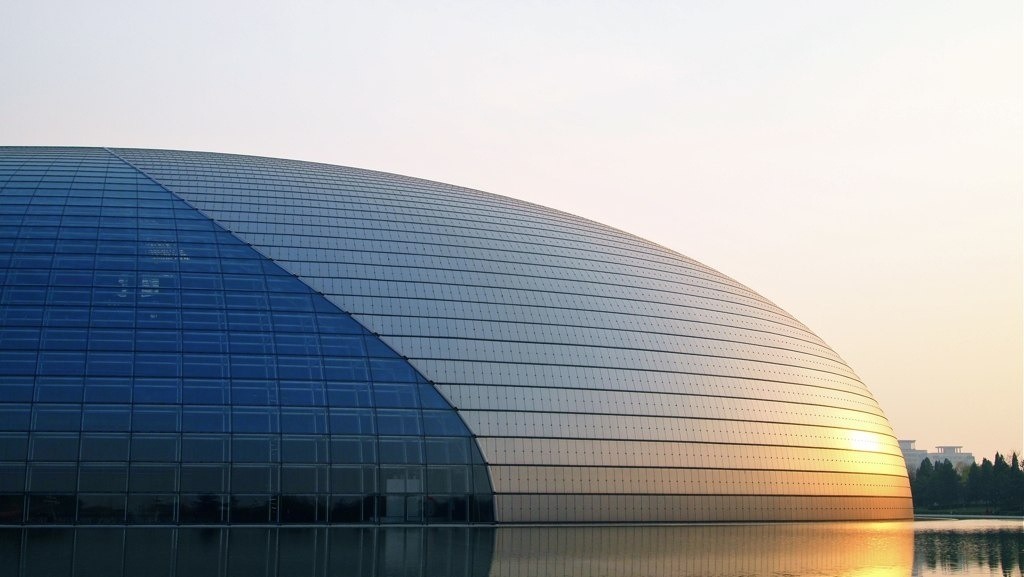 National Centre for the Performing Arts
It's familiarly known as "the giant egg." Some westerners may disparage this complex as "over the top," but the truth is that the country is investing hugely in its national culture and creating a breath-taking stage for western art. In my experience, this is unparalleled. Just looking at the visiting artists and orchestras -- from the Berlin Philharmonic and Simon Rattle to Chicago and Ricardo Muti -- offers a clear demonstration of the cultural ambition.

So music is very much on the agenda and western classical music absolutely. Our relationships in Beijing and Shanghai have been developing on the basis of how we can be mutually helpful to each other. This year the directors requested more chamber music coaching, so we brought the Borromeo Quartet (Nicholas Kitchen, Kristopher Tong, violins; Mai Motobuchi, viola; Yeesun Kim, cello) into the mix.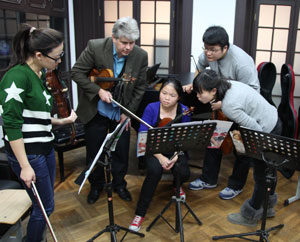 Nicholas Kitchen and friends
Photo: Tony Woodcock
For those readers who don't know the Borromeos, let me give you a quick introduction. Not only are they one of the best quartets in the world (check out their website for all their awards and honors), but ... they think differently and present in a unique way.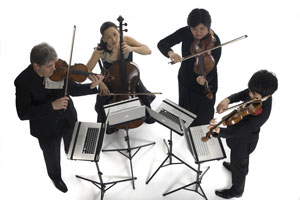 The Borromeo String Quartet
Photo courtesy of the Borromeo String Quartet
They play from laptops with a foot device, created by their leader Nick Kitchen, for quick "page" turns. The music displayed on their computer screens isn't the conventional printed parts either. Instead they play from full scores so each player sees not only his own musical line but that of the other musicians. What's more, they frequently read from facsimiles of original manuscripts so they can realize as closely as possible the composer's intentions without the intervention of editors' changes and revisions.
The result is a spontaneous explosion of musical discovery ignited with an energy, passion, and joy that are captivating. But there's more. The Borromeos show videos as they perform, sometimes projecting the score they are playing from, and sometimes Nick's original films that offer insights into the music. The players chat a lot to the audience as well.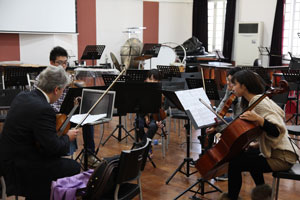 Nicholas Kitchen
Photo: Tony Woodock
In their master classes they expand on this approach, showing the young musicians the original scores, discussing the composers' intentions and providing historical context. To this, they add advice on how to play as an ensemble, how to phrase and blend sound, when and how to accompany other musical lines and when to assume the musical foreground. They talk about the character of the music, the color of the harmony.
As they worked with the various Chinese ensembles, you could see the lights going on for the young musicians -- their joy, their smiles, their laughter, their recognition of the music changing, becoming "right," the interpretations moving to the next level of understanding. I watched master classes by all four members of the Borromeos and I found their commitment to teaching and their passion for music to be quite moving.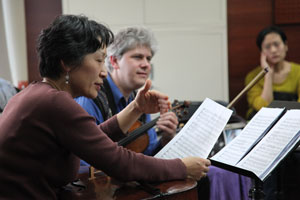 YeeSun Kim and Nicholas Kitchen
Photo: Tony Woodcock
Like some other conservatories, NEC offers an "Artist Diploma" which is one of the most elite programs we offer. It is a two-year course of study for young soloists at the start of their careers and, typically, we only enroll one or two outstanding students. This year the Artist Diploma student is a 22-year-old Chinese violinist Xiang "Angelo" Yu who comes from Shanghai.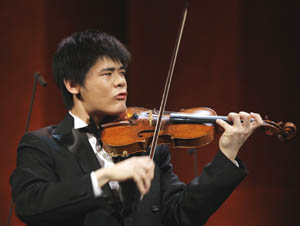 Xiang "Angelo" Yu
Photo courtesy of NEC
He completed his undergraduate studies at NEC in May having won the Menuhin Competition in 2010 when he was still a second year student. An extraordinary player, he continues his studies with Donald Weilerstein, who we took to China as visiting faculty in 2011. Angelo's musicianship and technical prowess have been incubated in his soul over hundreds of years. He has a sound that I would describe as old-fashioned in the sense that it is an individual voice redolent of those uniquely beautiful timbres one associates with 20th century artists like Gigli and Kreisler. I adore its color and range.
In the last five years, other Chinese students at NEC have enjoyed great successes, including Wenting Kang, a Master's Degree student from Zhuzhou studying with Kim Kashkashian, who won the Tokyo International Viola Competition last June.
Wenting Kang performs with NEC's Chamber Orchestra
Angelo, Wenting and the others are great examples of what China can and does produce. They demonstrate the power of music to cross cultural barriers, to unite people worlds apart. They remind us that there are no cultural hegemonies. There is only the unifying language of the most global language of all. Music.