I had a wonderful night at New York City Ballet the other night. The program, titled "Here and Now", focused on some of the company's newest works, all but one created within the last year by three of the hottest current ballet choreographers. It was kind of a celebration of the future, of 21st Century ballet.
First on was Rococo Variations by Brit Christopher Wheeldon, a former dancer-turned choreographer with NYCB who is now striking out on his own with his company, Morphoses. This is a sweet ballet for two couples, one more youthful and flirtatious, the other more mature and mellow. The women are dressed in brilliant bronze strapless dresses, the flowing skirts A-level and knee length, resembling a cross between a long tulle ballet costume and a ballgown. The men wore white tops billowing out of beige vests, and brown tights. There is some very original partnering, some lovely, evocative lifts, framed by fast, sharp, intricate-patterned footwork. There is so much quick-paced variation in those steps that made the whole, as the woman sitting next to me remarked, dizzyingly engrossing.
Next was the emotionally compelling Oltremare by Italian choreographer Mauro Bigonzetti. A gorgeous expressionistic piece, this very modern-styled ballet conveys the raw angst of leaving one's country and becoming an immigrant in another. It makes me think of the beginning of one of my favorite novels, Middlesex, when all the main characters are boarding the ship to flee the burning of Smyrna and come to the new world, with all of the horror of what they'd just experienced, sadness and anger at being displaced, and fear for what the future will bring. It contains some of the most breathtaking and difficult-looking lifts I've seen in some time as the men repeatedly try in vain to comfort their distraught, struggling women. The middle section consists of entrancingly brisk-paced folk dancing, which is so fast and furious that it almost looks cartoonish. At first I found this section odd, but on second viewing, I now think Bigonzetti is trying to convey his characters' desperate attempts to keep their pasts, their culture alive, and be happy about this new life, that they appear to be on overdrive. Principal dancer Andrew Veyette has a high-jumping, fast turning solo that brought the audience to its feet, and principal ballerina Maria Kowroski has a bewitching duet where she uses her deliciously long legs like tentacles to try to keep her partner, Tyler Angle, at bay.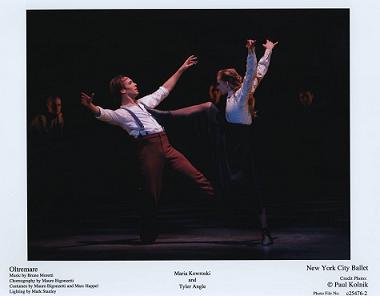 Maria Kowroski and Tyler Angle in photo by Paul Kolnick, courtesy of New York City Ballet.
Amar Ramasar and Tyler Peck in photo by Paul Kolnick, courtesy of New York City Ballet.
The newest of the ballets is by young Russian Alexei Ratmansky, who is getting ready to leave his post as director of the Bolshoi to choreograph full-time and whose works are probably the most highly sought-after by American ballet companies. This ballet, called Concerto DSCH, is set to very upbeat, lively music by Russian composer Dmitri Shostakovich, which, the program notes interestingly state, was made for his young son Maxim in 1957 as a celebration of the optimism he felt after the end of the repressions of the Stalinist era. That optimism and lightness was very evident, as there didn't seem to be a downbeat turn the whole way through -- either in the dance or the music. But with Ratmansky there always seems to be something more than meets the surface; his dances seem to beg you to look more closely. The dancers are all dressed in what appear to be 19th Century-style bathing suits, and they kind of frolic with each other on what I imagine to be a beach. There's an ensemble of dancers who chooses a main dancer to follow, mimicking his or her every move. At first it's cute, but then you realize everyone's smiling so brightly, it almost looks fake. And why is everyone following so intently? There's one man who's not smiling who stands in the middle, doing his own thing, often simple jumps up and down, up and down. But he doesn't look happy. Is this a foreboding of what happens to non-conformists? A very frisky threesome soon emerges, danced by the always brimming over with virtuosity Ashley Bouder, Joaquin De Luz (one of the few dancers who manages to combine spectacular athleticism with artistry), and the charismatic Gonzalo Garcia. These particularly playful dancers literally bounce off of each other, each lifting and tossing one another -- including Ms. Bouder, who does quite well getting the much larger and muscly Garcia off the ground. Soon, a slightly softer section ensues, including a sweet duet by the in-love Wendy Whelan and Benjamin Millepied. The threesome return, each trying to outdo the other in a competition-like series of bravura, jump- and spin-heavy solos. And, after another couple of duets by the lovers, the whole thing, all characters included, comes to a dizzying climax, ending with this crazy, hilarious, almost statue-like lift by the threesome at the front of the stage, De Luz on top of the other two, holding a finger up in the air, as if to say either "wait a minute" or "I'm number one." The ballet brings home how exciting sheer kinetic energy and virtuosity can be. But at the same time, it's not all frivolity. Those little odd moments where one dancer is noticeably and intentionally out of order, or the New York Times' Alastair Macaulay's pointing out some of the Soviet, Communist motifs, make me want to see it again, to look closer.
This program, which also includes the now 10-year-old fabulously bizarre River of Light by Peter Martins, will show again on June 12th. The individual ballets should all remain in the company's repertoire for years to come.
SUBSCRIBE TO & FOLLOW ENTERTAINMENT
HuffPost Entertainment is your one-stop shop for celebrity news, hilarious late-night bits, industry and awards coverage and more — sent right to your inbox six days a week. Learn more