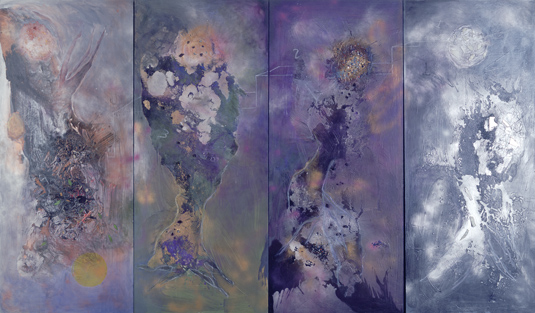 The Four Worlds I, 2002, Acrylic and mixed media on canvas, 84 x 144 inches, Courtesy Bonita Helmer and George Billis Gallery
Bonita Helmer is a long-standing artist based in LA, who has been exhibiting her work for the past 20 years. Just last year at her gallery, George Billis, she had a mini-retrospective of her work called "The Unseen Structure". Currently Helmer is having a Mark Rothko moment. Between 2002 and 2004, Helmer created four, four-panel pieces called "The Four Worlds." Each four-panel piece measures 84"x144" and combines themes Helmer has been fascinated by since she first started painting. Marlena Doktorczyk-Donohue aptly describes Helmer's work in the preface for the 2010 catalog, "Einstein's imaginings of deep space equated energy, matter and light into one system; more recently, particle physics looked deep inside the smallest matter to find that in and through it there is anti matter -- its doppelganger or mirror entity lacking dimension, space, or charge but no less "present." String Theory and cosmic consciousness start looking like neighbors and these complexities fascinate and inspire Helmer.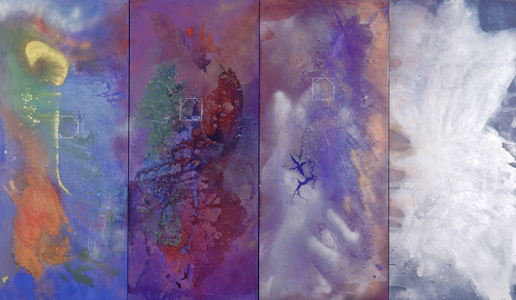 The Four Worlds II, 2003, Acrylic and mixed media on canvas, 84 x 144 inches, Courtesy Bonita Helmer and George Billis Gallery
Over the past seven years, Helmer has had many offers to purchase one panel or set of panels, but it has been her vision that all four panel sets be kept together to create a Mark Rothko like chapel environment. For the first time since the completion of the four sets, they are installed in an unlikely but perfect setting; The Ohr Hatorah Congregation and Cultural Center in Los Angeles. At a time when museum funding has been cut and many galleries are geared more than ever to finding sellable works in this tough economy, many artists have turned to alternative spaces. It has always been Helmer's desire to see the work together in a space that is large enough to not only accommodate their size, but that would also provide an alternative contemplative space, away from the chaos of daily life.
Helmer began studying the science of deep space in the 1980's, long before Hubble telescope images became common. Quantum Physics play into Helmer's own theories on the interconnectedness of the smallest particles in existence and imperceptible age-old mysticism. "The Four Worlds" addresses an aspect of the Kabbalah, which deals with ancient physics, and the construction of the universe.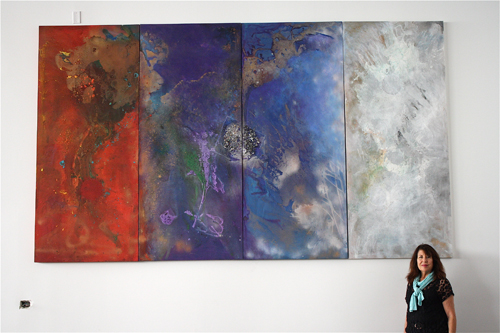 The Four Worlds III, 2004, Acrylic and mixed media on canvas, 84 x 144 inches, Courtesy Bonita Helmer and George Billis Gallery
Viewing Helmer's work, one feels the expanse of a universe that is familiar yet unknown; it's personal because it is something we sense in the night sky surrounding us, yet it is intangible because it is physically distance. At the same time this imagery is replicated on the earth in oceans, volcanic remains, wind carved desert walls, and in precious metals. There is an inherent contrast in gaseous solar systems millions of miles away that remind of materials that exist so densely on our own planet.
It is this mix of the heavenly, scientific and corporeal that is so fascinating about Helmer's work. The combination of these contrasting elements makes for a chapel that is calming and stimulating at the same time.
The cultural center is open Saturdays 1-4.
Ohr Hatorah Congregation and Cultural Center
11827 Venice Blvd.
Los Angeles, CA 90066

SUBSCRIBE TO & FOLLOW CULTURE SHIFT
Every Friday, HuffPost's Culture Shift newsletter helps you figure out which books you should read, art you should check out, movies you should watch and music should listen to. Learn more