David Jien at Richard Heller Gallery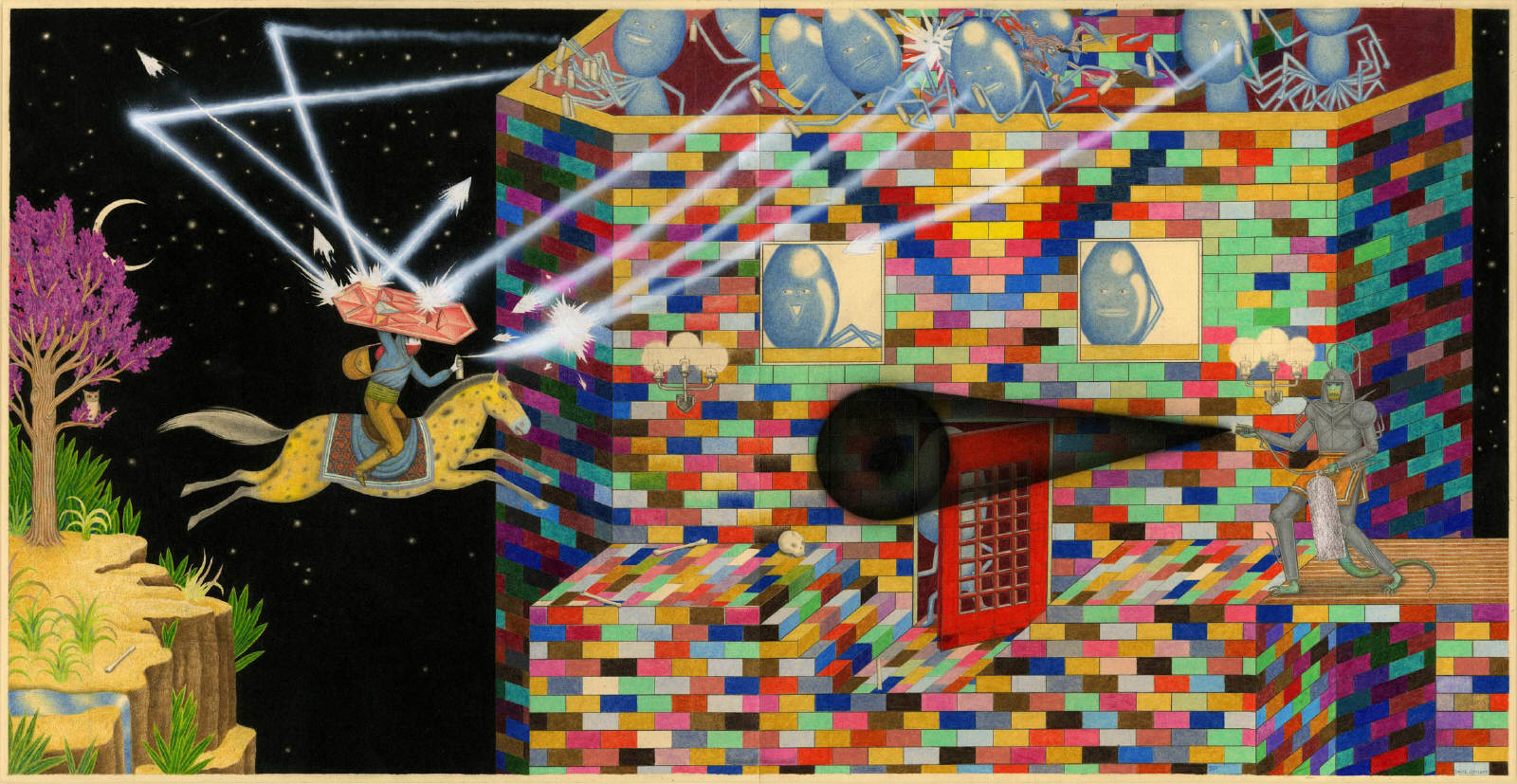 David Jien, Ride or Die, 2010, 11 x 21.5 Inches, Color pencil, gouache, graphite and silver leaf on paper, Courtesy Richard Heller Gallery
David Jien's drawings/paintings are depictions of life in another world. It's a world of war, religion, science and sex. Rituals and worship are juxtaposed by pedestals of strange skeletons and orbs, while lone figures contemplate rooms filled with patterned floors, making for a dizzying organized view. In other scenes war is waged by animal-human creatures astride horses. Some wield spears but many use spray can weapons. Watching battle occur with sprays of gas floating towards warriors is charming and frightening as you contemplate the possibility that chemical warfare may have been bottled. Huge battles and wild orgies are illustrated in a style that is reminiscent of Indian or Persian art from the 1500's.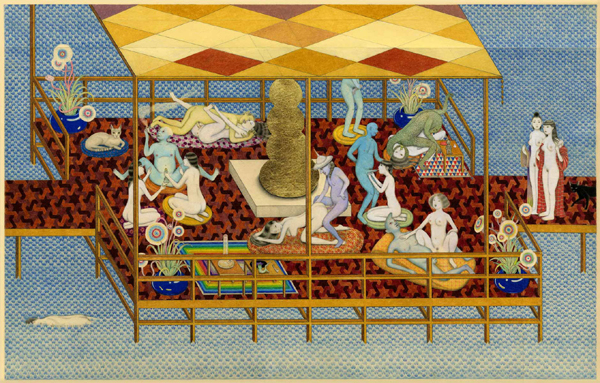 David Jien, Yellow Fever, 2010, 12.5 x 19.5 Inches, Color pencil, gouache, graphite and gold leaf on paper, Courtesy Richard Heller Gallery
The style is flat, colors are vivid and detail is exquisite. Sex is rampant with concubines, aliens, and genitalia, in abundance. In subtle ways there are hints of B movie and literary references, where mad scientists experiment and monkey men share a hookah with a Humpty Dumpty figure. In all of it there is a strange mystical quality, a sense that worship plays a big part in the actions of this society that in some ways is completely foreign while in others is a reflection of human history.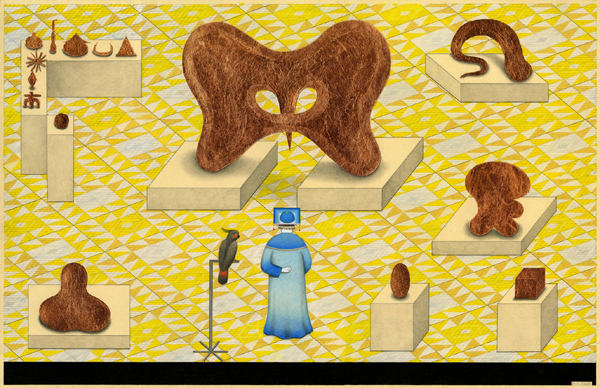 David Jien, Collector, Cockatoo and Several Copper Objects, 2011, 11 x 17 Inches, Color pencil, gouache, graphite and copper leaf on paper, Courtesy Richard Heller Gallery
At times it feels as though you are looking through the kaleidoscope of a young man's dreams, where visions are filled with a hybrid of sci-fi, ancient history, and comic book lore. A hybrid that is fascinating, replete with subconscious symbols signaling where as a society, we have been and where we may be going.
The show runs through October 22 at Richard Heller Gallery.
Follow Tracey Harnish on Twitter: www.twitter.com/myplasticcity