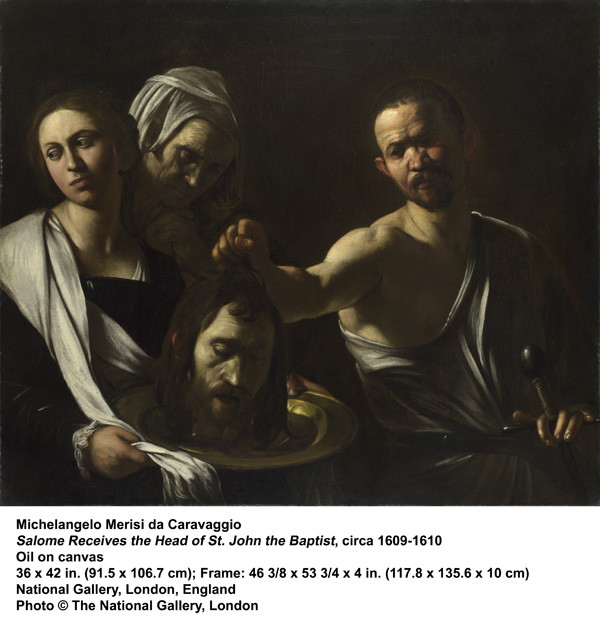 A trifecta of cinema-inspired exhibitions is now playing at LACMA. The museum continues it's winning path attracting locals to the museum by playing to their natural predilections; do you know that there are more movie theaters in L.A. than any other city in the country? Without compromising the quality of the exhibitions or the artwork at hand, the county museum has found a way to bring the people in, by giving them what they want, even if with a twist.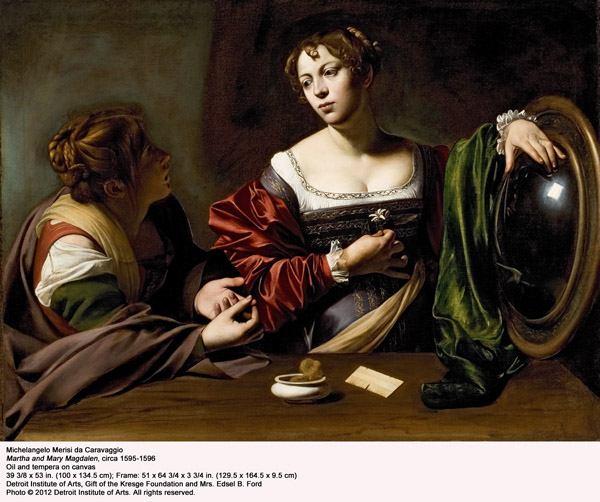 Now showing: a post-renaissance painter, an iconic film director and a pop art master. So how do Caravaggio, Stanley Kubrick and Ed Ruscha share cinematic virtues? By examining the underpinnings of our culture in a cinematic exploration.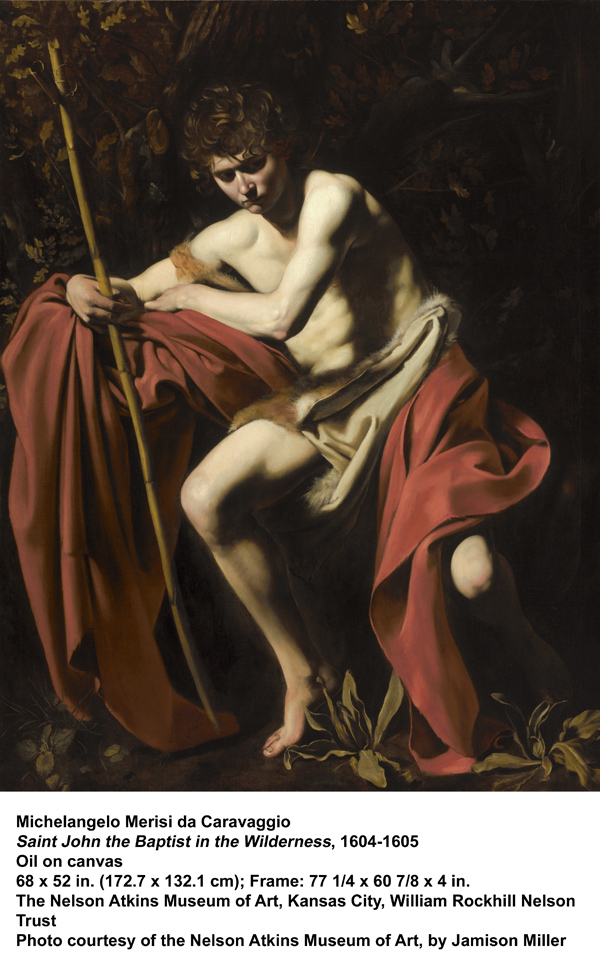 Take a look at Caravaggio's paintings, they suggest film noir; shadows eclipse bodies, figures emerge into mysterious light, and always there is a sense of imminent danger, with severed heads on trays, petulant faces and mysterious esoteric symbols. Each scene is staged with abstract background imagery, lighting that mounts ephemeral ghostly spirits and the implication of drama to come. The scene of mystery and tension percolates; things are not as they appear. Coming a few hundred years before film, these paintings are the first vestiges of cinematic construction we will see, with their noir lighting and corrupted subjects. Populated with the ordinary, they take what was once sacred and mire it in the common, the ugly and the mundane. They break with traditional imagery that was once based on an idea of purity and instead you see a kind of filmic reality where a prostitute plays a prostitute.
The Stanley Kubrick exhibition gives an in depth look at the iconic filmmakers' career, with everything from a long cabinet of cameras and lenses used during filming, marked up scripts, sketches of set designs and notes, to libraries of art books as source material. Seeing the physical articulation of the process and thought that was preparation for his films, we recognize the subversive drama that runs through all of them. Starting his career with early films in noir, Kubrick would continue to use those prime influences to induce anguish, insecurity, cynicism and sexual motivations in his films.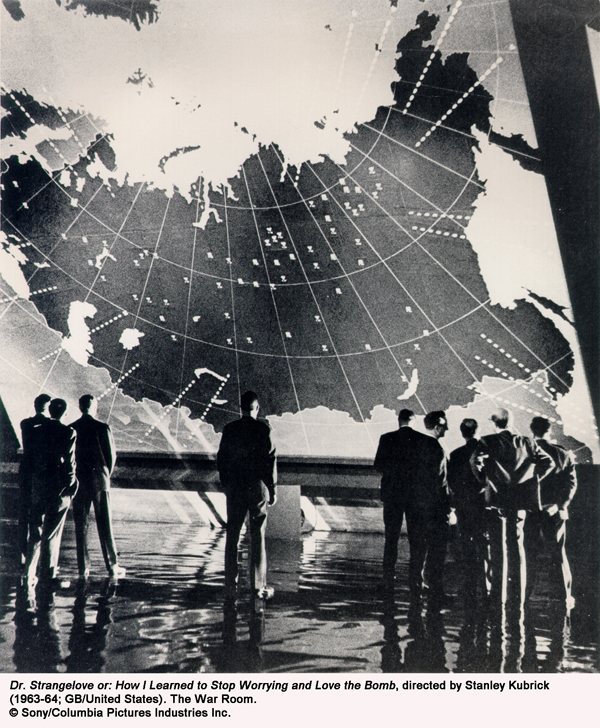 Other stolen noir fixtures, such as low-key lighting and off kilter compositions, further induced suspicions and distrust in many of his films. Crime is committed and normal psychological territories are disrupted and audience anxiety is induced. In the same way that Caravaggio changed a painting style by introducing dramatic lighting and psychological tensions, Kubrick turned old genres on their heads by making highly violent films into stylish looking feasts with a social message.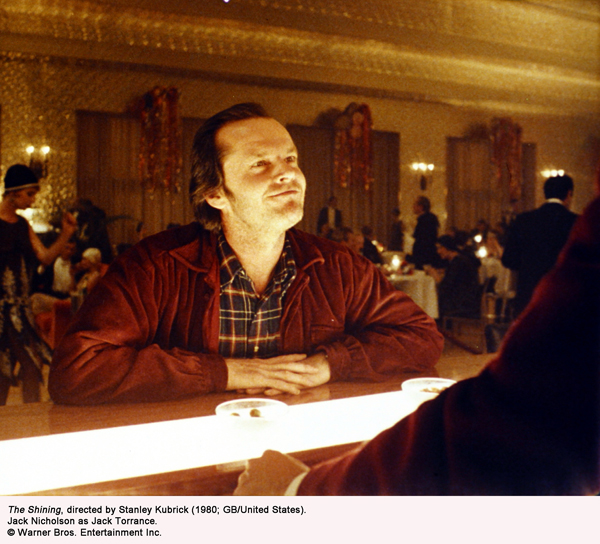 Ed Ruscha's Hollywood sign goes off into the sunset; there is desolation in the mountains that contain no sign of animal, fish or human. Left alone in the sun to dry up and blow away with the smog-induced, brilliant sunset, we wonder if Hollywood is the last man standing or if it is the culprit behind the decay. Ruscha's paintings aren't visually cinematic as much as they play on our concepts of Hollywood symbols and how they have integrated themselves into our pop culture. Ruscha boils the symbols down to their stark essence and then confronts us with the remains of the day.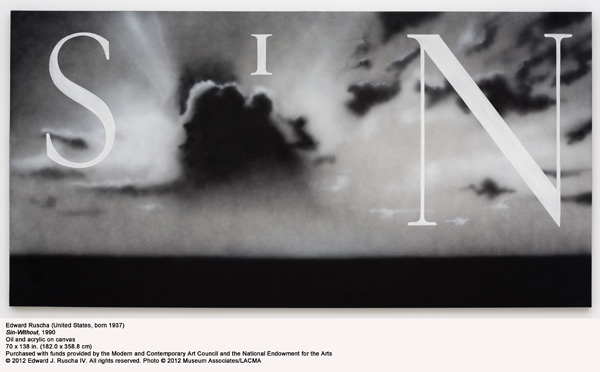 The exhibitions run as follows:
Ed Ruscha: Standard, January 21
Bodies and Shadows: Caravaggio and His Legacy, February 10
Stanley Kubrick, June 30
For more info go to lacma.org.