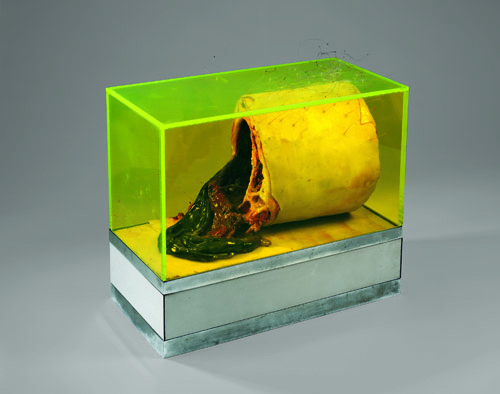 Untitled from the series Technological Reliquaries, 1966. Wax, paint, polyester resin, nylon microfilament, wire, plaster, plywood, melamine laminate, and rhodium-plated bronze. 14 x 15 1⁄16 x 7 1⁄2 in. (35.6 x 38.3 x 19.1 cm). Whitney Museum of American Art, New York; purchase with funds from the Painting and Sculpture Committee 93.41. ©The Estate of George Paul Thek; courtesy Alexander and Bonin, New York. Photograph by Sheldan C. Collins.
Last week at LACMA, I saw another two hours of Christian Marclay's The Clock. This is the fifth time I have gone for a two-hour viewing and each time I go, I discover another layer of this incredible work of art and film. I wrote an article for Culture Mob back in May, talking about the way the film is a literal chronology of time, where images moves back and forth in epochs and how juxtaposing scenes in different locations, eras and cultures, results in the experiencing of time as non-linear.
In this viewing, I was struck by how this hyper fast movement through time and place makes time irrelevant. Time as we know it through the display of clocks and watches is a social construct, an artifice, a structure that is seemingly based on science but is arguably an invention of the mind. Time is change, the present quickly becomes the past and then moves into the future. The more you consider time, the more you see its subjective nature. Many people such as athletes, artists, and meditators all have experiences where they have no sense of time.
The Clock moves you through all of these thoughts and phases of experience very quickly. In one moment you are watching a young woman from the 1950s simply sitting and in another, a man in the 1980s is rushing through a train station trying to prevent some catastrophe from happening. Mundane moments pass into emergencies in a flash, there is wedding, a song, and a death within minutes of one another. With all of this time passing I couldn't help but marvel at the intricacies and banalities of daily life. Where does all this lead, to the greatest of all denouements, death?
So with thoughts from my latest round of viewing of The Clock still in my head, the following day I went to The Hammer Museum to see Paul Thek, Diver: A Retrospective. At a time when Minimalism was the art movement of the day, where form was the major concern, Thek believed that art had to consider social, political and cultural influences. His work was messy and emotional, the very opposite of the clean, almost austere works of Frank Stella and Donald Judd, two leaders in the Minimalism movement. Thek's first success was a series of "meat" pieces. Fashioning flesh like sculptures from wire, beeswax, paint and hair, they were fresh and bloody. Some covered in flies, seem to decompose before your eyes. Encased in Plexiglas, a barrier is created between the viewer and the rotting corpse, instilling a remoteness that is both sterile and mysterious. This focus on the physical and its demise, speaks to the passing of time, the transformation of the living and whole to the disembodied and deceased. At this point of recognition, I had to pause to wonder if it was possible to see the meat pieces as something other than grotesque or frightening. Is there beauty in this display of the temporary? Meat in Plexiglas display cases implies the preservation of something precious. Is Thek also saying that this flesh and decay represents parts of us that deserve special attention? Later Thek would create a piece called Fishman in Excelsis Table, a table suspended from the ceiling with a decomposing fleshy body strapped with rope to the underside of the table in a Christ like position of crucifixion. This almost unrecognizable figure references religion in more than just one way; resurrection, exorcism and possession all come to mind. Again themes of change, time passed and transformation through death are explored.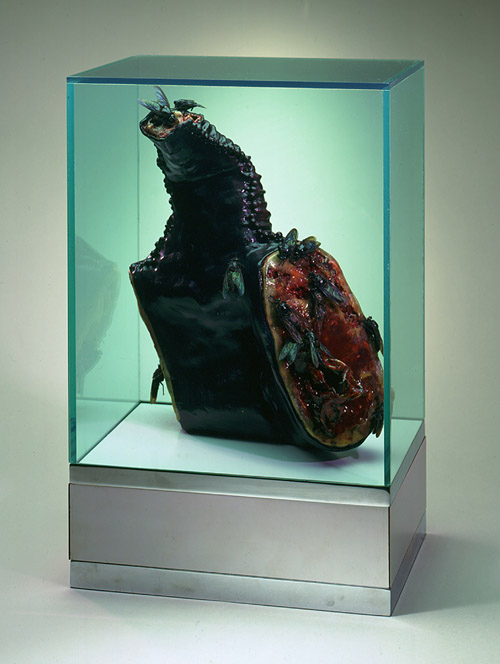 Untitled (Meat Piece with Flies), 1965, from the series Technological Reliquaries. Wood, melamine laminate, metal, wax, paint, hair, and Plexiglas. 19 x 12 x 8 1⁄2 in. (48.3 x 30.5 x 21.6 cm). Los Angeles County Museum of Art; The Judith Rothschild Foundation. © The Estate of George Paul Thek; courtesy Alexander and Bonin, New York. © 2009 Museum Associates/LACMA/Art Resource, NY.
The last room of the show is a replication of Thek's last gallery show. It was during this show that Thek died of an AIDS related illness. The room is filled with blue paintings and it feels a bit like you are in an underground aquarium. This is no coincidence since water was a theme Thek often explored in his paintings and drawings, apparently symbolizing freedom and expansion to him. Throughout this last show, paintings in soft and vibrant blues and greens explore death with a gentleness and resolve that is different in much of his previous work. Simplified and childlike, there are pieces that directly speak to his awareness that his life is coming to an end. Bars on a prison window are bent for escape in Way Out, in another piece an aqua blue watery background contains the words Time is a River, while another piece employs faded newspaper as background and painted butterflies placed in rows are on the surface. Each speaks of the reconciliation with time, that life is ending, and that a final transformation is about to occur. One of the most striking pieces in this same aqua blue oceanic sea is of a clock face with its hands set at 10 to 12 and the words beneath it The Face of God. It is here that I realize the final peace Thek has made in his personal subterranean sea, where freedom is found in release from time, where time itself transcends Clocks and permanence.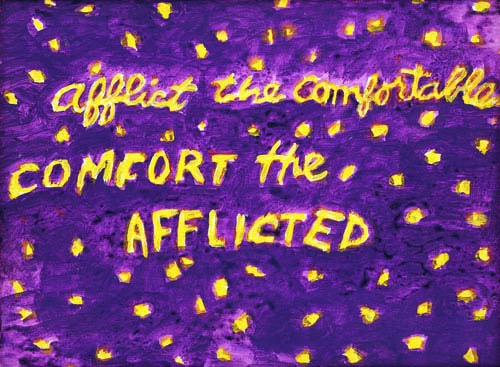 Afflict the Comfortable, Comfort the Afflicted, c. 1985. Synthetic polymer on canvas board. 18 x 24 in. (45.7 x 61 cm). Collection of Gail and Tony Ganz Photograph by Sheldan C. Collins.
SUBSCRIBE TO & FOLLOW CULTURE SHIFT
Every Friday, HuffPost's Culture Shift newsletter helps you figure out which books you should read, art you should check out, movies you should watch and music should listen to. Learn more