While the name of the show is Landscape and Architecture, it's Lisa Adams' painting Privilege Entails Responsibility, that best sums up another show curated with excellence by Carl Berg. Along with the recently closed Death and Life of an Object at Edward Cella Art + Architecture, Berg once again rounds up a diverse group of artists and creates a cohesive show that not only enhances the subject, but also each individual artist. One might expect to see portraits of buildings with landscapes of floral and fauna woven in, but here we see more of the hand of man's architectural contrivances than realistic representations.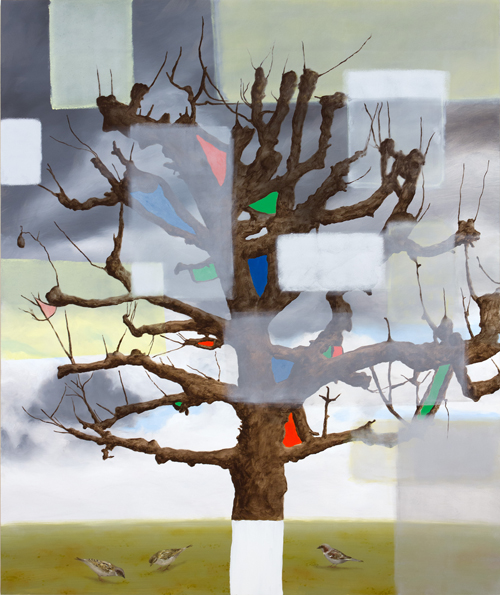 Lisa Adams, Privilege Entails Responsibility, 2010, Oil on panel, 48 x 40 inches.
Courtesy of the artist and CB1 Gallery, Los Angeles
Adams' painting Privilege Entails Responsibility, shows us a barren tree with its trunk painted white, other colors fill in the spaces between some of the branches and birds are on the ground underneath the tree. The cloudy gray sky adds to the desolation of the piece, yet there is a bit of hope in that young trees' trunks are often painted white to protect them from sunburn. Surely it's the caring human touch that gives protection to a tree too young to survive without help. Man's presence is felt throughout the landscapes in the show; Roger Herman's color filled painting of houses and structures is a vivid expressionist landscape of human inception, and Nathan Redwood's roiling ocean is populated by strange machines spouting rainbows of paint while spiky rods pierce both water and color in an apocalyptic struggle between nature and civilization. Kevin Appel's photographic images are overlaid with geometric shapes and swishy and airy paint with an obvious nod to the hand of the artist.
Each of these artists benefits from proximity to the other, like a story that is added to by chapter after chapter of reading. The works are filled with the naturalness of what lives on the earth and the way it is intersected by human beings at every turn.
The show was at the Irvine Fine Arts Center and closed on April 7.