Last year in honor of MLK Day we posted a list of volunteer opportunities that you could take part in throughout Los Angeles.
This year you can go out and actually meet the people behind L.A.'s best non-profits and community organizations at the 2nd annual City-Labs event at the California Market Center in Downtown LA this Saturday, January 22nd from 11 a.m. to 4 p.m.
City-Labs was created by Sonja Rasula, a community activist and the founder of the independent design show Unique Los Angeles, as a place for Angelenos to come see firsthand what sort of good works they can contribute too.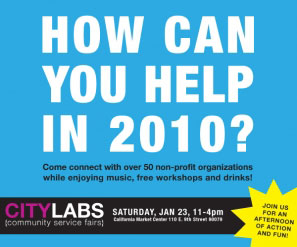 With the huge rise in need and a major decrease of financial donations, community service is needed now more than ever. Whether you're interested in cleaning the beaches, learning more about sustainable living, bringing modern slavery to an end or helping inner city youth with their writing skills, you'll find places where you can make a difference.
Sonja shares, "If a few thousand people each dedicate themselves to 3-5 non-profit groups (signing-up to volunteer, making donations, offering their skills, joining email lists), we'll have created over 10,000 new volunteers and donations in just one afternoon."
YDT couldn't agree more.
Extra amenities include live music from DJ Bryan Davidson, a "Craft for a Cause" center courtesy of Causecast.org and "The Lazy Person's Guide to Going Green" courtesy of your favorite green living website...YDT J.
A $5 donation is requested and includes entry, access to all DIY workshops and a free drink.
City-Labs is located at the California Market Center, 110 E. 9th St. Los Angeles 90015 www.city-labs.org, Questions: Sonja@city-labs.org.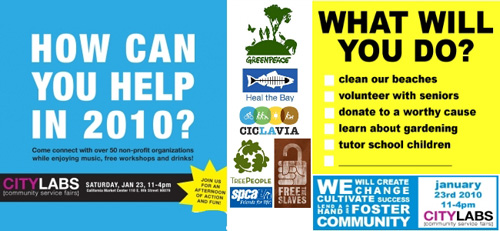 SUBSCRIBE TO & FOLLOW THE MORNING EMAIL
Start your workday the right way with the news that matters most. Learn more