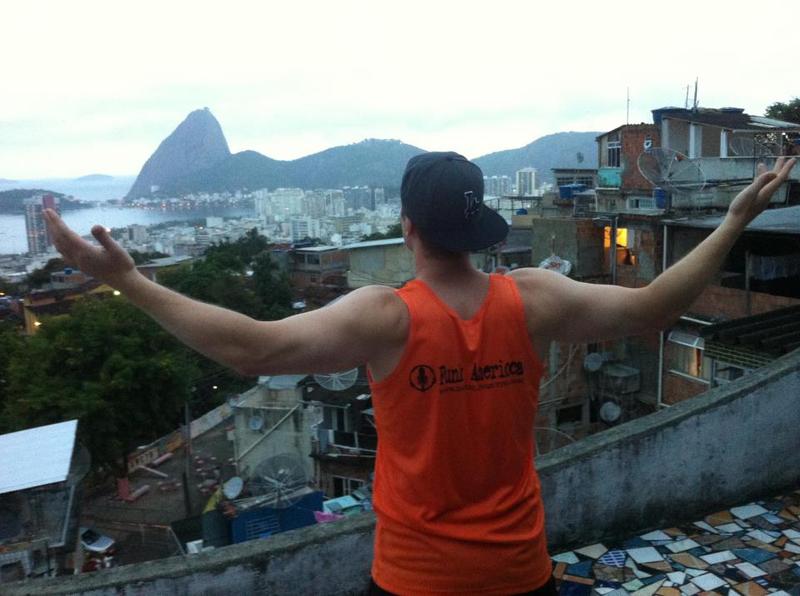 Along the gritty edges of Brazil where the dirt roads spiral up into the hills of Rio de Janiero and ramshackle homes jut out and dot the horizon, 32-year-old California native and funk star Don Blanquito forged his own way into these favelas to find the pulse to his other heart -- and the Carioca (Rio-born) way of life.

He left a career path on Wall Street, took a chance and chased after music. It was a passion that didn't fully ignite until he heard the raw street-blend of Miami bass, rap and hip-hop beats of funk. Fused with freestyle and racy lyrics that trickle out into tantalizing, booming rhythms birthed in the favelas, Blanquito was quickly seduced.
Describing that moment during in an interview when "your soul is activated and kick-started" there in the shantytowns known as favelas, Blanquito, whose real name is Alex Cutler, began this love affair in 2004. A week-long visit left him craving more and he was never the same.
"It's the Wild West, it's a lawless playground for your soul. High risk, high return. I felt that I was trained in the right place, but that I had a Carioca Soul. I was found," he said.
As he gazed out over the patio of his two-story walk up apartment high in the Tabajaras favela, which is now pacified, mototaxis that carried passengers up to their homes sped around the sharp corners of the massive hill. Laughter carried in from the local bar below his apartment as small glass containers for the cervejaria Antarctica hit against the wooden benches that doubled as card-playing tables. Beat up cars with old school boom boxes blasted by with sportscaster-type tones touting the latest phone deals. The drivers also broke out funk that continued to echo up into the distance.
"It was about making the wrong, right friends at the right time. Making friends with cops, hookers, crazy shit... Then you automatically jump into the sky. Music opens a million doors," Blanquito said.
Wearing a backwards Los Angeles hat and an American style t-shirt, his gringo (foreigner) appearance could fool anyone. But his passion transcends and his connection to Rio in a spiritual sense exudes out of his eyes.
With whirlwind stints on Wall Street through a co-op program at Northeastern University and a master's degree from Pompeu Fabra University in Barcelona already under his belt, he knew there was more out there. Nothing felt settled; nothing made him truly alive. And none of it became more apparent than when he stepped out into Rio and became overwhelmed with how full he felt.
A period of enlightenment for Blanquito, a longtime hobby of rapping in Spanish and English shifted as risqué beats he heard in the streets of the favelas struck him and left him pounding for more.
"It felt like the heartbeat of the Carioca -- the tambour -- the rapid and intense drum beat, 'chew cha, chew chew cha.' It's so intense and powerful that it engulfs you into the moment and becomes part of the experience. It has to be loud, though, so you can feel the vibrations from the base. It was crazy and new to me."
In the bailes funk (funk parties), women sporting figure-clinging clothes provocatively sway to the rapid-fire rhythms as shirtless men break out their dance moves under one forbidden sound that carries passion, lust and anger drawn from social injustice, guns, sex and drugs.
The genre, which many feel glamorizes drugs and violence, racks up controversy, particularly with baile funk organizers being linked to gangs.
Measures at one point, like Resolution 013 in 2007 allowed pacifying police units (UPP) to ban "cultural events" in the favelas. But feeling the heat from the July protests that spread across Brazil for social change, Rio de Janeiro's Governor Sergio Cabral Filho overturned the measure in August. Governor Cabral Filho acknowledged that at the time in 2007, it was a critical passage and part of the pacification process to drive out criminals.
A style known as proibidão (which translates to "strictly prohibited") is a darker side of funk that is outlawed and seen as inciting violence. With a hardcore demeanor, the beats are laced with explicit messages that talk openly about drug traffic, gang love, recruitment for factions and violence.

Blanquito, who associates with hip-hop and funk montage -- a "lighter" version of funk and one that is more cavalier in nature -- calls his own music "Funk Amerioca" and describes it as "Carioca with a tempero, Americano."
"I try to deliver a powerful punch quickly with a funny or catchy hook since the message is shorter than in a hip-hop song. Friday night arrives and motherfuckers aren't trying to think deeply about shit like a Bob Dylan track. They want to wild out and release their stress, so a funny or cool message is the way to go," Blanquito said.
By the time he was living in Brazil, his Portuguese moved as fast as his mouth did and his love for Rio found its way to paper and the air waves in 2008. Experimenting with loops and a play on words, he eventually recorded a funk song in Portuguese with the nickname Don Blanquito, given by an ex-girlfriend's brother that translated to "Sir White Boy."
Acknowledging the payola (illegal practice of 'pay-to-play') route, he said he could have chosen to go to the radio station, asked how much it was to get his song played in rotation for a month, which depending on who you know could be around 10,000 reais (around 4,593 dollars), and had gotten a possible hit out of it.
But for him, it was more about staying true to his own music and winning the respect of Brazilians. Otherwise you go out as fast as you come in and become a sell out, he said.
"I preferred to do shit honorably and do things grassroots, from the ground up. It's honorable, you respect yourself. It's the grind that counts, it's what makes the pretty story in the end. It's what got me respect in the hood and in the game, people saw me handing out CDs in the favelas, putting in work. Slapping stickers up all over, rockin' shirts. Waiting hours at the door of the radio stations to humbly ask the DJs to listen to a new track. It's what counts, it's what gets you to the next level and it's what gives you your pride at the top of the mountain."
Doing whatever he could to get his music out, which included giving out condoms with his brand, he was discovered by Marcelo Tyson, a television figure and hype man at many show houses in the northeast of Rio de Janeiro city in a poor region of Baixada Fluminense. Godfathered in, Blanquito was thrown onto the stage.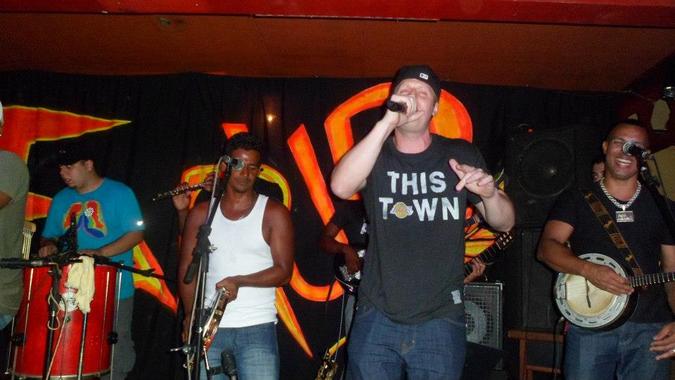 Because of his gringo appearance, reaction ranged from shock to "what the hell, what is this shit man, not really feeling it." But for the most part, many also just observed and were extremely curious about what his deal was.
It took him a while to get the rhythm of funk and he had to repeatedly adjust and modify. "It took me years to really understand. I thought my shit was hot all the time, I just realized, it was not the lingo they were looking for," he said.
Conquering fans and building a name for himself throughout the suburbs and favelas, Blanquito eventually formed a team of his own allies, like DJ F2, in São João de Meriti, a city that is part of Baixada Fluminense. Taken in, he was adopted into their crew (panela).
His big moment came when he went on a major national television show called "Super Pop" and was judged by famous funk singers at the time, like Valesca, Naldo, Vuk Vuk and Mulher File.
Rhyming on the spot in Portuguese from words that the host was pulling out of a box, he had to also dance, sing his own song and translate slang.
"The entire funk world was watching me on television. I was very humble and so happy to be on fucking television that I didn't care about anything else. The television production told the singers in front of me prior to going out on stage to not make it easy for me and to say I sucked in order to get high ratings. This worked in my favor, because people took my side."
Winning over audiences from his television debut and expanding his fan base, it all became a mini snowball effect from there for Blanquito. But at the same time, the deeper he got into the funk world, the more he had to battle.
"If you're not on your 'A game,' then you'll get taken for a ride. The point I'm getting at is that in the funk world, you're dealing with criminals, prostitutes and scumbags. The cream of the crop for dirtbags. You can't let your guard down ever if you want to make it and survive. Once you're on television everyone sweats you, but you have to know who's really down for you; usually it's very few people."
Candid about the other side of Rio, but also clarifying that he loves Rio with all of his heart, he talked about this particular side that many people haven't heard about, such as "the nasty side full of snakes: fake DJs, people who smile in your face and want to see you fail, people that want to rob you, look at you as an object, racist against you because you're white, envious people, other MCs who plot against you."
"In general, when some things are too beautiful to be true, it usually isn't. It was like a training course for survival in hell," he said as he broke into laugher. "I'm not trying to be negative at all, it's just that there's a realistic part of the race that almost every MC runs into that is usually not spoken about, which is the false and fake ass people who smile in your face, but want to see you fall. It's real and cold."
Despite the nature of the business, he explained that it was all about maneuvering around, taking in both the highs and lows and maintaining a sense of dignity to hold onto your own visions, when many around take short cuts and get lost in the fast ride up to money and success.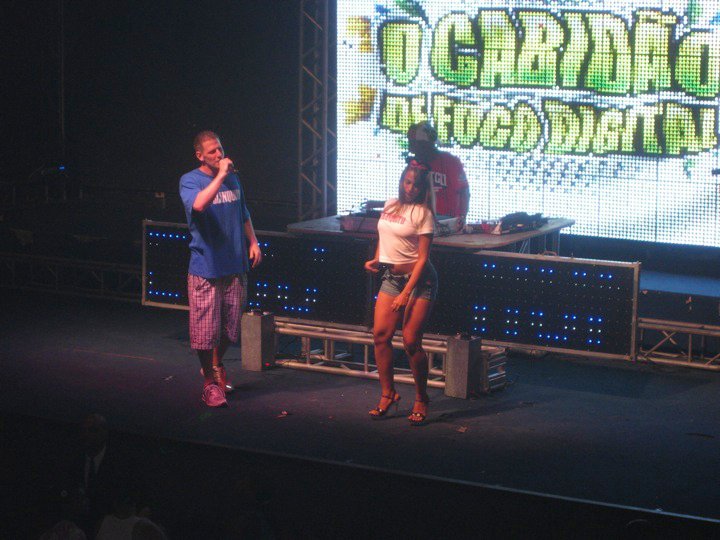 And for him, what always warmed him up were his fans. Resonating with his songs, "Rio" and "Na Favela," odes to a Rio and favela state of mind, audiences reacted well with his energy.
He continued to play bailes funk till seven in the morning in unpacified favelas still run by gangs and at one point earned 100 dollars per show -- and music, he said, should never be about the money. But when he could not make ends meet and recognized that he could not peak further as a funk artist, his priorities began to shift and he began transitioning music as a hobby for weekends.
He explained how he never had that "one hit" to secure his spot in the funk world. Wistfully, he said one of his dreams is to still see thousands of people singing the words to one complete song of his. "I'm absolutely content with what I've accomplished, but would still like to feel that energy."
With side gigs always there, including a job as a favela tour guide, he sought out something for the daytime and began working for a multinational production company.
Acknowledging that music no longer consumes him like it used to, he became very reflective on his apartment patio in Tabajaras favela where he has lived for several years. Still playing shows several times a month, he feels the most at peace with music.
"It's been incredible, but I think I'm at a much different stage now. I don't care as much, I've proven to myself and I tried my dream. Now it's more about the love of the music. Definitely more important. I can go to sleep now. I don't have to look back and say 'Damn, should've, would've, could've.' No regrets at all. Hell no. No regrets at all... Wouldn't change a thing."
For Blanquito, the evolution involved settling down and marrying his Brazilian girlfriend Yasmin Leiros of several years, who is expecting their daughter later this month.
The passion that burned in his eyes for music has now taken on a different angle and is directed at his daughter. "She's my piece of Brazil which I'll carry with me forever in any place of the world which I might end up in."
But for one of his first loves -- funk -- it will always hold a special place.
"As an artist I get the most satisfaction out of making people feel good through my music, but in my particular case I think it is more a life story about chasing your dreams and about giving a shot in what you believe in. That's what the Brazilian people most respect about me in my opinion. I'm not Adele or Whitney Houston. I don't give motherfuckers goosebumps, but my music is cool. It's the whole story that is cool, I think."