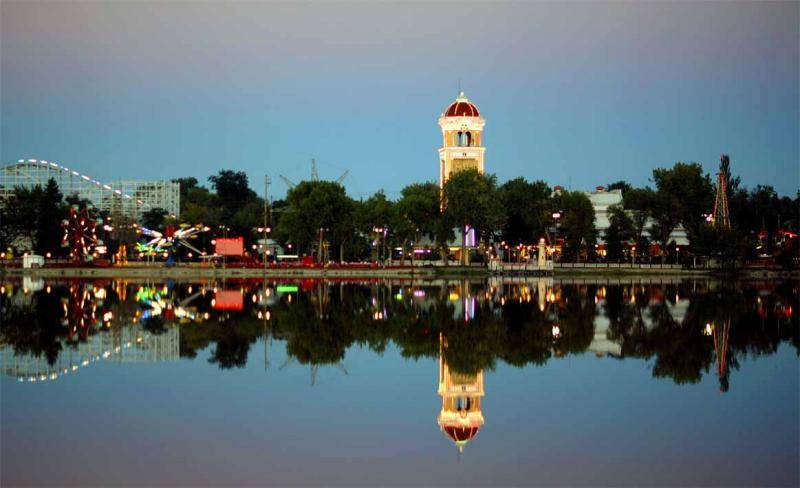 Denver Film Society has a lot to scream about. Film On The Rocks wraps up with Friday the 13th, but it is the Summer Scream at Lakeside that really caught my ear. Thursday night brings two Denver favs together for Summer Scream at Lakeside, celebrating the one year anniversary of the Reel Social Club. The classic amusement park will be closed to the public and open to the young, hip urbanites and cinephiles that populate the RSC. I'd have never thought of the Denver Film Society as old school but like all cultural institutions, if young audiences aren't cultivated, everybody loses. We are losing a generation of theatre-goers who have no context for the importance of American playwrights like Arthur Miller and Tennessee Williams; can you imagine a generation without film literacy?
Created by co-founders Katie Shapiro and Jenny Bloom, Reel Social Club seeks to excite this demographic by reeling its members into local film culture through exclusive parties, private screenings, and film festival experiences:
"After such a successful first year, we really wanted to maintain the momentum we've built and create a signature end-of-summer celebration for the cultural community," says Bloom.
Lakeside Amusement Park opened in 1908, at the time it was called White City. Enter into a bygone era through the Exposition style Tower of Jewels, one of the original buildings, which is lit at night by 5000 festive lights. The Art Deco renovations of the 1940s, mid-century modern architecture of the 50s and classic carnival rides make for a retro retreat on Lake Rhoda. Summer Scream boasts unlimited rides, a beer garden, libation stations, outdoor film, live street performers, and DJ sets throughout the park. Romance and rollercoasters; sounds like the perfect late summer date night:
"No other Denver cultural organization has done an event of this scale at Lakeside before. We're excited to give people a unique opportunity to experience this classic Denver landmark," says Denver Film Society executive director, Tom Botelho. "Reel Social Club plays a big role in the future of our organization and this event will become one of the DFS' biggest fundraising efforts throughout the year."
Summer Scream at Lakeside rolls in on Thursday, August 25 (6 pm - 11 pm) at Lakeside Amusement Park (4601 Sheridan Blvd.) Event proceeds benefit the Denver Film Society. General admission tickets are $35. Reel Social Club member tickets are FREE. To join Reel Social Club and purchase tickets: www.denverfilm.org. Sponsored by: Altitude Spirits, 303 Magazine, Boulder Beer Company, Colorado Cider Company, KBCO 97.3fm, Green Route Festival, Metromix.com, Open Media Foundation, Westword, Vista TV, and Yelp.com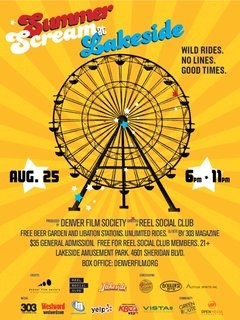 Image courtesy of Denver Film Society. Top photo courtesy of Lakeside Amusement Park.
SUBSCRIBE TO & FOLLOW THE MORNING EMAIL
The Morning Email helps you start your workday with everything you need to know: breaking news, entertainment and a dash of fun. Learn more