America's Best Ski Towns (PHOTOS)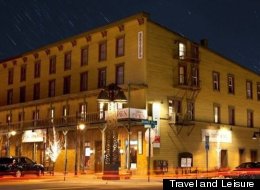 "There's nothing like a hot tub and ski-in, ski-out lodging, but a great ski town needs more than that," says Steve Kopitz, founder of specialty gear shop Skis.com.
We certainly won't argue with a man who has traveled to more than 40 ski towns across America. As Kopitz suggests, our favorites not only deliver the bars, restaurants and adventures that winter vacationers want but also have a certain small-town appeal, a sense of history and the carefree vibe that brought downhillers there in the first place.
You don't need to be a part of that black-diamond club to appreciate all that these ski towns have to offer. Visitors to Bend, OR, for example, can sample more than 12 microbreweries in between runs or go rock-climbing in Smith Rock State Park. In Taos, NM, take shelter from the cold in galleries and museums that display masterpieces by the likes of Ansel Adams and Georgia O'Keeffe, artists who found inspiration in the surrounding desert and Sangre de Cristo Mountains. Or simply lounge by the kiva fireplace in your adobe inn.
Sure, there are other great places where you can base a ski trip, such as Salt Lake City, which provides easy access to the renowned Brighton, Solitude, Alta and Snowbird resorts, or Aspen, CO, which went from modest silver-mining roots to a swanky favorite among the rich and famous. We've set our sights, however, on the towns that prove ski vacations aren't just about the slopes or mega-resorts or chic chalets. They are about embracing a lifestyle -- and they are just plain fun.
--Kayleigh Kulp
More from Travel + Leisure:

T+L's Ultimate Ski Guide

America's Prettiest Winter Towns

America's Best Ski Hotels

America's Best CIties for Winter Travel

America's Best Hot Chocolate

See More of America's Best Ski Towns This former mining town lies in a box canyon, surrounded on three sides by 14,000-foot peaks, so few places can rival the natural beauty, or the solitude (population: 2,500; stoplights: 0). A free, scenic gondola links Telluride to the neighboring Mountain Village, and Telluride Ski Resort itself counts 127 trails, three terrain parks, and an average snowfall of 309 inches. The local dining scene is equally impressive: 221 South Oak serves Rocky Mountain elk chop and Colorado lamb shank, and Rustico Ristorante stocks 1,000-plus Italian wines. If you're game to brush up on more than skiing skills, consider remote photo tours from Telluride Outside, ice climbing with the San Juan Outdoor School, or classes at the Ah Haa School for the Arts. Photo © Ryan Bonneau.

See More of America's Best Ski Towns At the turn of the 20th century, artists Bert Phillips and Ernest Blumenschein stopped to have a broken wagon wheel replaced in Taos and decided to stay. Then socialite Mabel Dodge Luhan brought well-known artists like Ansel Adams, Willa Cather, and Georgia O'Keeffe, who fell for the drama of this desert town surrounded by the Sangre de Cristo Mountains. The art-colony spirit lives on in Taos, where $25 gets you access to five local museums, and the walkable downtown is rife with art galleries and adobe inns with kiva fireplaces. After a day out skiing, retreat to El Monte Sagrado Living Resort & Spa, where the treatments include Life-Reading Massage and Reiki. Photo © Terry Thompson

See More of America's Best Ski Towns Beer and snow go hand-in-hand in this town, which counts 12 breweries and two more opening in Spring 2013 along what's been dubbed the Bend Ale Trail. Is it any wonder the population's rising? The compact historic downtown fits in an impressive number of Craftsman-style bungalows, galleries, and innovative restaurants (look out for Boken and Zydeco Kitchen & Cocktails). And while Bend receives less than 12 inches of rain annually, Mt. Bachelor Ski Resort gets an average of 400 inches of snow. Do the math, and you've got a prime destination for all kinds of adventure; Smith Rock State Park is a premier rock-climbing destination with 14,000 climbing routes, while many golf courses and fly-fishing outfitters are open all four seasons. Photo © Byron Roe Photography / Visit Bend

See More of America's Best Ski Towns Nearly a million annual visitors descend on Park City, whose Main Street still has the rugged good looks of a 19th-century western mining town. It puts skiers in easy reach of mountain resorts, hosts the Sundance Film Festival, and has become a culinary hotbed. The ski-in distillery High West Distillery & Saloon offers customized flights of craft creations paired with dishes like Kentucky whiskey beer cheese and bourbon three-onion soup. The seasonal tasting menu at Talisker on Main incorporates vegetables and herbs grown on its rooftop, while the Canyons' Bistro restaurant is the first and only certified kosher restaurant at a U.S. ski resort. With the restoration of the 1889 Washington School House into a 12-room hotel, you've got a new home base—plus complimentary transportation to your preferred slopes. Photo courtesy of the Park City Chamber of Commerce & Visitors Bureau

See More of America's Best Ski Towns There are 12 downhill and eight cross-country resorts within about 10 miles of Truckee in North Tahoe, which averages 275 days of annual sunshine and 400 inches of snowfall (that includes Squaw Valley ski resort, which hosted the 1960 Winter Olympics and debuted the world's first ski-through Starbucks). As if that weren't appeal enough, you can alternate skiing with activities like guided astronomy snowshoe hikes, paddleboarding (in wetsuits) on Lake Tahoe, and winter lake cruises. Be sure to pay your respects to the old-time Truckee Hotel, a local institution with hearty dishes served at on-site Moody's Bistro. Finer dining restaurant Cottonwood looks over downtown Truckee from one of the nation's oldest ski lodges. Photo courtesy of Moody's Bistro.

See More of America's Best Ski Towns The artsy town of Ketchum is 1.5 miles from Sun Valley Resort, built in 1936 with a lift that serves the entire elevation (3,400 vertical feet) on a high-speed quad. The resort also claims the world's largest automated snowmaking system and a year-round skating rink where Olympians are known to perform. With Ketchum as your home base, dine out at B. Restaurant and Bar, overlooking the mountains from its second-floor deck; at Vintage, with its cozy log cabin ambience; and at Cristina's Restaurant, where the menu reflects owner Cristina Ceccatelli Cook's Tuscan childhood. Stop in for a wine tasting at Frenchman's Gulch Winery, which uses Washington grapes, and take advantage of Sun Valley Gallery Association's free tours. Photo courtesy of Sun Valley Resort

See More of America's Best Ski Towns A church steeple rises over this quaint colonial town chartered in 1763 amid the Green Mountains. Vermont's highest peak, Mount Mansfield, is here, as are both double-black-diamond trails and plenty of beginner runs. Aside from skiing six distinctive areas at Stowe Mountain Resort, there are simple pleasures like the Ben & Jerry's ice cream plant, old-fashioned Shaw's General Store, and Solstice, whose dreamy views of Spruce Peak and seasonal, locavore dishes conspire to make it one of America's most romantic restaurants. If you're in the mood, splurge on a stay at Topnotch, where a hot-stone massage caps off a day on the slopes. Photo courtesy of Stowe Mountain Resort.
Follow Travel + Leisure on Twitter: www.twitter.com/TravlandLeisure