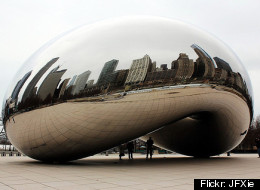 The High Line, a converted rail bed that's now an elevated park, lures millions to the far west side of Manhattan with its scenic lookouts. Even though it's less than three years old, the High Line has already become one of the world's most popular landmarks according to Travel + Leisure's first-ever landmarks survey.
We asked readers to rank contenders in six categories and flag the ones they've actually traveled to see. We used the latter results to determine the world's most popular landmarks, a revealing list of longtime favorites and buzzed-about newcomers like the High Line.
Landmarks that have played a significant role in history and that are instantly recognizable symbols naturally pique our travel interest. Find out which other landmarks made it into the most popular and start plotting your next trip.
--Sarah Spagnolo
Related Links:
America's Most Beautiful Landmarks
World's Most Visited Tourist Attractions
World's Most Popular Landmarks
Flower beds, day loungers, even a bar occupy this once-abandoned elevated rail bed--reconceived by Diller, Scofidio, Renfro, and James Corner Field Operations--that now threads through buildings from the Meatpacking District to West 30th Street. See More of the World's Most Popular Landmarks Photo: © Ambient Images Inc. / Alamy

Nicknamed The Gherkin, the 2004 glass-paneled, rocket-shaped office tower in London's financial center was designed by Norman Foster using 10,000 tons of structural steel. See More of the World's Most Popular Landmarks Photo: iStock

It took a star-studded team of Renaissance masters--including Raphael, Michelangelo, and Bernini--more than a century to complete the Vatican's magnificent, art-filled cathedral. See More of the World's Most Popular Landmarks Photo: iStock

The standout features of Chicago's 24.7-acre Millennium Park include Anish Kapoor's jellybean-like Cloud Gate sculpture, Frank Gehry's Jay Pritzker Pavilion, and various outdoor art exhibitions. See More of the World's Most Popular Landmarks Photo: iStock

When construction finished on this 513-foot freestanding amphitheater in A.D. 82, 50,000 Romans could pack in to ogle gladiator death battles and mock naval combat. See More of the World's Most Popular Landmarks Photo: iStock

Though the name refers exclusively to its 13-ton bell, the world's most famous clock tower has helped keep Londoners punctual since 1859. See More of the World's Most Popular Landmarks Photo: iStock

Gustave Eiffel's 984-foot monument of open-latticed wrought iron wowed the 1889 World Expo, instantly becoming a Paris icon--despite initial resistance from Parisians themselves. See More of the World's Most Popular Landmarks Photo: iStock

Spanning 4,200 feet across Golden Gate Strait, the structure's dramatic setting, orange color, and sheer size have made it one of the world's most recognized bridges since 1937. See More of the World's Most Popular Landmarks Photo: emrecan

Manhattan's classic skyscraper soaring 1,435 feet above 34th Street is widely considered the quintessential Art Deco landmark and currently holds the record as the city's tallest building. See More of the World's Most Popular Landmarks Photo: iStock

More than a century after France gifted this 151-foot copper sculpture to the United States, three million-plus visitors head to Liberty Island each year to admire it. See More of the World's Most Popular Landmarks Photo: iStock
Follow Travel + Leisure on Twitter: www.twitter.com/TravlandLeisure