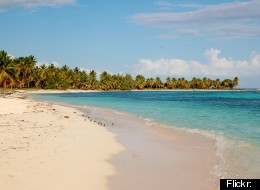 Spring has sprung across the United States -- and for those with cabin fever after a long winter's nap, it's time to travel.
While some folks take their spring break in March or over Easter, we're here to tell you that the best deals in spring can actually be found in late April and early May, the weeks between Easter and Memorial Day.
At many popular destinations, this period is referred to as shoulder season. It's between peak season -- when rates are sky-high and crowds are plentiful -- and off season -- when rates are rock-bottom low but the weather might be less-than-ideal. Shoulder season offers up the best of both worlds: reasonable rates, decent weather and smaller crowds.
Let's have a look at seven sweet spots to save this spring.
The Carolinas, Texas Gulf Coast, Monterey Peninsula and Jersey Shore are all popular summer destinations, and hotel rates reflect that after Memorial Day. But in April and May, the season is just ramping up -- and while the ocean waves may still be a bit chilly, never underestimate the recuperative power of sand between the toes and listening to crashing surf on uncrowded beaches. You may even get lucky with the weather and get a head start on the tan. Hotel rates in popular destinations such as Myrtle Beach, S.C., South Padre, Monterey and Atlantic City can be 50% less than those expected in the summer months. Tip: We've even seen deals that include weekend stays, which is a rare find any time of year.

A quick disclaimer: With high fuel prices appearing to be a fact of life, it's not cheap to get to Europe. But it's much, much cheaper in the spring versus the summer, when fares will easily climb above $1000 roundtrip. We're still finding good European fares as low as $600-$700 for April and May travel (sometimes even early June) across the pond. Get a head start on the England's big year before the Olympic rush. Or take advantage of shorter flights and long days in Ireland or Iceland, regularly two of the more affordable European countries to fly to. Tip: Watch the Top 20 for last-minute European vacation deals, which can offer package savings of 30% or more. Keep an eye out for fare sales from European carriers: these months often mean a lot of empty seats flying back and forth across the Atlantic.

While we're on the topic of Europe, spring is often a time when the cruise lines move ships from one popular area to another. When these ships move, they offer up one-time savings on unique itineraries -- and often huge discounts. In recent months, we've seen sailings from Miami to Barcelona go for less than $500 per person, plus an onboard credit. On a 13-night cruise, that's less than $40 per night for meals, drinks, lodging and activities. Try staying home for that much. Tip: Popular repositioning itineraries include the Caribbean to Europe and Southern California to Alaska.

Because the weather never gets bad in Hawaii, the seasonality here depends more on when people can travel to the Aloha State. Prices tend to spike around the winter holidays, spring break and summer. But during the spring months of April, May and June, rates at top Hawaiian resorts drop by $100 per night or more. Tip: The cheapest hotel nights will be found in Honolulu near Waikiki, but give Maui a look for deals as well. We've noticed several outstanding offers from highly rated resorts in this romantic destination.

Hotel rates in Arizona and Florida stay high through the winter months as travelers chase the sun. But the spring season offers a chance to save 50% or more from South Beach to Scottsdale -- before the temperatures spike. We're talking about rates for less than $200 per night at four- and five-star resorts that would have commanded $400 or $500 in February or March. Tip: Take advantage of the longer days by getting a deal on golf. Look for re-play specials that offer a second round free or twilight discounts on afternoon tee times. Want to trade in a sand trap for a mud mask? Most resorts also have highly rated spas, which might be offering credits or deals.

Mountain resorts in Colorado, Utah, British Columbia and other Rockies resorts are coming off a winter season in which rates were sky high. But mud season, as the spring months are sometimes called, often yields savings as much as 70% compared with ski season. It's a great excuse to get outdoors in the mountain air and do some hiking, or just sit back and enjoy amazing mountain views from the veranda with a microbrew in hand. Tip: Many of these resorts also have restaurants that get high marks on Zagat. Fewer people staying overnight means deals for these dining experiences could be on the menu.

In between the spring break and summer crowds, the beaches often empty out at resorts in the Caribbean and Mexico. Look for deals with discounted rates, free nights or resort credits. We're seeing great deals throughout the region on vacations and hotels not just in mainstays such as Cancun, Riviera Maya, Jamaica and the Dominican Republic, but also more exclusive spots such as Barbados, St. Lucia, Aruba or Curacao. Tip: You can also get deals directly from popular destination resorts such as Atlantis, Paradise Island in the Bahamas.
Follow Travelzoo on Twitter: www.twitter.com/Travelzoo