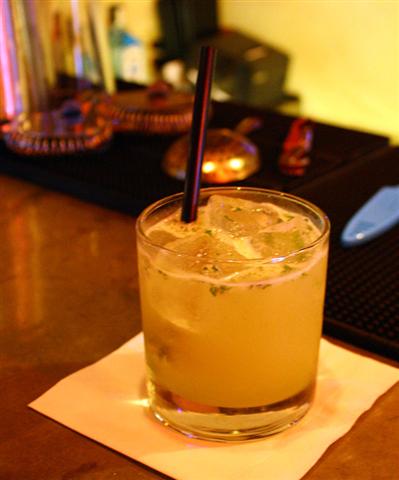 The Indian Summer cocktail at Sra. Martinez. (David Samayoa)
Northerners refer to an "Indian summer" when warm temperatures persist into fall after an initial frost.  Of course, hot days that drag into fall and winter are the norm in Miami. People up north might celebrate a balmier fall, but we jump out of bed on the rare days we can rock our sweaters. The Indian Summer cocktail at Sra. Martinez is good company whether it's a true fall day or just a humid excuse for one.
Scott Mayer, beverage director at Sra. Martinez, envisioned the cocktail as a summer drink -- a twist on the mojito. "Indian" also refers to the flavor -- Mayer was inspired by a mint chutney recipe. However, the warming ginger of the Domaine du Canton and the chilis also make it ideal for "true" fall days. A moderate heat creeps over the tongue as the chilis continue to steep.
The Indian Summer ($13) is part of the new cocktail menu at Sra. Martinez, where the was bar lauded by Esquire earlier this year.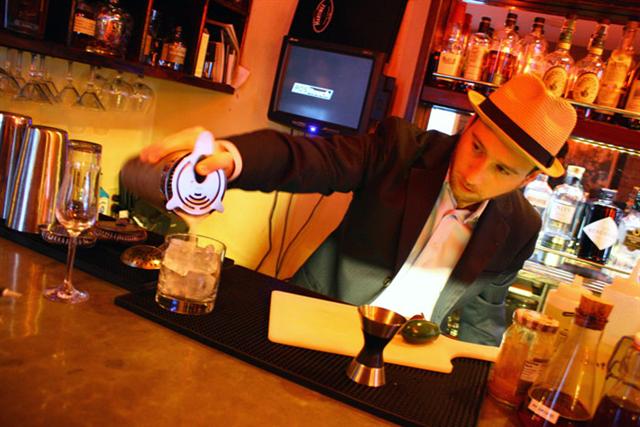 Scott Mayer, beverage director at Sra. Martinez, pours me an Indian Summer. (David Samayoa)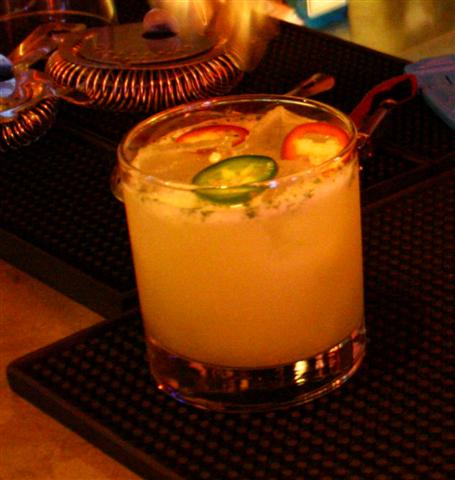 The Indian Summer cocktail, right after Mayer garnishes with chile peppers. They get stirred in. (David Samayoa)
Indian Summer Cocktail
Recipe courtesy of Scott Mayer, beverage director at Sra. Martinez
Serves 1
Mayer makes his own coconut infusion to avoid the "suntan lotion" taste of many coconut rums. He recommends drinking the cocktail without a straw to feel more of the heat. I had a hard time finding Santa Teresa Claro, but I finally scored some.  You can try claro rum from 10 Cane or Ron Matusalem as substitutes.
 
INGREDIENTS
3 mint leaves
1 ½ oz  toasted coconut infused Santa Teresa Claro rum (See recipe below for how to infuse the rum.)
½ oz Domain de Canton
½ oz  fresh lemon juice
½ oz  honey syrup  (Mayer combines hot water and honey to make a syrup, so that the honey is easier to pour.  I followed chef Marcus Samuelsson's directions for making honey simple syrup, which made the drink a little sweeter.)
3 thin slices of jalapeno chile
3 thin slices of Fresno chile
For infusion: Store-bought coconut flakes (one 4-oz bag)
TO MAKE
To infuse the rum: Toast the flakes in an oven at 350 degrees for 5-10 minutes until golden.  Wait a few minutes for flakes to cool. Infuse the flakes in the rum for three hours, then chill.  The coconut flakes will separate and rise to the top of the infusion. Try to skim out as much of the coconut as possible.
Combine cocktail ingredients in a shaker. Shake and serve on the rocks, garnished with  chile slices. Briefly stir the chile slices into the drink.
SUBSCRIBE TO & FOLLOW THE MORNING EMAIL
The Morning Email helps you start your workday with everything you need to know: breaking news, entertainment and a dash of fun. Learn more