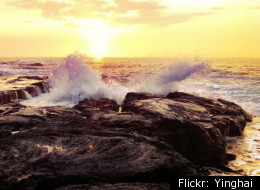 It's cold out. Summer seems like a faded memory of yore that involved late sunsets, rooftops and mojitos.
If you are in need of some rays to emanate through your computer screen, pump up the brightness and bathe in these seven sunny beach escape videos from Tripfilms.
Don't forget the SPF!
Beach Escapes for a Frosty Winter
If all you are craving is closest possible proximity to the beach, skip the hotels and hit the yurts! Maleakahana Beach Park on Oahu's North Shore is where it's at. Check out all the overnight options!

Four friends leave it all behind for a permanent beach escapes and find themselves searching big fish in the laid-back island of Utila in Honduras. Trust us, whale sharks don't look friendly.

Not your average Caribbean island, Dominica is known for being lush, friendly and for those that want to explore. The island has a pirate-filled history and is one of the last homes to the indigenous Carib Indians.

Popular for local college students, the beach's youthful atmosphere has beach bars, clubs and a boardwalk so it's always hopping, day or night.

Miami is relatively easy to get to, and if you need more than just South Beach to get you there, there are swamp tours, seaplane rides and more -- all detailed in this video.

If Miami's nonstop dance beat gives you a headache, go even further south to the funky, colorful Key West. Our Tripfilms filmmaker Chris gives us five helpful tips when heading to the big Key, and we enjoy her tips on alternative transportation, like ferries and electric cars.

For that think a beach vacay is a snooze fest, head down to Nicaragua where the activities range from jungle excursions to boarding down a volcano.
Follow Tripfilms on Twitter: www.twitter.com/tripfilms