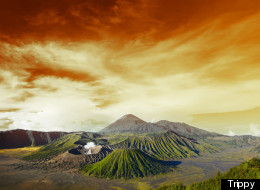 A natural phenomenon even most hardcore travelers never get to see in action, volcanoes are among the world's most fascinating wonders.
Whether it's a mountain that blows smoke rings or a majestic, snow-capped peak that's been dormant for decades, here are some volcanoes that overflow with beauty.
See all 40 sizzling volcanoes on Trippy.
Translating appropriately to "Peak of the Furnace," this very active volcano can be seen via local helicopter tours.

Talk about blowing your top! This volcano, which happens to be the highest in Asia, started spewing in 1697 and erupted as recently as 2011.

Anak Krakatau translates to "Child of Krakatoa", which makes perfect sense given that the island was actually created from volcanic eruptions on the nearby island of Krakatoa.

It may look beautiful but Rainier is so dangerous it's classified as a "Decade Volcano," a group of 16 volcanoes deemed to be among the world's most potentially destructive.

Thought to be the world's most active volcano, Kīlauea is said to be inhabited by Pele, Hawaii's volcano goddess.

Although it is located in New Zealand, Mount Egmont, or Mount Taranaki as it's really named, looks so much like Mt. Fuji that it was used as such in the movie, "The Last Samurai."

Even though it's experiencing a dormant period, Arenal's geothermal activity has resulted in loads of hot springs in the area.

If you come to Mount Fuji expecting a show, you're probably going to be out of luck. This tranquil volcano hasn't erupted since the 1700s.

So active and distinct is this volcano that geologists frequently refer to other volcanoes as being "Strombolian" in nature.

If the Parinacota Volcano in Lauca National Park isn't acting up when you visit, amuse yourself by checking out the local wildlife which includes llama, alpaca, and even cougar!

While the volcano is certainly impressive, the real attraction here is the area's famous yellow-green squirrel, which can be found nowhere else in the world.

If you visit on the 14th day of the Yadnya Kasada festival, you may see locals throwing everything from fruit and flowers to livestock into the volcano. This tradition of offering sacrifices dates back to the 15th century. See all 40 volcanoes on Trippy.
Follow Trippy on Twitter: www.twitter.com/usetrippy