AfterEllen.com is Logo's site for lesbians and bisexual women in entertainment and media, which means we pride ourselves on knowing all kinds of Sapphic pop-culture facts. Each week we'll share some of the best tidbits on The Huffington Post in our new series, "Best Lesbian Week Ever."
Here's who and what was on our raging gay radar this week.
Jillian Michaels is/has a baby mama: The bisexual fitness guru has finally publicly announced she has a partner, music exec/yoga teacher Heidi Rhoades. Heidi had the couple's baby boy, Phoenix, May 3, and Jillian also adopted a 2-year-old girl from Haiti. Can you hear the minds being blown all over middle America?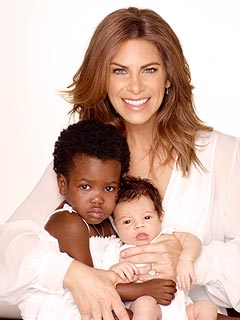 Photo by Andrew Macpherson/People
Portia de Rossi and Ellen DeGeneres want you to be a Skinny Bitch: The couple were guests on The Rachael Ray Show this week, discussing their vegan diets. They were inspired by the Skinny Bitch books and have since given up most things that are good in life, except for lesbianism and alcohol.
Jane Lynch shills for Obama: The out actress narrates the president's LGBT video, which gives him props for all of his Pride. Good choice, Obama. Even straight people can't deny the Lynch.
Reality TV continues to breed terrible pop stars: The Real L Word's Romi Klinger has released part of a song on the Internet. It's called "Oh La La La," and we prefer bisexual-for-press Kim Zolciak's "Tardy for the Party." At least that song was intentionally hilarious -- wasn't it?
Carol makes Cate Blanchett and Mia Wasilowska commit: Both blonde actresses have been in films where women chased after them (Notes on a Scandal and Albert Nobbs, respectively), but neither were interested themselves. Now the two will romance one another in The Price of Salt adaptation, which means the Goddess does answer prayers.
Christine Quinn gets hitched and inspires a fashion piece: After the New York City politician married her partner this past weekend, The New York Times penned a story on how lesbians decide what to wear to their weddings. (Quinn wore a Carolina Herrera gown, for the record. She wins!)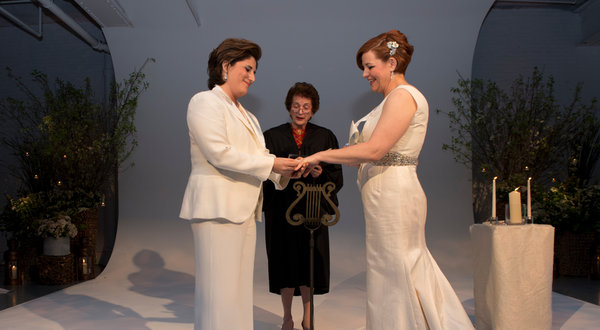 Photo by William Alatriste/New York Times
Anne Burrell doesn't mind being outed: The Food Network star said she hasn't been hiding her sexuality per se, she just hadn't made an announcement about it. At least, she didn't have to until another Food Network star, Ted Allen, made it for her on a Sirius FM radio show.
Tanya Wexler's Hysteria: The out director debuts her film about the invention of the vibrator this weekend. She said inspiration for the main character (played by Maggie Gyllenhaal) were Katharine Hepburn and Jane Addams, two women who were known for being involved with other women. However, I think Maggie's character only goes for men and inanimate objects in the movie.
Gossip folks! The trio released A Joyful Noise this Tuesday and played live on The Late Show, but it was frontwoman Beth Ditto's appearance on Watch What Happens Live! that made for must-watch-TV this week. She shared her love for Lil' Wayne and said three nice things about Katy Perry, which are three more than she's ever said before.