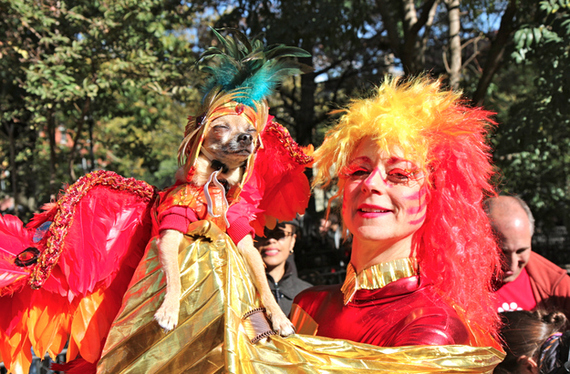 Competitor in the New York City dog costume competition, thanks to BuzzFeed Animals.
Unless you've been living under a rock recently, you've most likely heard of Brandon Stanton. He's the photoblogger behind Humans of New York -- the runaway success blog which has resulted in a newly released book, which rocketed to number one on the New York Times print best sellers list.
One of the main reasons for his massive success Stanton has said, is the succinct captions he decided to give his photos. These are most often words of wisdom and advice from his subjects, in all their multicultural glory, to the world. Other times it's just a brief, often very moving, insight into their lives.
What's interesting is that he has inspired a number of other aspiring photographers to go out and find out what makes their city or country tick. These aren't just copycat blogs, people looking to cash in on HONY's success. Look up "Humans of..." on Facebook (HONY's page has 1,635,202 likes at last count) and you'll now find Humans Of...
Paris
Amsterdam
Canberra
Teheran
Spain
Melbourne
Belfast
India
Armenia
London
Sydney
Bankok
Barcelona
Singapore
Berlin
Rome
Maldives
Copenhagen
Malta
Toronto
Chicago
Boston
Karachi
Milan
Dublin
Vancouver
Vilnius
Tel Aviv
Rotterdam
Bucharest
Buenos Aires
Oslo
Jerusalem
Rio de Janiero
Lahore
Dublin
Khartoum
DC
Utrecht
Syracuse
Beirut
Lebanon
Mumbai
Brooklyn Tech
Hyderabad
Fiji Islands
Canterbury
London
Saint John
and Budapest
There's also FOO, Faces of Orlando.
And one page just called Humans
All of them, except for FOO, which is very new, have thousands of followers -- Paris has close to a million.
So what, you might say? People like photos of other people, so what.
Well, as British comedian turned global humanitarian, Russell Brand says, "immigrants are just people who once lived somewhere else."
And in this time, (at least in Australia where I live) of government crackdown on so-called illegal immigrants, and an apparently growing global bias against immigration full stop, the 'Humans of' movement feels to me like a vehicle for illustrating what all of us know deep down: that we're all humans of somewhere, we all have a story and we all have something of value to say, if we're given the chance to say it.