I am going to review a new movie, but before I do, let me explain my new rating system. The BOT Rating System is based on the number of ButchOnTaps ("BOTs") that something is awarded (very scientific!).
1 BOT = PASS. I strongly suggest you pass. Hide your wife, hide your kids, hide from whatever is being reviewed. For beer, drink water instead.
2 BOTs = MEH. Just ok. Not horrible, but not even average. For beer, it is slightly better than drinking water, but not much.
3 BOTs = AVERAGE. Just as many movies/beers/books/bow ties are better than this one as are worse than it. Not a standout, but I'm not mad at you for giving it to me.
4 BOTs = GOOD to GREAT. Luckily, most of what I drink or watch would receive this rating. Not everything can be exceptional, after all. Then nothing would be exceptional, would it?
5 BOTs = OUTSTANDING. Thank your lucky stars that you are drinking, wearing, reading or watching this. I want more of it. Now. Stat! Seriously, where can I get more?
I had the opportunity to review the new movie released by POWER UP, Girltrash: All Night Long ("GT") last week. I was excited! This is my first movie review. And that means my first critics' access, complete with the giant "PROPERTY OF POWER UP" watermark across the screen. This, for the uninitiated, is to ensure that pirates (who sound cool, but really are very uncool) don't steal the movie. How they do so is for another blog, but suffice it to say that I am firmly and proudly against piracy of a digital nature. I can proudly walk the plank and proclaim that I am against piracy and I pay for my media! Plus raping and pillaging is bad. Yes, piracy in any form is bad. Other than on Halloween (uber butch costume), and of course on Talk Like a Pirate Day. Did you know that you can set your Facebook language preference to Pirate? I mean, who doesn't like a good "Argh" now and then? But I digress. Avast!
Back to GT. I quickly got used to the watermark (obvi) and got into the story. This is a musical. A musical, people. What do you think the chances are that I would not like it? That is not to discredit the quality of the movie, by any means. I guess it is just more of a disclaimer that I am a musical whore. There I said it. A very butch musical whore, but a musical whore nonetheless. Okay, on with my review.
GT is written by Angela Robinson, who is the creator and director of the web series by the same name. There has been some controversy about this film. Indeed, if you google it, you will learn that Robinson has distanced herself from the movie because she says she did not get creative approval of the film -- something which is rarely given to directors, and even more rarely to writers, in Hollywood. I'd like to point out that Robinson had her directing debut with D.E.B.S. also produced by POWER UP in 2003. She went on from there to direct two other movies and some TV shows. You could certainly argue that she would not have been able to do so had it not been for POWER UP. Just saying.
The film is about a group of lesbians in Los Angeles and one impossibly crazy night. Of course, there is the typical girl-meets-girl story line, the two-best-friends-who-fight-and-make up story line, the tiny-band-wanting-to-make-it-big story line, and the oh-so-familiar girl-can't-get-over-her-ex-and-runs-into-her-at-a-bar-with-the-new-girlfriend-who-is-a-total-sleazebag storyline. We have all been there! Am I right? That is not to say that anything about GT is old or recycled. To the contrary, I have never seen a film like this before. What fun!
We have lesbian drama, car chases, violence and hot girls -- all set to music. Catchy music. I, for one, love the contrived nature of a musical. Maybe that is because it fits my life. I frequently hear music in my head while life revolves around me. If there was a camera in front of me, I just might break out of whatever conversation I was in and sing directly into the camera. That is what makes GT so much fun. Breaking the fourth wall. Singing directly to the camera and us means that the film doesn't take itself too seriously. I love it. The production quality is serious, though. This musical is legit!
As I have said before, I am not a professional film critic, yet. You can see other sites for that. For me, I like to focus on what I know the most about. Music, theatricality, pretty girls, golf clubs and fun. This film has all of these. I give this 5 BOTs. Buy it and watch it with friends. Now. Stat! Seriously. It's butch to love musicals. Be Butch.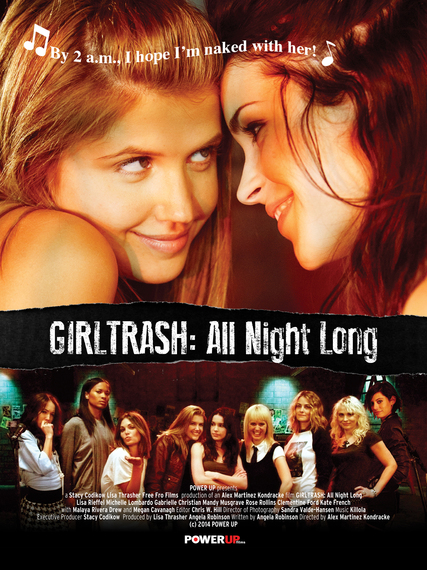 --
About POWER UP: Today, POWER UP is the only 501(c)(3) Non-Profit Film Production Company & Educational Organization for Women and the GLBTQ community. POWER UP develops, finances, produces and distributes award-winning films and conducts unique advanced educational programs through our hands-on filmmaking mentorships, classes, workshops and seminars. Additionally, POWER UP offers career, script, television and film counseling; Awards notable contributors to the arts, entertainment and our community. POWER UP continues to unify and validate women and the GLBTQ community worldwide by "challenging perception through film."