7 U.S. Pub Crawls You Will Never Forget (No Matter How Much You Drink)

Credit: Freedom Trail Foundation, Skecouche LLC, Chuck Terhark
Whether you're looking for a way to celebrate National Poetry Month (marked every April in the U.S.) or simply searching for a fun alternative to the typical sightseeing tour during your next vacation, hotel search Trivago.com has your 2014 pub crawl calendar covered. From more than 20,000 zombies sloshing in the streets of Minneapolis to a peddling party through the streets of Portland, to a day of drinking and reciting poetry during a walking tour of Manhattan, these seven unique pub crawls in cities across the U.S. are sure to quench your hankering for hops.

The Christmas Crawl: The Official Tacky Christmas Sweater Bar Crawl -- Washington D.C.
Who: Owners of tacky holiday clothing searching for fun and acceptance.
What: The Christmas Crawl: The Official Tacky Christmas Sweater Bar Crawl
Where: DuPont Circle -- Northwest Washington D.C.
When: December 6, 2014
Why? Celebrate the holiday season by sporting a tacky sweater and drinking with thousands of strangers in our nation's capital.
Freedom Trail Historic Pub Crawl -- Boston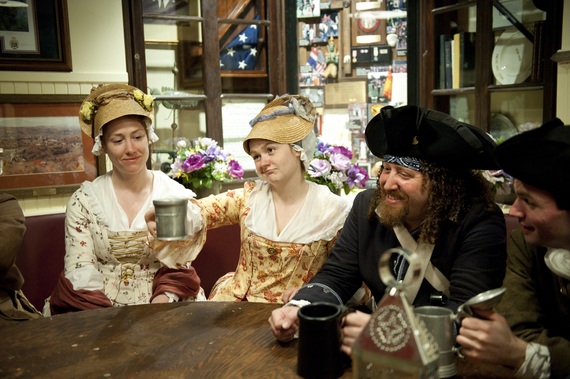 Credit: Freedom Trail Foundation
Who: History buffs or tourists looking for an excuse to drink while learning.
What: Freedom Trail Historic Pub Crawl
Where: BOSTIX Booth at Faneuil Hall -- Boston, Massachusetts
When: Every Tuesday at 5:30 p.m.
Why? Boston is steeped in hundreds of years of history, and there may be no better way to walk the same streets as native Ben Franklin (and Ben Affleck for that matter) than while buzzing on Sam Adams.
Music City Pub Crawl -- Nashville
Who: Music lovers, cowboys, cowgirls and brides-to-be.
What: Music City Pub Crawl
Where: Downtown Nashville
When: Tours available daily. Reservations required.
Why? Nashville is home to the music industry and Tennessee is home to Jack Daniel's Whiskey, so a pub crawl through the heart of Music Row is almost a rite of passage when in town.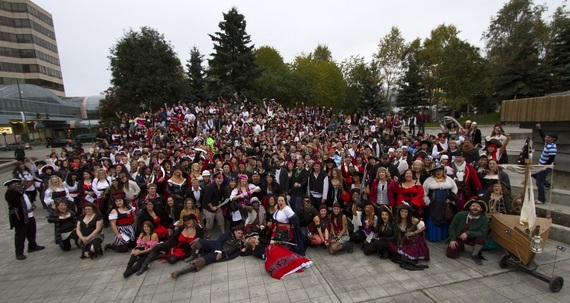 Credit: Anchorage Downtown Partnership, Ltd.
Who: Lads, Lasses and all sorts of Scallywags who want to support a great cause.
What: Pirate Pub Crawl
Where: Downtown Anchorage
When: September 2014 (Date, TBA)
Why? Aye, this here annual party isn't just an opportunity for the people of Anchorage to celebrate their inner pirate; it's also a fundraiser to support the Blood Bank of Alaska.
Zombie Pub Crawl -- Minneapolis
Who: Zombies. Well, people dressed as zombies -- thousands of them, in fact.
What: Zombie Pub Crawl
Where: Downtown Minneapolis, Minnesota
When: Saturday, October 11, 2014
Why? Why do you need a reason to dress like the undead and literally crawl around Downtown Minneapolis once a year?
The Greenwich Village Literary Pub Crawl -- NYC
Who: Book lovers looking for an atypical tour of one of Manhattan's most famous neighborhoods.
What: The Greenwich Village Literary Pub Crawl
Where: Begins at White Horse Tavern
When: Saturdays at 2:00 p.m.
Why? On April 26, lovers of verse can mark National Poetry Month by joining a tour dedicated to the many poets who have helped make the Village the most literary neighborhood in the nation. According to owner and tour guide, Eric Chase, attendees will toast to "poets who literally, or should we say 'literarily,' changed the world in a tiny corner of Manhattan."
BrewCycle Portland -- Portland
Who: People looking to burn off calories while simultaneously consuming them.
What: BrewCycle Portland
Where: All rides start at 1425 NW Flanders St. in Downtown Portland
When: Tours offered daily. Reservations required.
Why? What's not to love about BrewCycle Portland? You can avoid getting a beer gut and take a tour of Portland, all while enjoying some of the city's best craft beer.
Follow trivago on Twitter: www.twitter.com/trivago