A character-filled, but masculine home isn't always easy to accomplish, considering the seas of frills and florals that dominate most retail stores.
This is largely why we created TRNK -- an online resource for men who seek inspired homes. To start out, we've provided a short list of tips to help "beef up" your space without necessarily reverting to beer signs or bearskin rugs.
Designer Suzanne Kesler once said "A room should feel collected...not decorated." These words are especially true for men -- we never want to look like we're trying too hard, even if the reality is quite the contrary. An easy way to accomplish this "understated" and "effortless" look is by incorporating elements from different design eras. Your antique Chesterfield sofa could actually look right at home next to your mid-century Barcelona chair -- don't be afraid to mix objects from completely opposite places and times.
Instead, be more discerning about the quality of each item. We strongly believe that well-designed items will look good in nearly any context. A bit of haphazardness only adds depth and character -- and brings you one step closer to having an original home, rather than a designer's showroom.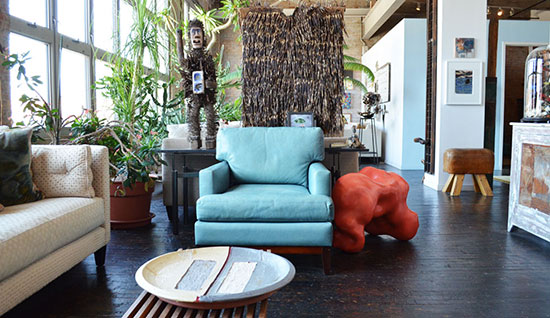 | Artist Nick Cave's carefully collected Chicago loft. We love how he boldly mixes mid-century, contemporary, and tribal pieces in his home.
We know that vintage products will add character to any space. However, they also contribute to another trait that men generally value in their homes, which is comfort.
Adding elements that are a little more weathered and worn naturally make a home feel more inviting. While your grandfather's old cigar chair may be an artifact in its own right, it can make your space feel more like a home, rather than a museum.
Find things that have proven their durability through the test of time - that way, you can enjoy their function, instead of becoming preoccupied with their eventual depreciation.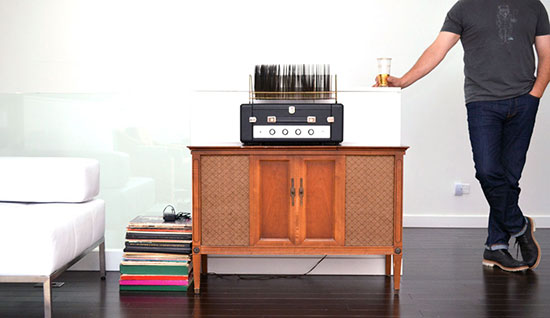 | We loved this vintage record cabinet in Tereasa Surratt & David Hernandez' Chicago home. It is a functional, and beautiful piece that feels right at home alongside a contemporary settee.
3. LEATHER, WOOD AND METAL
This one probably needs the least explanation. Incorporating these three durable elements of nature are a fool-proof way of making a space feel more masculine. While leather and wood similarly evoke warmth, metal's sleek finish provides a balancing contrast.
Most importantly, all three materials are built to last. Feel free to literally kick your feet up without any worry.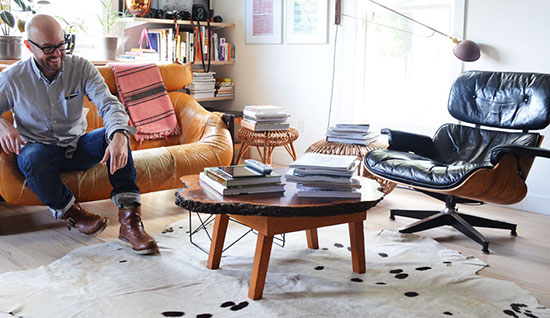 | Designer Matt Pierce's Portland home had a wonderful mix of these essential materials. His living room was a beautiful collection of warm-hued leather seating, wood tables, and metal lighting.
4. THINK CORNERS, NOT CURVES
Masculine rooms are generally abound with strong lines and sharp angles. The dramatic, clean lines used in mid-century design make it an ideal choice for seating and lighting. Another easy trick is to favor sharp corners over rounded edges.
This same theory can be applied to your artwork and textiles. Geometric prints are a safe bet when seeking to add a bit of pattern to your space. Try tribal motifs like Navajo rugs and minimalist artwork.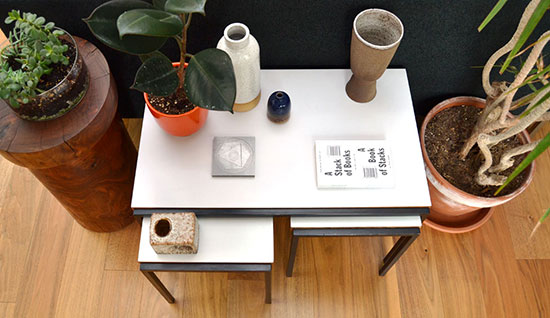 | Portland-based duo Joseph Magliaro and Shu Hung's home has an incredible mix of contemporary and vintage design. We loved this set of angular nesting tables for their clean, sharp lines.
Last, but certainly not least, is your choice of color. Fortunately, there is only one golden rule you have to remember -- avoid pastels. Otherwise, you're probably in the clear, but below are two palette options if you are still scratching your head for ideas.
Grayscale + Primary Colors: A color palette popularly used by minimalist artists, sticking to the most basic of colors will make your space feel both masculine and modern. White, black and gray should dominate, but be sure to include sufficient pops of color throughout. The easiest place to incorporate color is through decorative accessories like artwork, lighting and throw pillows.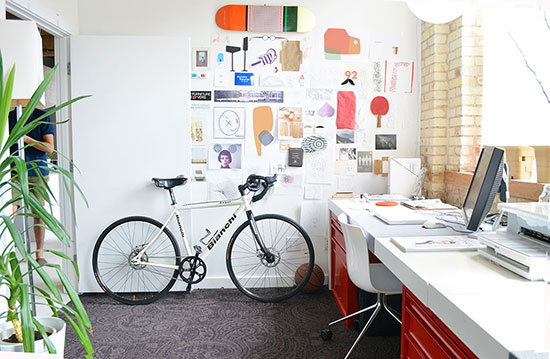 | Grand Rapids, MI-based designer Nicolai Czumaj-Bront's office is a perfect example of this classic color combination. He kept it simple with neutral walls and surfaces, and added splashes of primary red through storage and artwork.
Earthy Hues + Jewel Tones: If you are looking to create a space that is warm and inviting, earth tones are certainly the way to go. Be sure to include an abundance of natural materials like wood, leather and terra cotta, but offset the sea of brown by incorporating jewel tones like rich emerald, burgundy, teal and mustard. This can easily be done by adding an over-dyed rug, tribal textiles, ceramics and artwork.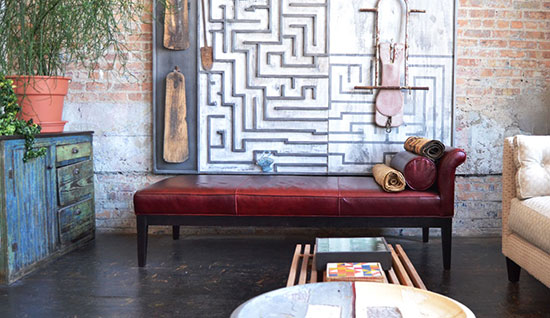 | A seating area in Nick Cave's home features a deep burgundy sofa, alongside a weathered antique turquoise cabinet. These deep colors are grounded with earthy neutrals in the artwork, coffee table, and accents.
All images by Tariq Dixon and Nick Nemechek of TRNK.
SUBSCRIBE AND FOLLOW
Get top stories and blog posts emailed to me each day. Newsletters may offer personalized content or advertisements.
Learn more