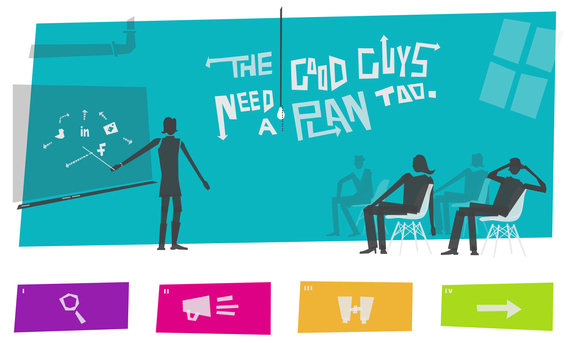 In movies, the bad guys always have a "master plan" and at least a trick or two up their sleeves. Though their plans may get foiled before they can follow through, they at least have one. The good guys, on the other hand, are usually out there doing good wherever they can, regardless of how it's done. Though noble, their plan-less ways may not always be the most effective.
This is how a lot of real-life good guys, aka nonprofits and NGOs, approach social media.
Many nonprofit organizations create social media presences because they know that they "should" be doing something in the digital space, but don't always know what that something should be. Organizations will test the waters a bit, sign up for an account here and there, and post occasionally. Then, before too long they're asking engaging questions, gaining followers, and producing more content.
However, as social takes off, so does the need to increase engagement and management, create new and exciting content, and keep up with trends. To do all of that well requires a plan. While most organizations are right in that they should be doing something, many miss one crucial step: planning.
What you can and can't plan for

Social media is complex and ever changing. Every week there's a new platform, a change to an existing platform, an update, a layout adjustment, or a timeline addition. However, even in an evolving field, there are some general rules and expectations that can be predicted, assumed, and concluded. From crisis management, ROI goals, and social mission to tone guidelines, internal governance, and campaign best practices, you can greatly enhance your organization's social media practice by having a strategy.
Pre-planning provides guidance, cuts down prep time, and helps organizations learn from past work. It also allows time for exploration and research into what peers and best-in-class organizations are doing in the social space. Learning from past work and gleaning inspiration from others is what creates strong social content and a memorable presence.
The truth is, there is no cookie-cutter formula that's going to work for every nonprofit or NGO. There's no way to have every solution or develop a plan that will ready you for any crisis that may occur.
With that in mind, preparing your organization as much as possible can help alleviate some of the anxiety that comes along with creating a strong and meaningful social media presence. Have a big campaign coming up? Don't wait until a month before to plan. Trying to reach a fundraising goal? Know what platforms can help you achieve financial aspirations and why email alone won't work. Whether your goal is to raise money, turn slacktivists to activists, spread the word, or effect change in government, you've got to know what works in social and what would be a waste of your time.
More social good, non-profit tech and other musings here.