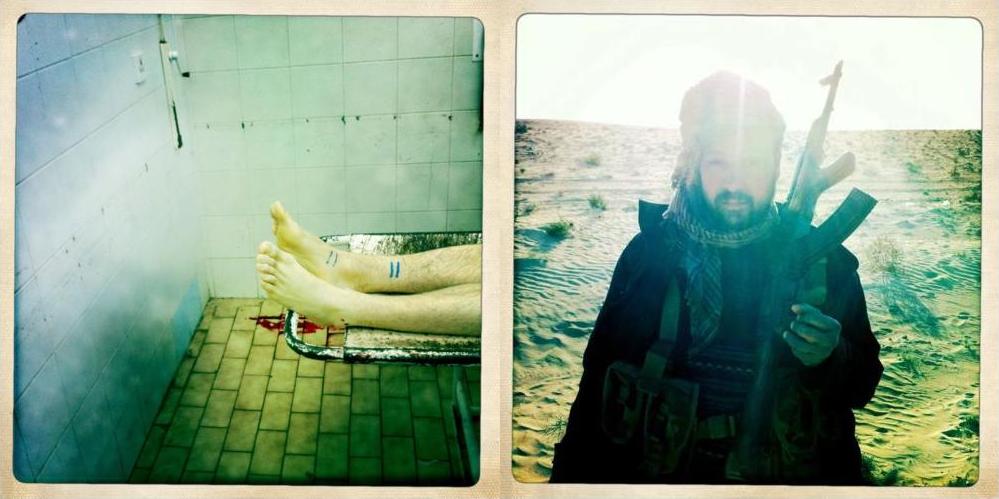 Photo Credit: Benjamin Lowy/Turnstyle

SEE MORE PHOTOS>> WARNING: Some photos are graphic.
EDITOR'S NOTE: This report was originally published on Turnstylenews.com in March. We are surfacing it on The Huffington Post due to recent and growing interest in stylized war photos.
The phone made that funny international ring. Beep beep, beep beep. "Oh crap. What time is it in Libya?" I wondered.
A craggy voice answered, and I introduced myself, attempting to get Benjamin Lowy's okay to publish some of his beautiful photos from the recent fighting in Benghazi, Libya. Lowy was patient, but confused. He said, "I really need to sleep. Can you just email me about this?" A fair request at 2:30 in the morning.
Such is the life of a conflict photographer, answering bizarre calls on his international GSM phone in the wee hours of the morning, after, according to one of his Twitter posts, "Walking across Egypt/Libya border."
After a swift war victory, Julius Cesar is said to have written "Veni, vidi, vici" - I came, I saw, I conquered. 31 year-old Benjamin Lowy has spent much of the last decade in war zones like Iraq, Afghanistan, and Darfur, but he only claims to have seen.
The New York based photographer is currently in Libya on assignment for GQ. Draped in heavy digital cameras and surrounded by chaos, Lowy occasionally pulls out his iPhone, using it almost as a palate cleanser. He posts the images on his Tumblr page titled vidi: I saw. He wrote this of the process:
This blog is part of a project borne during my travels as a professional photojournalist. For years, I have worked with bulky digital cameras, always mindful of the technical maneuvers from setting the shutter speed and aperture to editing and toning on a computer screen. In the last two years I have discovered that my iPhone has allowed me to capture scenes without feeling that I am once again on the job. To "point and shoot" has been a liberating experience. It has allowed me to rediscover the excitement of seeing imperfections and happy accidents rendered through the lens of my handheld device. I am able to create imagery, edit, and transmit all the images straight to this blog, creating a modern and efficient workflow for the most inefficient of pursuits - self expression.
FOLLOW HUFFPOST