By: Noah Nelson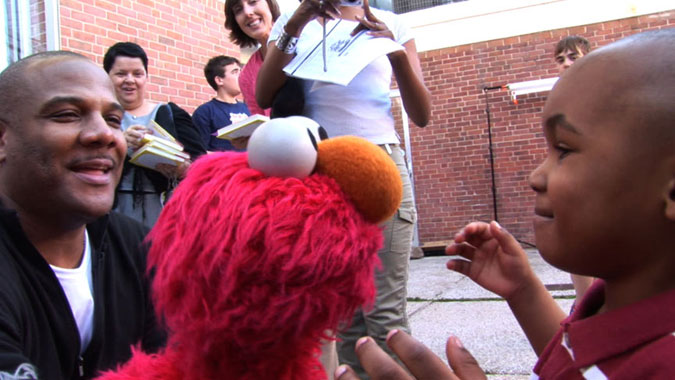 Publicity photo courtesy Submarine Deluxe/Constance Marks
Full disclosure: the first time I became aware of the Elmo phenomenon I thought the bright red monster Muppet was an abomination: a knock-off of my beloved Grover who had been designed in a marketing lab by black hat focus groups in order to create the ultimate money making machine. These were strong, ignorant opinions based on nothing more than nostalgia and an allergic reaction to anything that can be that damn happy all the time.
Being Elmo is a documentary that follows the life of Kevin Clash, the man behind the Muppet, whose lifelong fascination with puppets began at an early age. While many children exposed to Sesame Street make their own stab at puppetry, Clash was dedicated to the craft in a way that marked him for greatness.
The documentary draws from a treasure trove of material that includes deep Henson archives containing behind-the-scenes footage of the making of Sesame Street and Labyrinth, as are the personal photos of the Clash family and the requisite interviews with family members and co-workers. The magic of the documentary comes from the story of how Clash began his on-screen work as a puppeteer -- on the local Baltimore CBS affiliate's TV show Caboose -- and the surprising film footage of a young Clash at the dawn of his career.
Director Constance Marks skillfully uses this material to craft dramatic, emotional moments out of the history, and sets up tense questions about Clash's destiny in interviews laid over mildly animated photographs that are resolved through archival evidence. It makes for a thrilling, emotional exploration of what is truly a remarkable life.
The film makes it clear that Elmo, a character that Kevin Clash adopted from another performer who couldn't quite get the Muppet to work, comes from a pure place in Clash's soul. Yet the responsibility of being the man behind children's most popular Muppet comes with a personal toll which the film touches on. While not plumbed at great depths, the costs that his demanding career laid on Clash are accounted for in the form of a divorce and the time spent away from his daughter.
Elmo is love. While the Muppet embodies the unvarnished love of a child for the world, it is born of the love that Kevin Clash has of puppetry and the power that craft has to connect with children's -- indeed all of our -- sense of wonder.
By the time the new documentary, Being Elmo, had finished unspooling, I had wept like a baby no less than three times. And now I too can't help but love Elmo.
Being Elmo, directed by Constance Marks and narrated by Whoopi Goldberg is in theaters today.
Originally published on Turnstylenews.com, a digital information service surfacing emerging stories in news, entertainment, art and culture; powered by award-winning journalists.
Go to Turnstylenews.com | Follow us on Twitter | Like us on Facebook | Follow us on Tumblr
SUBSCRIBE TO & FOLLOW ENTERTAINMENT
THE spot for your favorite fan theories and the best movie recs. Learn more