Originally published on Turnstylenews.com, a digital information service surfacing emerging stories in news, entertainment, art and culture; powered by award-winning journalists.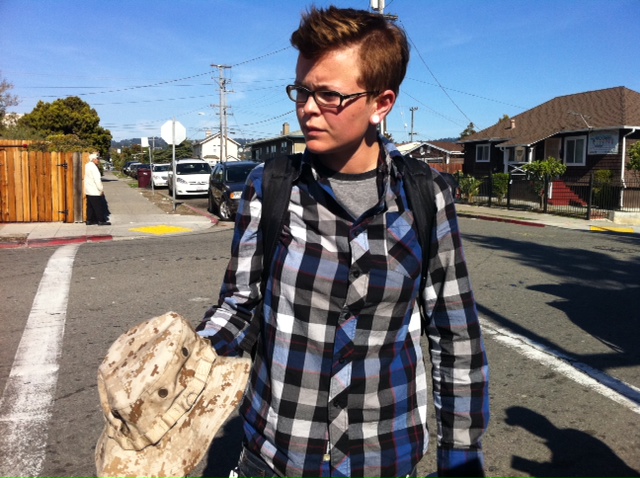 Photo Credit: DENISE TEJADA/Turnstyle News
20-year-old Clare Chadwick helped carry Scott Olsen after he was injured.
Family members of an Iraq var veteran injured during demonstrations in Oakland, California, arrived at Highland Hospital today, according to those gathered there.
Witnesses say 24-year-old Scott Olsen was injured when police in Oakland lobbed what appeared to be a tear gas canister into crowds of protesters on Tuesday night. Olsen suffered a skull fracture and had been in critical condition.
One of Olsen's fellow members of Iraq Veterans Against the War (IVAW) said that a hospital spokeswoman told her Olsen has been upgraded to stable condition and is breathing on his own.
Clare Chadwick was one of the protesters that helped carry Olsen out of the crowd when he was hit on Tuesday night. She said Olsen and other protesters in the area had been peacefully demonstrating when"out of nowhere," police began throwing the canisters. Chadwick said she saw Olsen's eyes roll back, and called for medical help, which didn't arrive until later.
Matt Howard, another fellow IVAW member, told Turnstyle that he is disturbed that Olsen served twice in Iraq and wasn't harmed, but was harmed by police back in Oakland. He said according to Olsen's roommate, Olsen will be having surgery in the next few days to release brain swelling.
Update: A previous version of this article incorrectly isidentified Scott Olsen, Clare Chadwick and Matt Howard as members of the IAVA. They are members of the IVAW.
SUBSCRIBE TO & FOLLOW THE MORNING EMAIL
The Morning Email helps you start your workday with everything you need to know: breaking news, entertainment and a dash of fun. Learn more