Since we last saw the guy who played a karate jock ad nauseam, Jean-Claude Van Damme racked up serial marriages, spread his seed to produce six children, struggled with cocaine addiction, fought a custody battle and moved to Hong Kong. With more than a decade of life experience under his belt, Jean-Claude is back with an arthouse makeover revealing his vulnerabilities.
"It's just a name," he says of the world-famous moniker Muscles from Brussels. "Today it's difficult for me to accept that for myself," the action hero explains when asked if he's still a sex symbol. "I don't think I deserve to be that. I'm not aiming to be a sex symbol anymore. I'm aiming to make myself feel good on a professional level, you know? I want to use movies to liberate people and myself -- even if it hurts."
JCVD features JCVD as an aging action hero with a failing film career who battles drug addiction and custody battles before blundering in on a bank robbery. It's like Being John Malkovich with less hoity-toity grey matter and more testosterone, guns and dollar bills.
In the past, the media has mocked Jean-Claude for quotes such as: "Je suis fasciné par l'air. Si on enlevait l'air du ciel, tous les oiseaux tomberaient par terre. Et les avions aussi." [Translation: I am fascinated by air. If you remove the air from the sky, all the birds would fall to the ground. And planes, too.] "Maybe sometimes I talk too deep for a show or radio station. Or, maybe sometimes I talk crazy," he says in a voice much softer than his forearms, "but I know what I am doing." During our conversation, Jean-Claude talks about love, war, travel and solitary morning walks on Belgian beaches with his dog. "I'm not well educated," he fesses up. "I left school early. I'm from the streets, but I try to express myself the best I can." His words make him sound incredibly frail, imperfect and human. Have les muscles gone soft?
"Of course, I can keep the action," his devious tongue dances tango against the inside of his teeth as the native French speaker accents English. Throughout his career, the European-born marital artist performed many acrobatics feats without strapping on cables or jumping on trampolines. "Even if I have boo boos from all those stunts and kicking and jumping and competitions," he says playfully, "scars are sexy, no?"
Blemishes tell who we are and where we've been. It's interesting to have Jean-Claude back after all these years, but dainty cafes near screens showing JCVD are undoubtedly filled with waitstaff / actors who know making a splash on the big screen is tough. Such fortune is rare, and second chances are uncommon. Will JCVD find renewed success among audiences? Like the movie, the man probably hopes to get "damme lucky."
JCVD premieres in the US on Friday, November 7th. For a complete list of cities and theaters showing the film, see www.jcvd-themovie.com.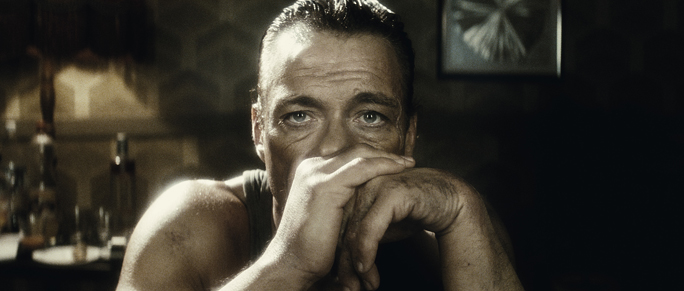 SUBSCRIBE TO & FOLLOW ENTERTAINMENT
HuffPost Entertainment is your one-stop shop for celebrity news, hilarious late-night bits, industry and awards coverage and more — sent right to your inbox six days a week. Learn more