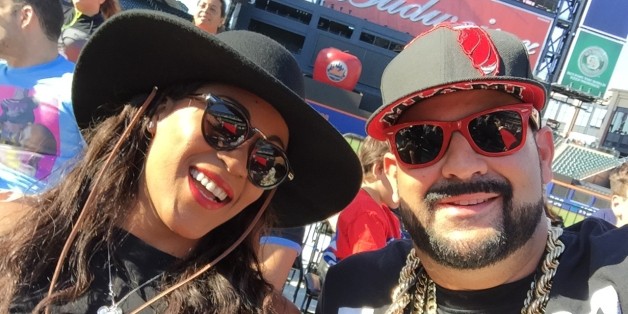 Fandom, what does that even mean? To what extent does a fan have to be fanatic enough in order to be considered part of a fandom? Can somebody self proclaim themselves a "fanboy" or a "fangirl" or is there some sort of a commission that has to have a sit-down, open up the books and make them? Is there a code of the fandom streets? Secret hand signals maybe? Nah, they don't need them, they have costumes! Some do anyway. I wonder if there are rival fandoms who identify with those costumes; maybe one day there will be a turf war at a convention center?! If there is, and it's one that I am hosting a Q+A at, I hope Goldberg is with me, for obvious reasons. I have so much trouble staying on track it isn't even funny. Ok...focus!
So when a fangirl puts on a costume, she enters a whole different realm right? Yes, of course the realm has a name too, how'd you guess that? It's called...wait for it...cosplay! There are some really serious cosplayers out there too and the good ones, as far as I can tell, are artisans of their craft. These amazing costumes they wear can't necessarily be bought in a store either so they make them! Cosplay star Ireland Reid explained to me that on average, it takes her 35 hours to complete a costume and once, she spent 152 hours making a Tardis costume. It's no wonder why Chris Lewis from Aries Entertainment spends every waking moment at comic cons, so many different things to see. I asked him about that and he said "We call the convention circuit 'The Crazy Train' for good reason. You see the best and worst of the entertainment industry and of humanity overall..." But Chris, how do you recognize them in those costumes?!
Now I'm not implying that all fanboys or fangirls wear costumes though; there are levels to this. Some fandoms aren't tangible, they are virtual kingdoms that reside on social media. In the current day of social media where popularity is gauged by followers, likes, and views, how many of each does a fanpage need to have some real street cred? You can't just become part of the fandom and be the boss the next day! Unless of course you are the account owner of @SamSmithFacts on Instagram who has accounts followed by Shontelle Layne, Sam Smith, One Direction and more. I asked what the most rewarding experiences were for her running her social media accounts and she said "well, probably getting noticed by Sam Smith like when he followed me and when he likes and reposts my pics". Sure, I think that having your favorite celeb follow you is great but nothing beats the real thing right? I asked her if she had ever met Sam Smith and she said yes. In fact, after meeting Sam upon conclusion of a concert, she posted a photo with him on her @SamSmithFacts instagram and he reposted it. Ok, ok, I concede, that is super cool.
I contacted my good friend, RIAA certified platinum pop star and songwriter Shontelle Layne. I asked her what affect her social media fandom has had to impact her success and what's to come this year. Shontelle explained that she attributes so much of her success to her loyal fandom. She thanks her fans on social media whom she holds very near and dear to her heart. Her fandom has accomplished such daunting tasks as making her a trending topic on twitter, high performance on major music networks countdowns, and her single "Impossible" being one of the most covered songs on YouTube. As if that's not accomplishment enough, her fandom has helped her earn Streamy Awards, Telly Awards, People's Choice nominations, top ten peaks in major radio and Billboard charts! This support proved especially crucial during times when Shontelle was receiving insufficient support from her label. She has no qualms about stating that if not for her social media fandom, there is no way an artist in her stage of the game could compete at such a high level. In fact, she has even hired people through social media and closed deals as a result. Shontelle's fandom has helped her score endorsements, as well as some great products and services. She attributes that to her unbridled freedom of exposure. Social media provides a platform for Shontelle to organically receive honest feedback, positive or negative. Ultimately, her fandoms help her improve and better understand what her fans want, what makes them tick and what influences their emotions. The fans can share their stories and inspire her music. Through fans on social media, Shontelle also learns valuable life lessons too. Right now, she is very focused on completing her third album and getting new music out to her fandom! She hates keeping her fans waiting but if all goes as planned, new music will be released later this year and of course, inevitably and intentionally, her social media and "Fandom" will play a centripetal force in it's ultimate unleashing and level of success. As somebody who has followed Shontelle's Journey since her first single, I am very excited to hear her new music and have no doubt that she will reach new plateaus and do so through her own diligence.
By now we can all accept that fandoms exist for movie and television characters as well as musicians and recording artists. One such celeb is martial arts and movie star Ernie Reyes Jr. who starred in The Last Dragon, Teenage Mutant Ninja Turtles, Surf Ninjas, The Rundown and countless other movies and TV shows to include a recent episode of NCIS along side LL Cool J. Ernie has a cult following that crosses multiple generations but I wanted to ask him, instead of his fans, what his fandom means to him after I saw him on twitter thanking fans regarding their overwhelming support of a crowd funding page. Ernie was recently diagnosed with kidney failure and his fans quickly donated over $60,000 towards his treatment. (I posted a tweet about it on June 24th on my @UncleLouie Twitter) The response he is receiving is so amazing that I had to reach out and ask Ernie what his fans on social media mean to him. I called Ernie and I simply asked "What does your fandom on social media mean to you right now?" and here's what Ernie had to say:
"My fans mean the world to me. They're saving my life right now. They give me a reason, outside of my friends and family, to keep fighting for my dreams." - Ernie Reyes, jr.
I can't think of a more awe inspiring explanation of what a fandom is and what it can accomplish. God speed Ernie!
SUBSCRIBE TO & FOLLOW ENTERTAINMENT
HuffPost Entertainment is your one-stop shop for celebrity news, hilarious late-night bits, industry and awards coverage and more — sent right to your inbox six days a week. Learn more