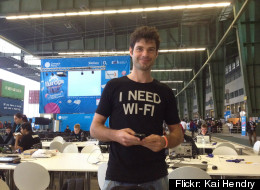 Do you need access to Facebook and Twitter at all times? Whenever you walk into a room are you instantly scouring for outlets and checking for a wifi network? If so, you'll definitely need to consider these schools that students have raved are the most technologically wired campuses in the 2012 Unigo College Rankings!
Top 10 Colleges that Answer the Question...Wifi, or Wifi Not?
Top 10 Wired Colleges - WiFi or WiFi Not?
See everything students have to say about U of R on Unigo.com Although the University of Richmond sounds like the name of a state university, it is one of the most highly selective, private, liberal arts universities in North America; with only 15% of applicants gaining entrance. Located next to the capitol of Virginia, and not very far from the capitol of the United States, The University of Richmond is tightly wired into the national scene. In 1992 it hosted the first town-hall style presidential debate, and President Obama chose it as the setting to present the American Jobs Act to the nation. The campus is also wired to the world through its technology infrastructure. Having over 1,100 computer systems on their campus, there are enough computers at the University of Richmond for every three students to have one accessible computer at his/her disposal. And personal computers, smart phones, and other devices are everywhere you look. The university's Information Services department even offers technical support for personally-owned computers. Further, 85% of U of R's courses offer an online component allowing students to collaboratively work only by sharing documents, notes, and other class materials. This is all possible because every room at the university has internet access , allowing all students on campus instant connectivity. Connectivity is important when over 96% of your student body possesses a computer. Richmonds Technology Learning Center gives all of its students premier access to a state of the art media lab. The lab consists of digital cameras, hi-def video cameras, a photography studio, acoustically improved audio recording studio, and 5 workstations for video editing. This facility is staffed during all open hours so that anyone at any skill level can use it. University of Richmond has been active in incorporating computer science with other disciplines of study from mathematics to biological sciences. The university boasts an intensive integrated quantitative science course (IQS) that spans for two semesters and is available for first years only. Students must apply for the program the summer before freshman year.

See everything students are saying about Harvey Mudd on Unigo.com Harvey Mudd College is the second undergraduate school from the Claremont Colleges consortium to make this list. It is even smaller than Pomona, with only 800 students in attendance; but like Pomona its small size belies the great resources students have access to, both within Harvey Mudd throughout the Claremont Colleges consortium. Computer science and engineering majors have the opportunity to take part in the Harvey Mudd "Clinic," a year-long capstone course in which students create their own software design project. The Clinic has become a tradition ever since it took off in the engineering department in the early 1960s.

See everything students are saying about Wake Forest on Unigo.com This private university nestled just north of downtown Winston-Salem, North Carolina began its life in 1834 as the "Wake Forest Manual Labor Institute", but in the 21st century the school has gone in a decidedly different direction. Today, Wake Forest aggressively provides access to the online world. Wake Forest has over five thousand computers available to all students. This means there are 1.08 computers available per student, which is more than twice as high a ratio as any other college on this list. When you factor in extensive Wi-Fi coverage throughout all university-related buildings, classrooms, and housing it becomes evident that Wake Forest is the definition of a "wired" university. And nobody needs to preach to Wake Forest about the importance of mobile. Students, faculty, parents and alumni stay continuously connected via the "Wake Forest Campus Life" app, which streams social media updates 24 hours a day, and provides users with important contacts and calendars of events. But serving its own campus just isn't enough. This past spring, Google awarded Wake Forest's Computer Science and Physics departments with a grant to organize computational thinking workshops for local schools. Student volunteers from the CS undergraduate and graduate departments were instrumental in helping nearby teachers learn to program.

See everything students are saying about Denison on Unigo.com This private, residential liberal arts university, sprawls across nearly 1,500 acres in Granville, OH, and boasts a 550 acre biological reserve. Denison was named after a farmer who pledged money toward the college's endowment. Perhaps that's why Denison isn't only wired: it's green. The Information Technology Services department has taken a number of steps to reduce their carbon footprint. All campus printers default to printing double sides, and they have taken the initiative to recycle computer components, printer cartridges, and toner. Denison has also made a push to reduce the use of paper, and to that end has branded its own web-based suite of applications called Denison Apps, powered by Google. Students use Denison Apps for emailing, maintaining a calendar, and sharing all major documents throughout the university. Denison utilizes a customizable service called 'myDENISON' to keep students and faculty on the same page. Through the use of myDENISON 'channels' the administration, clubs, athletics, etc., can broadcast announcements to the entire student body or within their own groups within this closed network. Despite these innovations, Denison is the only school on this list that doesn't let you register for your classes online. You can't have everything.

See everything students are saying about Carnegie Mellon on Unigo.com This private research university in Pittsburgh, Pennsylvania was originally founded by noted industrialist and philanthropist Andrew Carnegie as the Carnegie Technical Schools in 1900. More recently, since 2007 CMU has ranked #1 in number of startups created per research dollar, while not having a medical school. Wi-Fi access is available throughout most of the campus, and there are a wealth of departments and programs on campus with strong technological bends. Carnegie Mellon's Center for Technology Transfer and Enterprise Creation connects inventions developed on campus with companies that can introduce them to the public at a profit. The Quality of Life Technology Center focuses "on the development of intelligent systems that enable older adults and people with disabilities to live more independently." There is even a "distance education program" that allows working IT professionals to obtain a Master of Science in Information Technology without stepping foot onto their beautiful, urban, 140 acre campus located just three miles from Pittsburgh's "Golden Triangle". Carnegie Mellon has coupled their College of Fine Arts and their School of Computer Science to create a joint program called the Entertainment Technology Center (ETC). The ETC proudly boasts the nation's only Masters in Entertainment Technology (MET), leading a new wave of technological advancements in an ever-growing industry, even through a time of economic disparity. Carnegie Mellon is also home to the "Robot Master," or Professor Manuela Veloso who teaches in the computer science department. Her longtime interest and study in automation and AI has led to the creation of robot soccer and its own competitive league known as "Robocup," which holds annual championships with participants from all around the world. Thanks to CMU's Small Undergraduate Research Grant (SURG), in 2010 four undergraduate freshmen developed the first mobile application solely geared towards on-campus navigation. By using campus floor plans, Google Maps and mobile GPS, the students created Mapyst. The now incredibly popular app is widely used on campus by both students and professors daily.

See everything students are saying about Washington University on Unigo.com Washington University, a private research university, sits in Clayton, a suburb of St. Louis, Missouri, the nation's "Gateway to the West". It is also one of the first nonsectarian universities founded west of the Appalachian Mountains. Perhaps it is this same drive to establish a university in what was then a wild frontier that accelerates Washington University's ambition to integrate technology into all aspects of academics, research, and their administration. Washington University's Computer Science and Engineering department has a robust curriculum with over 80 courses. The department promotes entrepreneurship through a variety of courses that offer lessons on business ethics, team formation, opportunity assessment, finance and intellectual property. A high-speed campus network infrastructure interconnects all campuses and provides links to the Internet2 and National Lambda Rail research networks. Computing centers on two of their campuses provide access to virtual computing environments, cloud computing services and high-performance computing clusters. This comes at a cost, however. One consistent student complaint? The high fees for internet and television access in student housing.

See everything students are saying about Hamilton on Unigo.com Hamilton College was founded in 1793 as a seminary for males both from Europe and the native Oneida tribe. Some 200 years later the school has grown to host a larger population than Clinton, New York, the town in which it is located. Hamilton also boasts a computer to student ratio that very nearly approaches one computer for every two students. Alongside that, the Information Technology Services department is rabid in its commitment to providing up-to-date computers and software for its faculty to use in the classroom. Students are also allowed to bring their own computers, and the Academic version of the Microsoft Office Suite (either Mac or PC) is a requirement for most classes. There are minimum requirements to meet for personally-owned computers before they are allowed to access Hamilton's extensive Wi-Fi network, including the mounting of a special Hamilton College approved anti-virus program. Hamilton's Computer Science department prides itself on being research intensive, but also tight-knit and supportive. Every Friday, the department hosts a faculty and student social hour to foster a community outside of academics. Recent graduates have gotten a reputation for being heavily recruited by IBM, Google, Apple and more.

See everything students are saying about Colgate on Unigo.com Colgate University is located on a 515-acre campus in Hamilton, New York, complete with another thousand acres of undeveloped forest. This private, liberal arts college has a 30% computer-to-student ratio, and in-between semesters in 2010 a new campus wireless system (ARUBA) was installed, expanding Wi-Fi access throughout most of the university and residence halls. That same year Colgate replaced Blackboard with Moodle as its course management system of choice. Despite being on the cutting edge of implementing the use of new technologies, Colgate is still old-fashioned in one important way: the campus is still primarily heated by a boiler that burns wood chips! It gets its electricity, however, from hydroelectric power generated by Niagara Falls. According to Colgate's Computer Science departmental website, Colgate was among the first colleges to introduce an independent computer science program. CS student life is also one of the most active among CS departments in the nation. Colgate's CS Club has hosted Google Code Jam, and last fall, a team of students finished second overall in the Northeast North America Regional Competition of the ACM International Collegiate Programming Contest.

See what students are saying about Georgia Tech on Unigo.com Almost 14,000 students attend this public research university located in Atlanta, Georgia. Although there are 2,000 computers available to students, unlike the other schools on this list, Georgia Tech requires all students to own or lease a computer throughout their time in college. Georgia Tech is also home of the Advanced Technology Development Center. Since 1980 the ATDC has helped entrepreneurs in Georgia launch and grow more than 130 technology companies which have raised over a billion dollars in financing, and it is partnered with Georgia Tech's center for technology commercialization, VentureLab. Georgia Tech has been one of the country's preeminent technology schools for over a hundred years, and it's certainly not slouching into the 21st century. The College of Computing is also spearheading what it calls the "new face of computing," which seeks to incorporate women engineers and helps drive a more diversified engineering discipline.

See everything students say about Pomona on Unigo.com This private, residential, liberal arts college in Claremont, California is one of five undergraduate universities that form (together with Claremont Graduate University and the Keck Graduate Institute of Applied Life Sciences) the consortium known as the Claremont Colleges. This relationship allows students unfettered access to the facilities, programs, and resources it shares with the other six schools, while preserving the feel of a tight-knit community of students. Through this association Pomona is allowed to participate in the Science, Technology, and Society (STS) Program of the Claremont Colleges and offer an STS concentration or major which includes courses in "science and technology practice", "context and theory" courses showcasing approaches through the perspective of history, philosophy, and/or the social sciences, and three concentration courses on a specific science and technology issue with a thesis option.
Want to learn more about these schools? Click on the link in the slide to visit their profiles where you can talk to current students about what life is really like on campus!
Keep up with Unigo on Twitter at @Unigo
Get the latest news and offers from Unigo on Facebook at www.facebook.com/myunigo