Wilderness lodges, lakeside retreats and city high-rises are just a sampling of Canada's luxury lodging options, and deciding where to hang your hat is no easy feat. But one thing is certain: Whether you're traveling for business, planning a ski vacation or looking for a spa getaway, choosing the right hotel is imperative for an enjoyable trip.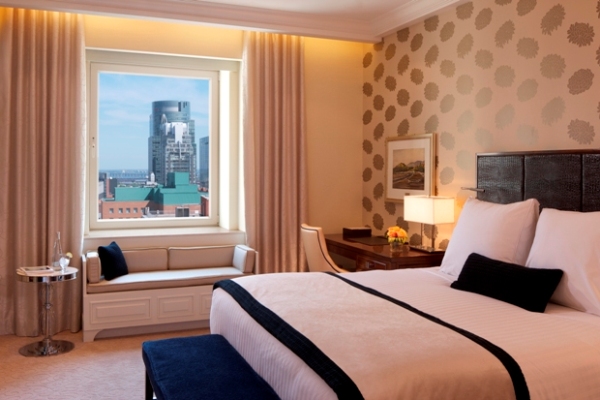 Courtesy Ritz-Carlton, Montreal
Everyone seems to have an opinion on what makes one hotel better than another. For this reason, the editors of U.S. News Travel scrutinized guidebooks, magazines, accolades and review-based websites to identify properties consistently exalted by travel experts and guests. Using this unbiased methodology, we scoured Canada in search of hotels that consistently earn well-rounded praise -- these are the properties that appear on our inaugural ranking of the Best Hotels in Canada.
The 10 properties below represent the best of what Canadian hospitality has to offer, and they run the gamut from quaint country resorts to chic city boutiques. While each hotel embraces its own style, these distinguished properties all have a few things in common: luxurious accommodations, charming atmospheres and excellent service -- all aspects that not only make for a gratifying getaway, but also cement their spot on top.
10. Hotel Le St-James
Montreal
Situated in the heart of Montreal's Old City, Hotel Le St-James impresses visitors with its 19th-century facade and antique furnishings. Visitors consistently commend this hotel's inviting atmosphere and accommodating staff -- aspects that have helped the Hotel Le St-James rack up accolades like the AAA Four Diamond and Forbes Travel Guide Four Star awards. The hotel's modern touches, like complimentary iPads available for use and telephone-controlled in-room temperature and lighting, complement the classic decor. These tech-savvy features are offered throughout the hotel, but no two rooms are identical. "Each room is different here and even though we're in the city, a lot of people call us a palace hotel," said Vice President of Sales and Marketing Elizabeth Glimenaki. "We have a very high level of service and respect for privacy -- and anything that a client needs; we cater to all their whims."
9. Loden Hotel
Vancouver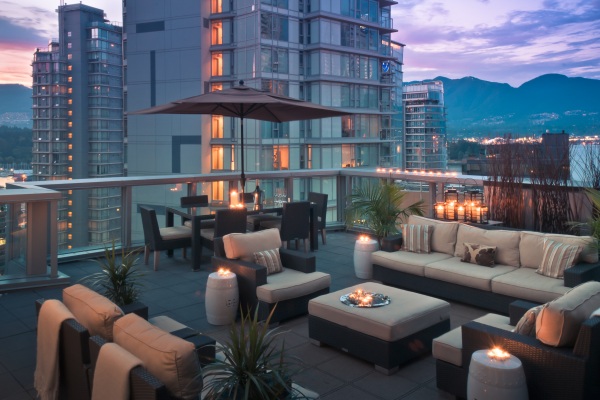 Courtesy Loden Hotel
The Loden Hotel's prime location in downtown Vancouver helped it earn a top spot among the best hotels in Canada. Guests are particularly impressed with the property's proximity to Coal Harbour and other top city attractions. Visitors also appreciate the welcoming and friendly staff -- owner Liliana de Cotiis says the hotel focuses on making guests feel at home. "As a family-run business, we offer a personalized approach," she said. "Our staff builds relationships with the guests, whether it's greeting them at the door or offering turn-down service." And with its modern vibe, floor-to-ceiling windows and sweeping city views, it's no surprise the Loden Hotel has been recognized by the travel experts at Condé Nast Traveler and Frommer's.
8. Four Seasons Resort and Residences Whistler
Whistler
Skiers and snowboarders flock to this mountainside retreat when they're looking to tackle Whistler Blackcomb Mountain. But thanks to the variety of amenities and activities (including ATV riding, hiking and biking) offered here, the Four Seasons Resort Whistler isn't just for winter enthusiasts. Accommodations here embody a ski lodge spirit, with rooms featuring wooden accents, plush furniture and excellent views. But according to General Manager Peter Humig, it's the resort's attention to detail and "customizable experiences" that distinguish it from other Whistler hotels. Unique offerings like a ski concierge, a vodka ice bar, a s'mores fire pit and glacier golf excursions are just a few examples of amenities and services guests can request during their stays. The resort's highly trained staff also helped this Four Seasons claim top billing. "It's the employees who provide [the guests] with these unforgettable memories," Humig said.
7. Trump International Hotel and Tower, Toronto
Toronto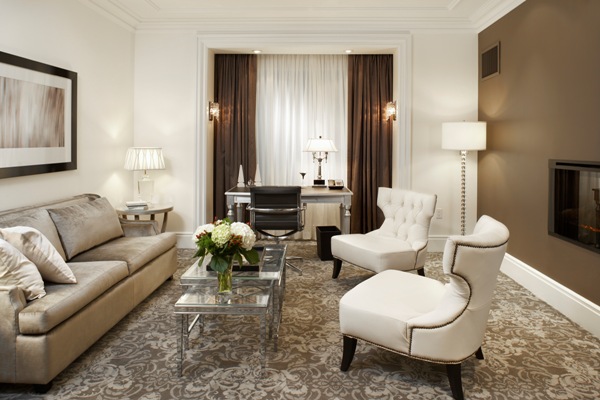 Courtesy Trump International Hotel and Tower, Toronto
True to its name, this hotel -- and its 65 stories of stone, steel and glass -- towers above the Financial District of downtown Toronto. Guests laud the spacious rooms (equipped with designer decor, in-room wet bars and marble-finished bathrooms), with many describing their stays as "perfection." Visitors can also experience picture-perfect views of the Toronto skyline from the STOCK Restaurant on the 31st floor. The Trump International Hotel and Tower, Toronto's primo location allows guests to explore some of the city's top attractions, including the nearby CN Tower and the Hockey Hall of Fame. While location is key, General Manager Mickael Damelincourt said it's the staff members' passion and dedication to continually meet guests' expectations that makes the hotel stand out. "What we love most is treating the customer and getting feedback," he said. "People are becoming more vocal today on social media and you can really create a conversation with your customer. They want you to be better, and if you don't understand what they want then you can't become better."
6. The Ritz-Carlton, Toronto
Toronto
The Ritz-Carlton, Toronto lives up to its brand's reputation, offering elegantly appointed rooms overlooking Lake Ontario and downtown Toronto. "The very architecture and design [of the hotel] really brings out the best of Toronto," said General Manager Tim Terceira. Accommodations outfitted in warm cream, gold and burgundy decor contrast the glittering skyline views afforded by the rooms' expansive windows. Along with the charming rooms, visitors also appreciate the hotel's hospitable staff. "It's our employees who make the difference," Terceira said. "Our ladies and gentleman make our guests feel comfortable, worry-free and provide services to them at whatever level and speed they need." What's more, this Ritz-Carlton stands as the only AAA Five Diamond Award-winning hotel in Ontario and houses a spa touted by travel experts and recent guests alike.
5. Auberge Saint-Antoine
Québec City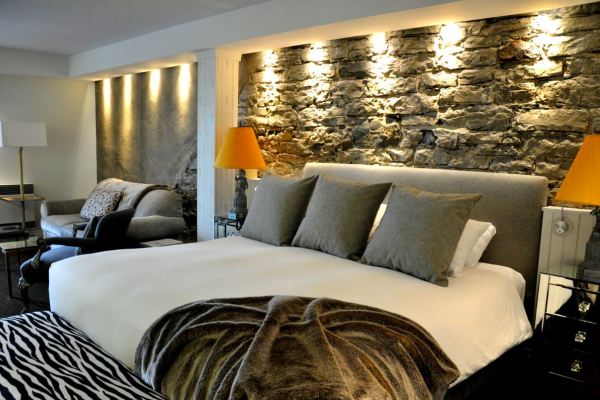 Courtesy Auberge Saint-Antoine
Nestled along the St. Lawrence River in Québec City near the Petit Champlain district, the Auberge Saint-Antoine oozes charm. This Relais & Châteaux property embraces its Old Port location by incorporating antiques and historical artifacts (some of which date back to the 1600s) found during the hotel's construction into its decor. Auberge Saint-Antoine pairs these antique accents with modern furnishings: Rooms come equipped with minibars, Nespresso coffee machines and Wi-Fi access. But it's the hotel's stand-out service that distinguishes the Auberge Saint-Antoine from other Québec City properties, says General Manager Jean-Louis Souman. "Our staff have helped build our reputation with all the passion that they put into the daily operations," he said, adding that the staff possesses "incredible interpersonal skills and a strong will to offer a flawless experience."
4. Hastings House Country House Hotel
Salt Spring Island
Hastings House Country House Hotel's picturesque setting on Salt Spring Island (off the southeast coast of Vancouver Island) wows guests time and time again. According to Hastings House General Manager Kelly McAree, "the immediate sense of relaxation as soon as you enter the property" is what sets the hotel apart. This Relais & Châteaux retreat's sweeping meadows, fragrant gardens and Ganges Harbour views draw praise from recent visitors. Guests can unwind in the sumptuously appointed rooms, many of which come equipped with fireplaces, private balconies and deep soaking tubs. For even more pampering, the Wellspring Spa touts rejuvenating services, like hot stone massages and fragrant rose hand and foot treatments.
3. Ritz-Carlton, Montreal
Montreal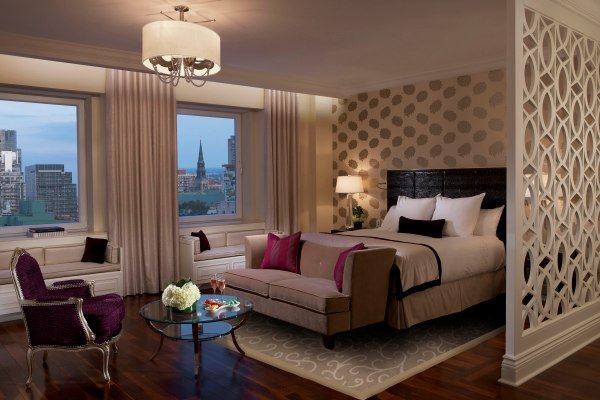 Courtesy Ritz-Carlton, Montreal
Thanks to stylish accommodations and top-notch service, the Ritz-Carlton, Montreal took third place on our 2013 list of the Best Canada Hotels. The hotel's downtown location makes it a convenient home base for all travelers looking to explore Montreal's top attractions. The Ritz-Carlton, Montreal is the only AAA Five Diamond Award winner in Quebec -- something General Manager Andrew Torriani attributes to the hotel's particular attention to detail. "You see a very high-level quality of service from your arrival to your departure," he said. "We try to determine what the client needs during their stay and we provide that. And we're very attentive to each individual guest; we get to know them personally." That sense of customization also carries over to the rooms, which are elegantly decorated in beige tones with pops of color.
2. Rosewood Hotel Georgia
Vancouver
Guests are immersed in a mix of history and luxury upon entering the Rosewood Hotel Georgia -- it's housed in the oldest building in Vancouver. Constructed in 1927, the hotel recently underwent a $120 million renovation and prides itself on its unique heritage. "Our intent was to restore the hotel to its original lore and luster," Director of Sales and Marketing Peter Bruyere said. And lustrous it has become: Rooms are equipped with contemporary furnishings and offer views of Vancouver or the hotel's quaint inner courtyard, while bathrooms are appointed with rainforest showerheads and heated floors. Meanwhile, the property's location in the heart of the city makes it convenient for a variety of traveler types, and the on-site Sense spa earns consistent praise from guests. However, Bruyere credits the staff's welcoming demeanor as the key to the Rosewood Hotel Georgia's success.
1. Fairmont Pacific Rim
Vancouver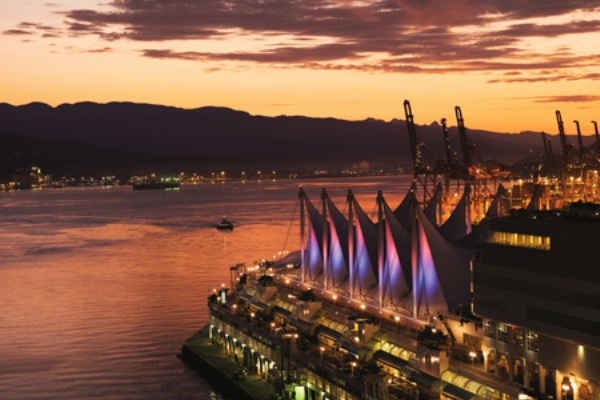 Courtesy Fairmont Pacific Rim
Outstanding service is the name of the game at the Fairmont Pacific Rim. "Do what you think is right to take care of the guest," said General Manager Phil Barnes. "It's a simple model that starts with making sure every guest is happy and everything we do supports that mantra." Guests say the Fairmont's stellar customer service enhances an already superb stay. "[The staff] is very proud of the hotel and that's what sets them apart," added Barnes. "Guests always talk about the colleagues they interacted with who turned a single moment into something special for them." The Fairmont Pacific Rim's central location and versatile amenities also helped this Fairmont reach the No. 1 spot on the 2013 list of the Best Hotels in Canada. Situated near Coal Harbour, this Fairmont property boasts fawn-hued rooms and suites that serve up spectacular views of the city and the waterfront.
See Photos of the Top 10 Hotels »
--Erin K. Shields